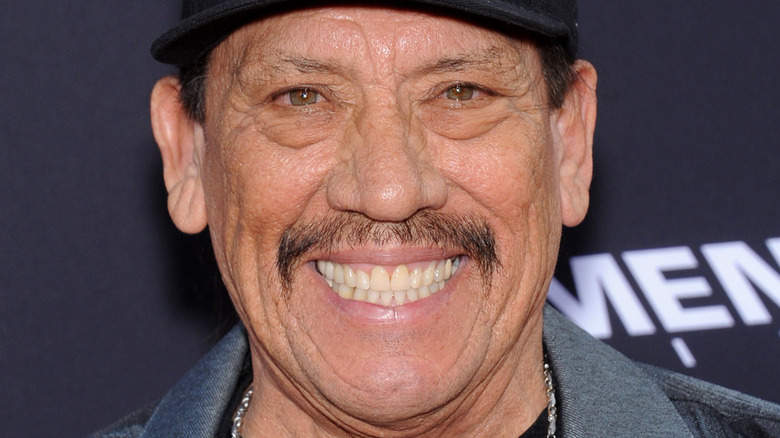 The man, the myth, the legend, Danny Trejo is a seriously prolific actor with equally impressive side hustles. Known for his roles in films like "Machete," "From Dusk Till Dawn," "Spy Kids," and "Heat," to name just a few, Trejo is arguably one of the busiest people in all of Hollywood. His unmistakable visage is instantly recognizable to anyone not living under a rock, and he doesn't show any signs of slowing down, even as he gets older.
Trejo may be an internationally famous movie star, but his path to success was anything but typical or easy. Indeed, Trejo hails from the mean streets of Los Angeles, where his misspent youth led to a harrowing series of stints behind bars (via SI). And while Trejo's story could have ended very differently, he managed to turn it all around and become the man he is today — and we're absolutely here for all of it.
A person like Trejo is definitely worth getting to know — hence the fact that he's the subject of the documentary "Inmate #1: The Rise of Danny Trejo." To that end, here's a look inside the life of Danny Trejo.
Danny Trejo's uncle was his 'mentor' — but he was a bad influence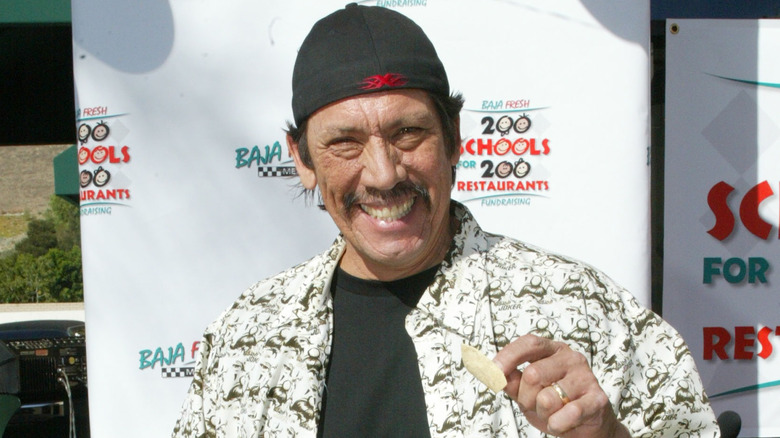 Danny Trejo was born on May 16, 1944, and grew up in Pacoima, a rough-and-tumble neighborhood in Southern California's San Fernando Valley. While he did have a reasonably stable home, Trejo got mixed up with his uncle early on — quite the bad boy with a penchant for criminal activity — who introduced him to drugs, alcohol, and larceny as a young boy. "I remember giving my uncle a ride in my mom's car," he recalled in an interview with Grantland. "He'd say, 'Stop here, lemme get some cigarettes.' [He] comes out: 'Go, go, go!'" Yup. He would just rob places whenever he felt like it, and he brought Trejo along for the literal ride.
Besides corrupting the young Trejo, Uncle Gilbert also taught him how to fight, and it doesn't sound like Gilbert ever held back on his nephew. "I was basically his punching bag," he continued. "I had to learn to fight, or get my head beat in." 
Danny Trejo was no stranger to fighting growing up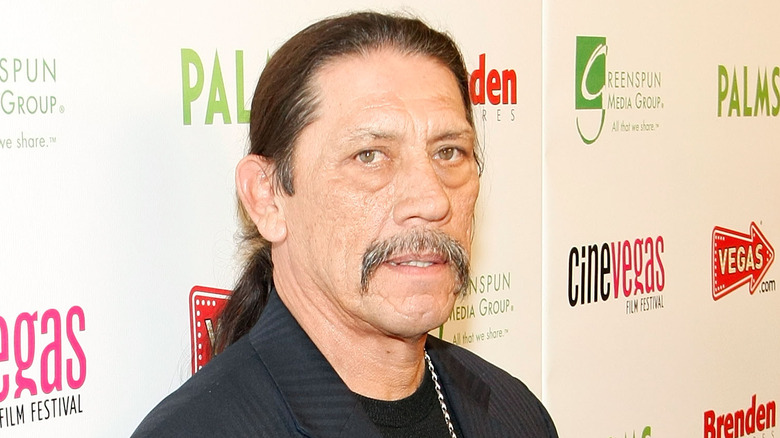 In addition to being influenced by his wayward uncle, Danny Trejo was very much a product of his surroundings. At the time, the predominantly Mexican neighborhood of Echo Park meant that Trejo got dragged into gang-style life as a youth. "It was basically a ghetto," he explained during an interview with "Wide Open with Tony Gonzalez." "It was just chaos all the time. You fight on the way to school, fight on the way home, and you had to keep people out of your neighborhood."
While Trejo did have a place to call home with his father and stepmother, he didn't quite get along well with his father's wife, who wasn't fond of children. That led to Trejo spending a significant amount of time out and about. "I kind of just grew up on the streets," he continued, adding that he had a couple close friends who he would hang out with. It's not surprising, then, that Trejo turned to a life of crime early on.
By a young age, Danny Trejo started his prison tenure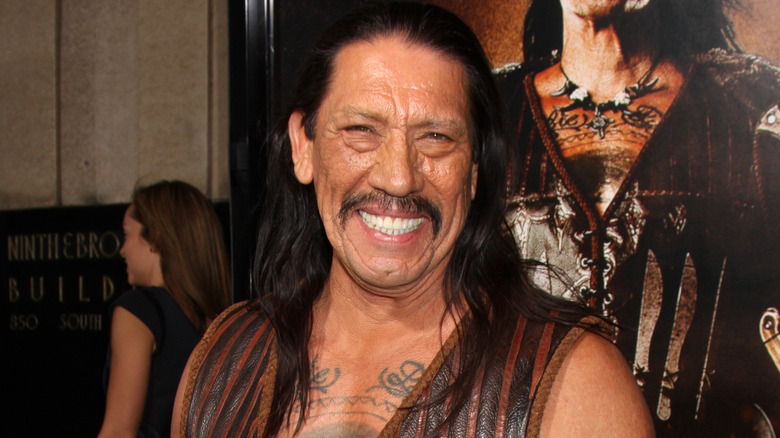 Given the nature of Danny Trejo's upbringing, it's not surprising that he found himself incarcerated at an early age, making him one of several celebs who have done a lot of jail time. "The first time I went to juvenile hall I was 12 or 13," he revealed in an interview with "Wide Open with Tony Gonzalez." The reason? Trejo was constantly getting into trouble, specifically for "fighting, assault, [and] strong-arm robbery." Trejo was also drinking by the age of 12, and got hooked on heroin two years later, according to Page Six. He also started selling the latter.
That was just the beginning of Trejo's life behind bars, as he was in and out of notoriously dangerous prisons like Soledad, Folsom, and San Quentin for many years, as noted by HuffPost. "I've been in every prison in the state of California," Trejo told Gonzalez. And that would be the case for him until a revelation in 1969 changed the course of Trejo's life.
If you or anyone you know is struggling with addiction issues, help is available. Visit the Substance Abuse and Mental Health Services Administration website or contact SAMHSA's National Helpline at 1-800-662-HELP (4357).
While incarcerated, Danny Trejo became a boxing legend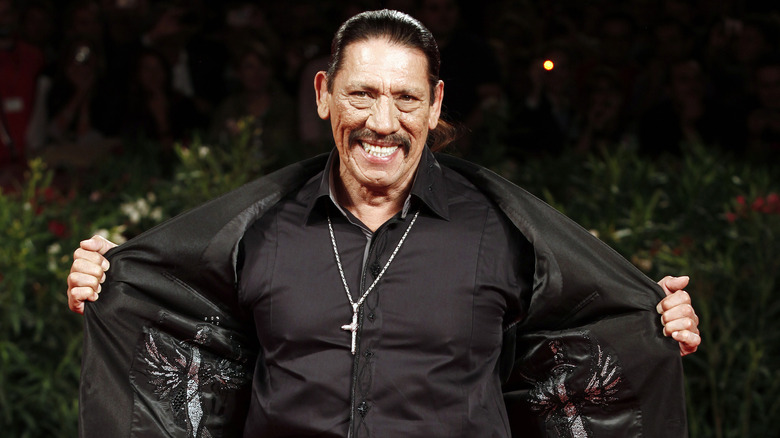 So what is it that Danny Trejo did when he was locked up at various prisons during the early part of his life? Well, for one, he hustled. But other than that, Trejo was known for his skills in boxing. "I love boxing," he proclaimed in a chat with SI. "I think boxing is an art."
Trejo was quite good, too. In fact, during his time behind bars, he even had a teacher to help him hone his abilities. "For a trainer I had a guy named Joey Abasta," he shared with Grantland. "Legend in the penitentiary." With Abasta as a mentor, Trejo became such an epic boxer that he was a force to be reckoned with at Folsom, San Quentin, and Soledad. "I was the lightweight and welterweight champion of all three," he continued.
Of course, you won't find boxing matches like that in prison anymore, but the sport gave Trejo something to hold onto while on the inside — and that would set him up for success after he was freed.
In solitary confinement, Danny Trejo had a moment of clarity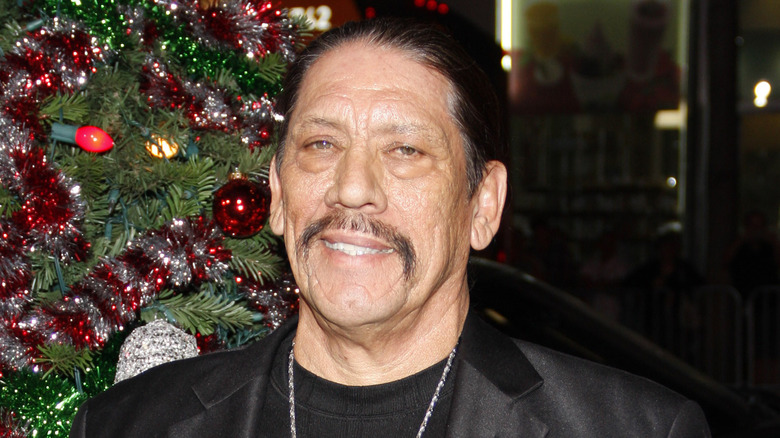 By the time Danny Trejo was 24 years old, he'd been in and out of the prison system for over a decade. That's when he found himself in solitary confinement in prison, after hitting an officer with a rock during a prison riot, according to The Guardian. It was here where Trejo found his bottom. Facing charges that came with the death penalty, Trejo turned to a primal gesture for comfort: He prayed. "I told him, 'Let me die with dignity,'" he revealed in an interview with Texas Monthly. "'You don't need to get me out of this, I know what I've done. Just let me die with dignity and I'll say your name every day. I'll do whatever I can for my fellow man.'"
Amazingly, not only were Trejo's prayers answered, he was also cleared of the charges and released from solitary confinement. After being rescued from the very edge in a squalid holding cell, Trejo emerged a changed man. Not long after that, he was paroled for the very last time.
Danny Trejo got sober in prison and never looked back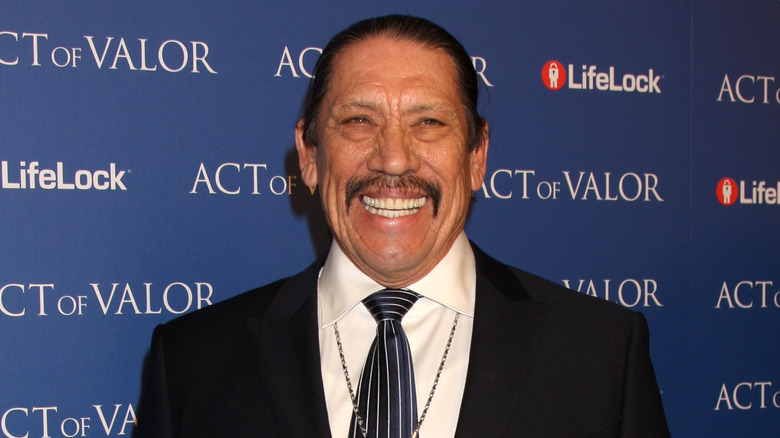 In addition to starting a relationship with God while incarcerated, Danny Trejo made the decision to get serious about his recovery. That couldn't have been easy, given how difficult life behind bars is. "Prison is the most hopeless place in the world," Trejo shared in an interview with Entertainment Tonight. 
Hopeless as it may have been, the work of sobriety advocates in prison threw a lifeline out to Trejo. "I met a guy named Johnny Harris in prison. He was a speaker and I [saw] him in four different penitentiaries, but I was always the inmate," he continued. "He's been my sponsor since 1963." 
And while Trejo didn't get sober in 1963 — that didn't happen until 1969, as noted by Page Six — the foundation was clearly being laid. So after Trejo was released from prison in 1969, according to Texas Monthly, he had no interest in drugs, drinking, or crime, even when his uncle offered him a new opportunity. Instead, Trejo boxed for money and worked odd jobs until becoming a substance abuse counselor — a job he reportedly still works at part-time today. What a legend.
This is how Danny Trejo got his start in movies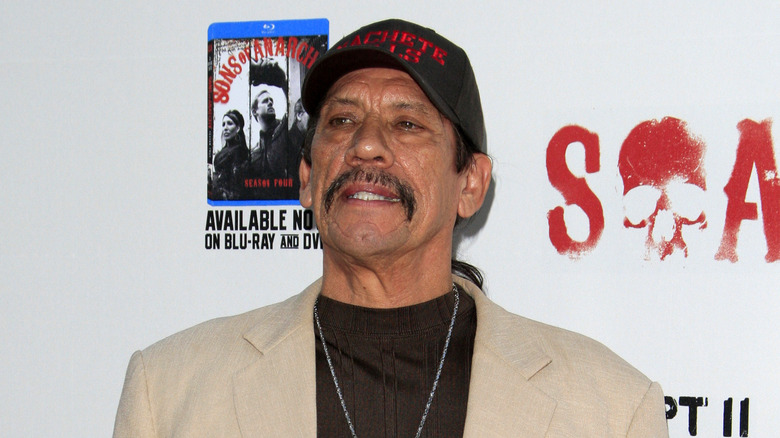 So how does someone go from solitary confinement to Hollywood movie star? In the case of Danny Trejo, he wound up on the film set for 1985's "Runaway Train" after a friend called him there, asking for help staying sober. Once on set, Trejo found himself in the midst of actors trying to play convicts. "They had all these guys from like Brentwood and Bel-Air and Westwood," he explained in an interview with HuffPost. "And they were all dressed up like convicts, and they had fake tattoos." And when they asked Trejo if they looked convincing, his answer, in a nutshell, was no.
As luck would have it, Trejo ran into an old friend who was working on the set, who set him up with a job giving the star of the film boxing lessons. And when the director realized how gifted he was, he went ahead and cast Trejo in the film, launching his now-iconic career in Hollywood. "I was always Gang Member No. 1, or Thug No. 1 or Inmate No. 1," he told L.A. Weekly. But Trejo didn't mind that. "That's what I've been all my life," he added.
Trejo now has over 400 credits on his IMDb profile, and he continues to rack up more and more with each passing year. 
Danny Trejo became a rich man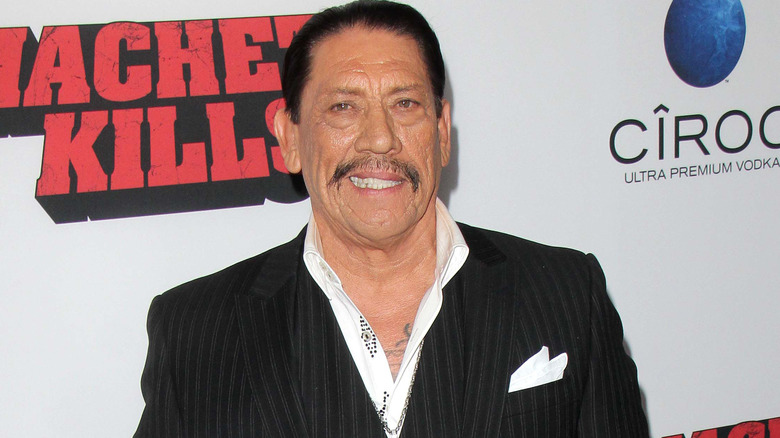 Clearly, Danny Trejo wasn't born into wealth and prestige, as he came from a humble background in an impoverished neighborhood in Los Angeles (per Grantland). But these days, Trejo is quite the wealthy man, though he hasn't moved too far from where he grew up. Still, Danny Trejo has a stunning net worth. He's said to be worth a cool $8 million, as noted by Celebrity Net Worth — he's clearly a long way from his days solitary confinement in prison.
While Trejo is certainly comfortable when it comes to finances, he's not as flashy with his riches as some celebs are known to be. He did buy himself a nice four-bedroom, five-bathroom home in Mission Hills, according to TMZ, with a billiards room, pool and jacuzzi, and three fireplaces. However, it only cost Trejo $550,000, which is a lot for humble folks like us, but not much compared to some of the price tags of SoCal homes. 
Danny Trejo got married and divorced, but still gets along with his ex-wife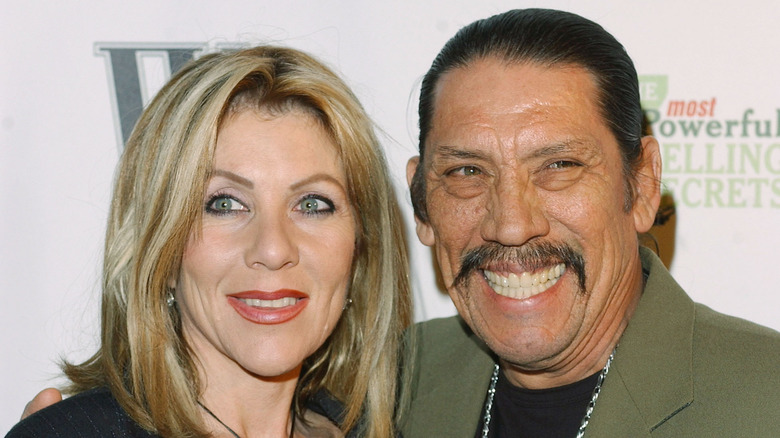 You might not know this, but back in the late '90s, Danny Trejo actually got married; the veteran actor was wed to Debbie Shreve, as noted by The Blast. However, while we'd love for Trejo to be as lucky in love as much as he is acting, he and Shreve didn't go the distance. The pair separated back in 2007, and Trejo filed for divorce two years later. Interestingly enough, things weren't finalized until 2019 — an entire decade later.
While Trejo and Shreve may not be romantic partners anymore, they still seem to get along well. According to an interview Trejo gave on "The Real," he's working with Shreve to help people with autism, which is certainly a worthy gesture. That tracks, as two of Trejo's children have been diagnosed with autism, according to Entertainment Weekly. It's awesome that, no matter what, Shreve and Trejo have been able to co-parent!
Danny Trejo became a dad and helped save his children's lives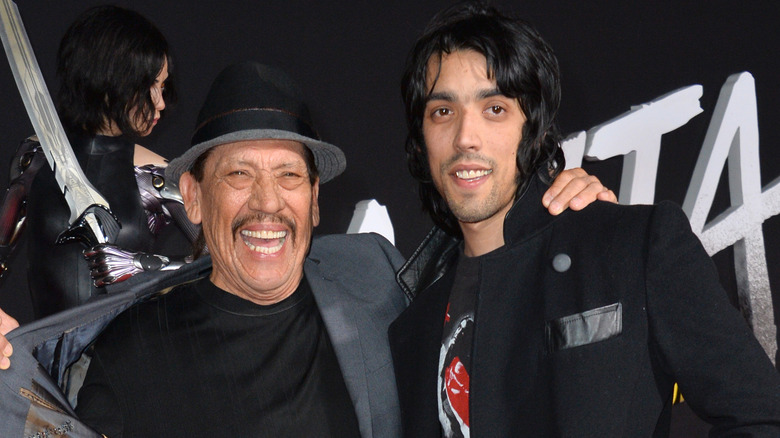 Speaking of Danny Trejo's children, you'd be hard-pressed to find a more doting dad out there. While there are conflicting reports about how many kids Danny actually has, according to his website, he has three children whom he loves. "My kids are my greatest accomplishment," he gushed in a chat with Variety. "I just adore them."
As it turns out, while Danny's kids never saw him using drugs and alcohol, two of them did have substance issues of their own; both Gilbert and Danielle Trejo were addicted to heroin. Fortunately, Danny was able to help both of them get sober, thanks to 12-step groups. "This program not only let me know where to take my kids; it surrounded me with a support system that was able to help keep my kids from using," he explained in an interview with Men's Health. "The support group saved their lives."
Danny Trejo has built a restaurant empire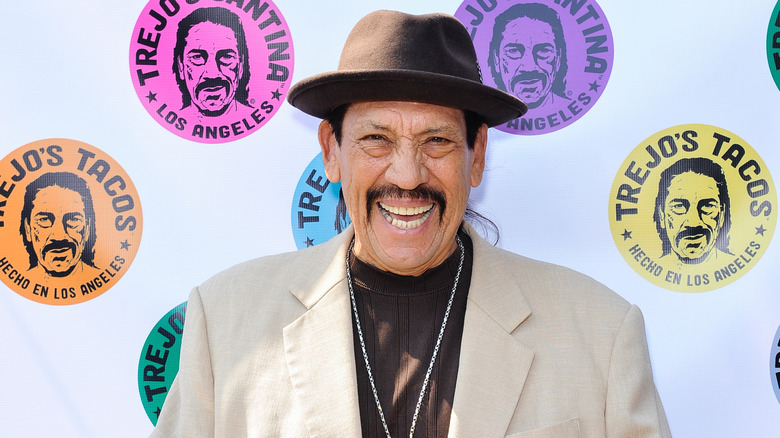 In addition to being an actor, Danny Trejo has a couple of side-hustles — well, sort of. Most notably, Trejo has become a restauranteur, something that was inspired by his family life. "My mom, all the time she was an unbelievable cook," he revealed in an interview with GQ. "She was a master at it. We always joked about owning a restaurant."
The joking eventually got serious when Trejo opened Trejo's Tacos in Los Angeles, according to the Los Angeles Times, which now has locations all over California and in cities like Chicago and Miami. Additionally, Trejo also opened Trejo's Cantina in Hollywood, as well as Trejo's Coffee & Donuts on Santa Monica Boulevard in Los Angeles.
So, how did the doughnut thing come about? That happened when a building that had a doughnut shop went on the market, and Trejo and his business partner snapped it up. "They refurbished the building and painted it bright pink," he continued. "It really brightened up the neighborhood. Now it's become a tourist attraction."
Danny Trejo believes in giving back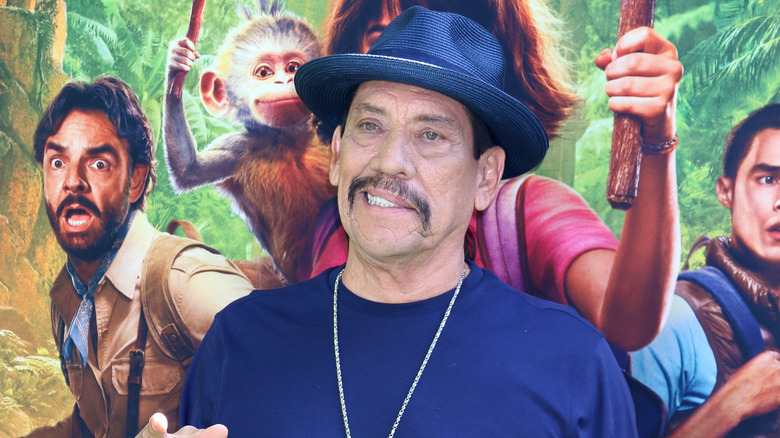 One thing that Danny Trejo will always be sure to do is give back to others, something he swore when he had a moment of clarity back in solitary confinement. "Everything good that has ever happened to me has happened as a direct result of helping someone else," he shared in a chat with Canada's Hello! magazine.
Indeed, Trejo has paid it forward in a variety of ways over the years. For one, he continues to volunteer his time to help people get sober — something he was honored for by the Los Angeles City Council (per NBC Los Angeles). Plus during the pandemic, Trejo fed hundreds of hospital workers for free, courtesy of Trejo's Tacos, as noted by ABC 7. Oh, and don't forget the time he literally saved a child with special needs who was stuck in a car that had flipped over. Yes, really! 
Trejo's commitment to helping others isn't lost on his son Gilbert, who knows his father is a great man. "We've experienced my father helping people … for most of our lives, at this point," he told NBC Los Angeles. "Long before he started acting, he was active in the community, and I always saw my dad as a celebrity long before anybody else." We are so here for this!
Danny Trejo is a published author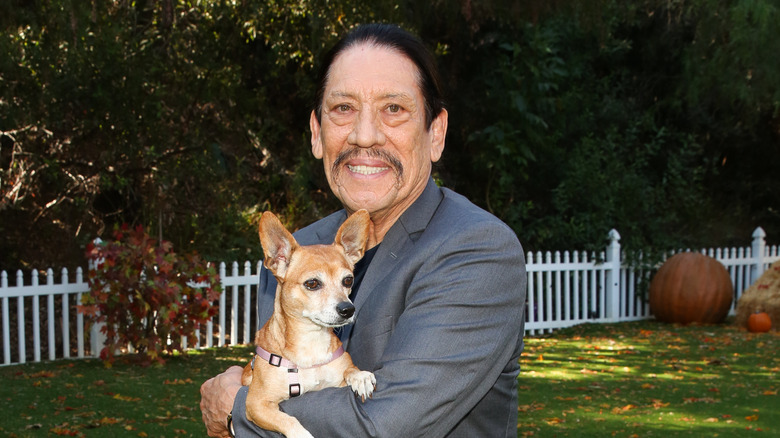 In addition to being a prolific actor and successful restauranteur, Danny Trejo is also a published author. For one, his memoir "Trejo: My Life of Crime, Redemption, and Hollywood" was published by Simon & Schuster for release in July 2021. The imprint calls the book "a portrait of a magnificent life and an unforgettable and exceptional journey through tragedy, pain, and, finally, success that will transfix and inspire" — sounds about right!
Additionally, Trejo has also published a cookbook, inspired by his lifelong relationship with food. Apparently, the cookbook gives away all of Trejo's culinary secrets, but that's not a bad thing for the restauranteur. "In order to keep it, you have to give it away," he revealed in an interview with Canada's Hello! magazine. "I love good food, and I love to see people eat good food. … I wanted to share this with everybody."
Danny Trejo continues to have a relationship with God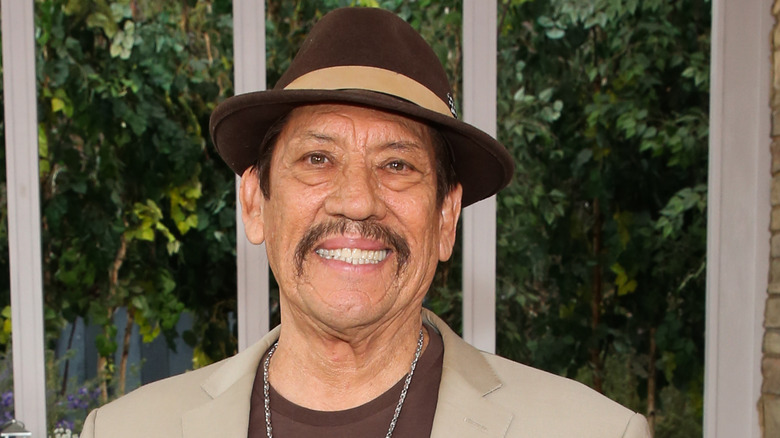 After taking a thorough look into Danny Trejo's life, it's abundantly clear that the man truly knows how to lead a principled existence. He prioritizes helping others, believes in the power of family and community, and continues to be a prolific working actor. Who else can boast such an ethos, especially after some seriously harrowing experiences in prison?
Additionally, Trejo continues to have a powerful spiritual life, making sure to check in with the deity who saved him from a squalid prison cell all those years ago. "I talked to God a couple of days ago and I said, 'How am I doing?'" he shared in an interview with Texas Monthly. "And he said, 'You're almost out of hell. Keep it up, you're doing great.'" Of course he's joking, as, at the end of the day, Trejo's life looks pretty darn great from where we're sitting. Keep it up, Danny!
Source: Read Full Article