Kevin Smith and Ben Affleck together again?? That's a relationship reboot we can get behind!
As he was preparing to drop the trailer for Jay and Silent Bob Reboot at San Diego Comic-Con this weekend, Kevin tweeted out a teaser image: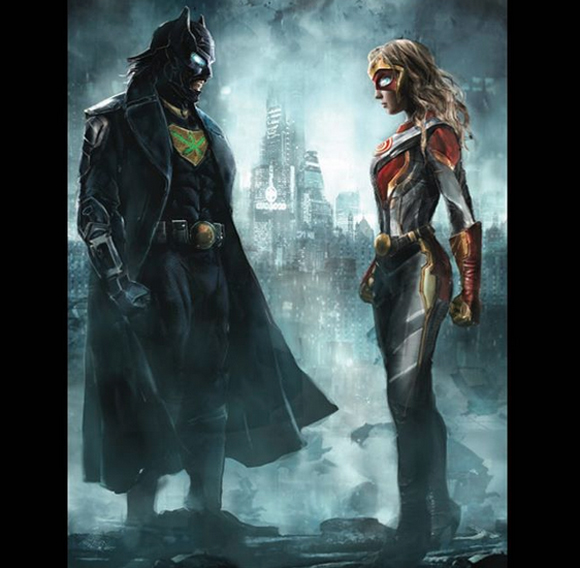 He wrote:
"Bluntman V Chronic. When Hollywood rebooted the old Biggs and Van Der Beek cult classic, they took it in a more modern direction! You'll learn who plays who when the #JayAndSilentBobReboot trailer debuts this weekend at @Comic_Con!"
The meta of it all cracked up fans of the 2001 Jay And Silent Bob Strike Back — including one in particular: his old pal Affleck! The Oscar winner, who starred in all of Smith's movies from the mid '90s to mid '00s, tweeted in response:
"Snoochie boochies!"
Aw, he showed solidarity with a classic Jay and Silent Bob catchphrase!
Clearly it meant a lot to Kev, who tweeted back:
"And suddenly, just like that, I'm 25 years old again. ❤️"
Awwww! So nice to see them getting along again!
The pair's friendship had been on the rocks for years. In 2014, Smith gave some of the only insight into the schism we've heard from either of them, telling Yahoo Movies:
"…we're not f**king tight. I have not been in decades. That's old Ben. He's got a wife that don't care for me at all. And plus, honestly, he probably don't care for me at all anymore . He's a triple-A-list movie star and s**t like that."
Now it's five years later, and both have been through a tough time.
Ben and Jennifer Garner were divorced, shortly after that comment in fact. A few years later he ended up doing a couple stints in rehab for alcohol abuse.
Then last year Kevin went through something of a tribulation of his own; his suffered a massive heart attack — one which hit his "Widowmaker" artery, which is very often fatal. Thankfully he came through the other side and is now healthier than ever after going vegan.
It's so heartening to see two old friends coming back together after all of that.
And Affleck isn't just celebrating Kevin from afar… he's in the movie, too!
The writer/director/podcaster decided to drop the trailer early, and it contained a number of surprise celeb cameos: Chris Hemsworth, Matt Damon, Rosario Dawson, Jason Lee (in his first live action acting job in years), and the triumphant return of Affleck, who, as we all know, was the bomb in Phantoms.
See the hilariously NSFW first trailer for the star-studded spoof (below)!
Source: Read Full Article