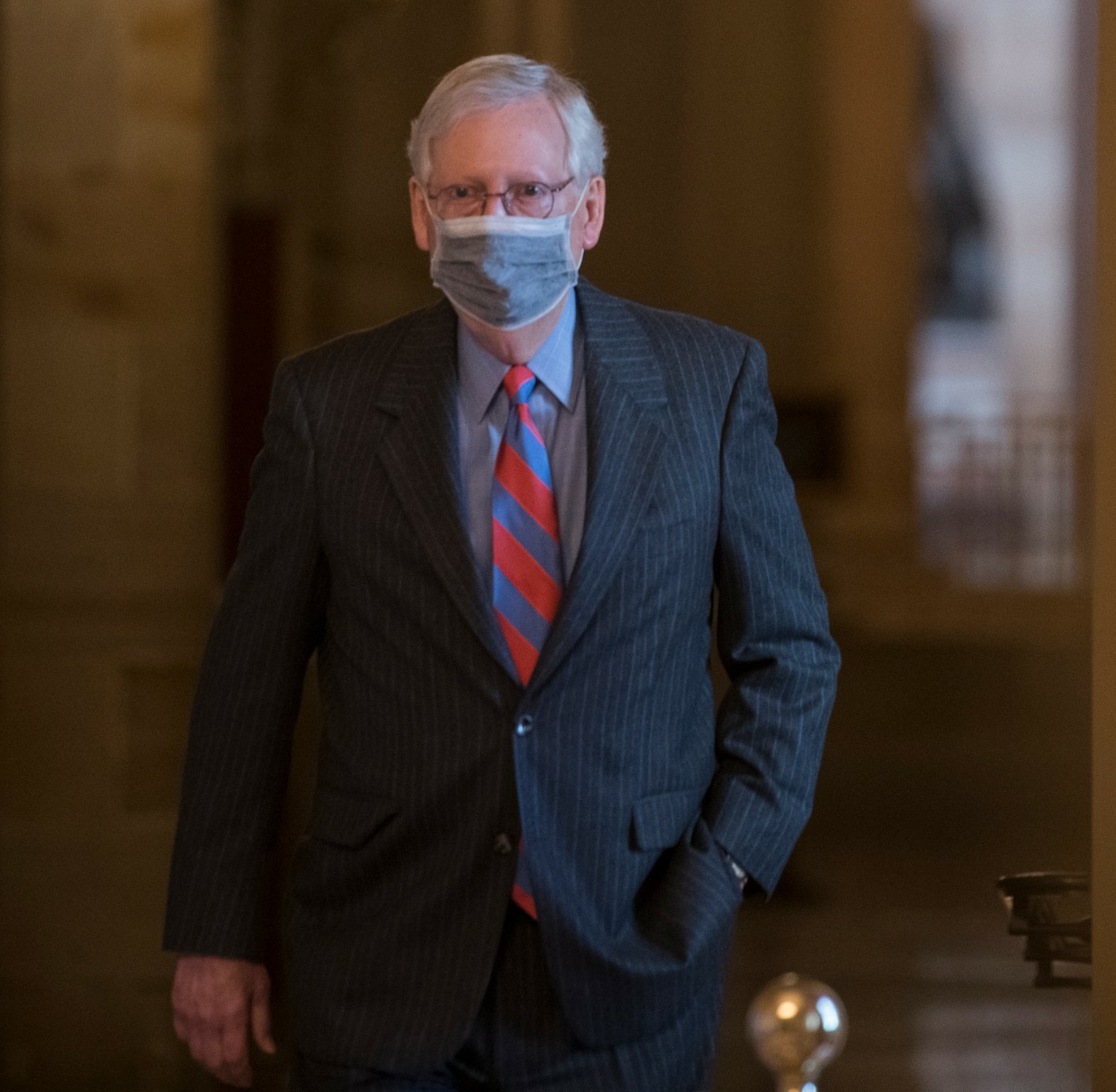 Before the election, sources within the Republican Congressional caucus were saying that they saw no reason to get an economic stimulus bill to Donald Trump. Think about how f–king stupid that was in an election year, with a looming recession, and everyone dealing with a global pandemic. But Trump kept playing games about whether or not he wanted a stimulus bill, and Mitch McConnell was like "let poor people die for all I care." But now that control of the Senate is looming in a Georgia special election, suddenly McConnell wanted to push through a stimulus bill. Yeah, to underline the point: when it's his ass as Majority Leader, suddenly Moscow Mitch "cares." So, Congress did push through a bill, and like everyone said last week, individual tax filers will end up getting $600. Some stimulus.
Congressional leaders on Sunday reached a hard-fought agreement on a $900 billion stimulus package that would send immediate aid to Americans and businesses to help them cope with the economic devastation of the pandemic and fund the distribution of vaccines. The deal would deliver the first significant infusion of federal dollars into the economy since April, as negotiators broke through months of partisan gridlock that had scuttled earlier talks, leaving millions of Americans and businesses without federal help as the pandemic raged. While the plan is roughly half the size of the $2.2 trillion stimulus law enacted in March, it is one of the largest relief packages in modern history.

"We can finally report what our nation has needed to hear for a very long time," Senator Mitch McConnell, Republican of Kentucky and the majority leader, said Sunday night. "More help is on the way."

It was expected to be merged with a sweeping catchall spending measure that would keep the government funded for the remainder of the fiscal year, creating a $2.3 trillion behemoth whose passage will be Congress's last substantive legislative achievement before adjourning for the year. The deal came together after a weekend of frenzied negotiating only hours before the government was set to run out of funding and two weeks before the next Congress was to convene on Jan. 3.

Still, even as it prepared to pass a consequential measure, Congress was at the peak of its dysfunction, having left so little time to complete it that lawmakers faced a series of contortions to get it across the finish line. With additional time needed to transform their agreement into legislative text, both chambers had to approve a one-day stopgap spending bill — their third such temporary extension the past 10 days — to avoid a government shutdown while they were finalizing the deal. Both chambers approved the measure on Sunday night, and President Trump signed it shortly before midnight. Final votes on the spending package were expected as early as Monday to approve it and clear it for Mr. Trump's signature, but had yet to be scheduled.

Although text was not immediately available, the agreement was expected to provide $600 stimulus payments to millions of American adults earning up to $75,000. It would revive lapsed supplemental federal unemployment benefits at $300 a week for 11 weeks — setting both at half the amount provided by the original stimulus law.
[From The NY Times]
The bill also puts $284 billion in the Paycheck Protection Program, which means more taxpayer money being funnelled to mega-churches and Kanye West. $15 billion for theaters and cultural institutions (which had to close because of the pandemic). There's also money for testing, tracing and vaccine distribution. But really, again, this was about Mitch McConnell trying to save the Republican seats in Georgia. Apparently, President-elect Joe Biden "quietly pushed" lawmakers to strike the deal, and he promised the Democratic caucus that once he was in office, we would push for a more comprehensive economic aid package. Biden's statement: "I am heartened to see members of Congress heed that message, reach across the aisle, and work together. But this action in the lame-duck session is just the beginning. Our work is far from over."
But yeah… $600 is insulting and I hope Georgia voters remember how Republicans – the Death Cult Party – left them to die and then insulted them with a $600 "stimulus." Oh, and all of these f–king Republican Congressmen are lining up to get the first Covid vaccines too.
$11 billion for a border wall.
$15 billion for a Space Force.
We need a radical revolution of values.
— The Martin Luther King, Jr. Center (@TheKingCenter) December 21, 2020
Now back to continue fighting for a rescue package including a lot more money for distribution so more Americans can receive it as fast as possible. pic.twitter.com/kSBhI3EzzM
— Leader McConnell (@senatemajldr) December 18, 2020
And yes, I know I need a tan
But I am so confident that the #Covid19 vaccine is safe & effective that I decided to take it myself pic.twitter.com/TQbog6fu7i
— Marco Rubio (@marcorubio) December 19, 2020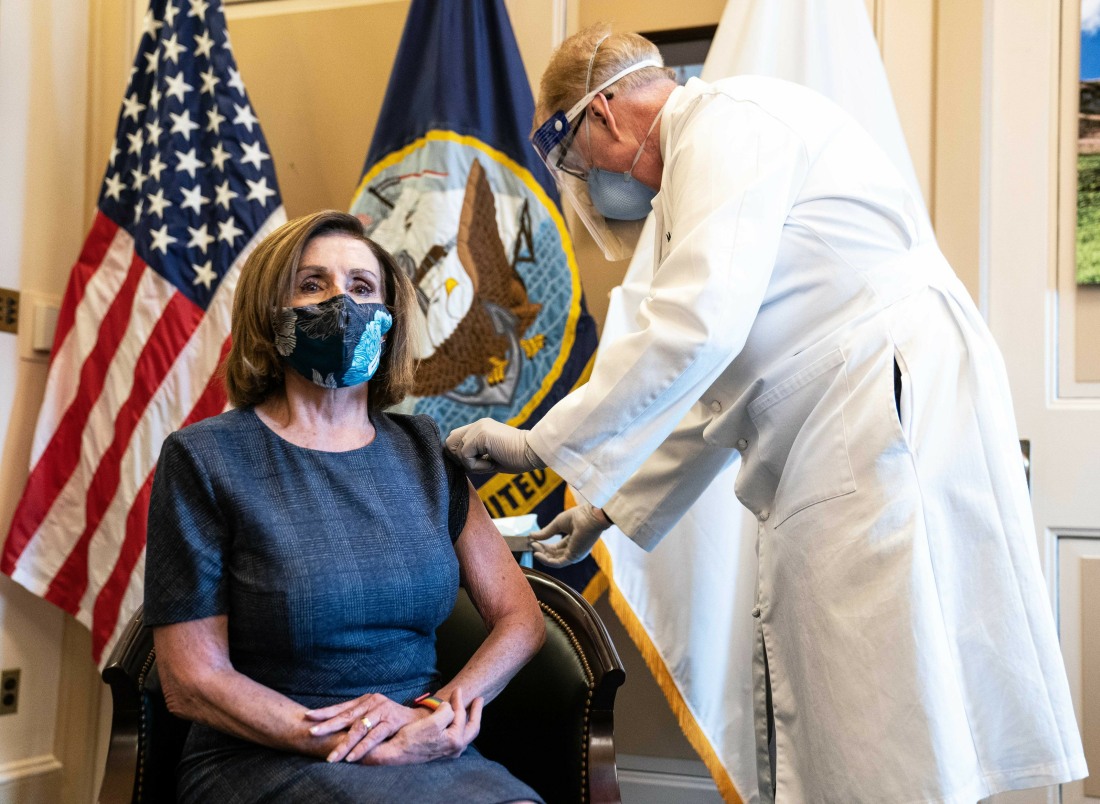 Photos courtesy of Avalon Red.
Source: Read Full Article