Jake Owen has no time for hate on his Instagram page.
Earlier this week on social media, the country singer shared a preview of his cover of Cher's Believe — dedicated to the LGBT community.
In fact, the 37-year-old admitted he "googled 'gayest' songs of all time,'" and the catchy tune popped up!
He wrote:
"I believe #loveislove… Some of my closest friends and coworkers, are part of the #lgbt community and I couldn't be more happy for the progress they have made. I'm inspired by people loving people no matter who you are. I BELIEVE the world needs more love. No matter where it comes from. So with that said, I googled 'gayest' songs of all time and the boys and I decided to put our country spin on Cher's Believe. Hope you dig. I plan on releasing all of these backstage random songs we've created very very soon. Stay tuned friends, and most importantly, love everyone.'"
As seen here:
Unfortunately, one commenter did not appreciate Owen's pride-filled rendition.
The social media user wrote:
"Suddenly I feel sick that I have tickets to your show here on Thursday night."
The critic also accused the musician of deleting her "comment about not being true country."
That's when the crooner responded by penning:
"im sorry you feel sick that you have Tickets to my show Thursday night. Maybe it would do you good to come out, smile, laugh, sing a long with a bunch of strangers that are all going through what we call 'life.' I definitely didn't delete your comment or anyone's comment from this feed. It's really only you and few other ignorant people that make yourself look silly. If you make it out to my show, come give me a hug. You need one. If you decide not to come, trust me… we will all be okay. We like to share our shows with people that are kind, and loving.'"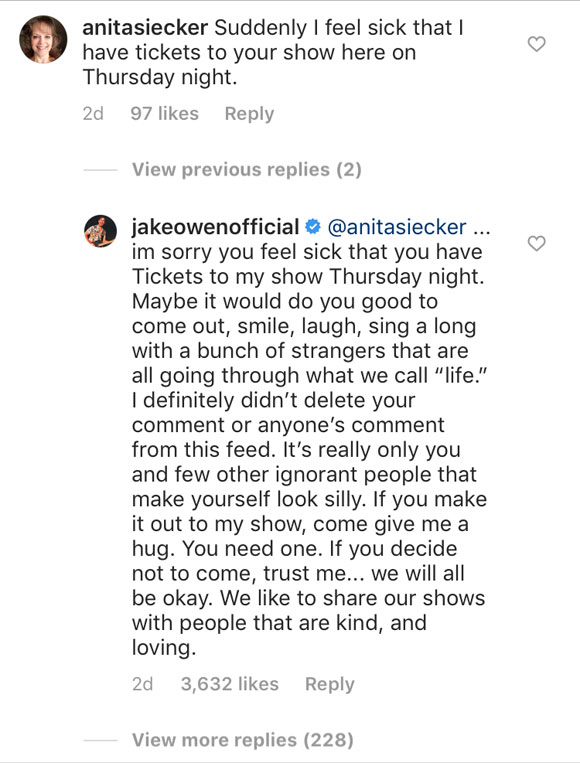 Additionally, Tyler Hubbard of Florida Georgia Line showed support for Jake's pro-gay message by commenting:
"Love this my brother and think it's awesome that you're down to talk about topics that are not necessarily comfortable. Keep doing what's right and don't worry about the people that don't get it. Not everybody is comfortable accepting others for who they are but I'm glad you are and you use your voice to show love and acceptance to everyone. Proud to call u a friend."
Love wins, y'all!
Source: Read Full Article