Ever since Jennifer Lopez and Alex Rodriguez called off their engagement, Southern Charm star Madison LeCroy has been getting a sh*t ton of flack online for her alleged involvement in their split. According to Madison, nothing ever happened between her A-Rod, which is totally cool if that's her truth. But now, Madison is saying she has a boyfriend…literally four days after J.Lo and A-Rod issued a joint statement about their decision to split.
Over the weekend, Madison posted a picture of herself enjoying a drink at The Garden Room in Atlanta…and naturally all the comments were about A-Rod. In the comments, one user wrote, "Mmmmm Arod on his way girl get bags pack he coming for you," to which Madison replied, "I have a boyfriend!"
https://www.instagram.com/p/CNwC3Ogr3mf/?utm_source=ig_embed&utm_campaign=loading
A post shared by Madison LeCroy (@madison.lecroy)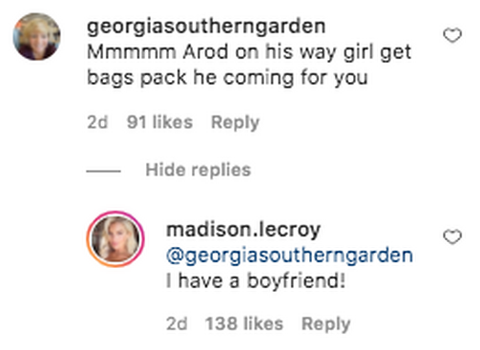 Madison hasn't clarified who her boyfriend is at the moment, but to refresh your memory, here's all the drama that went down during the Southern Charm reunion that had everyone thinking she was messing around with A-Rod. Co-star Craig Conover accused Madison of being a "f*cking homewrecker" after she cheated on his friend, Austen Kroll, by getting into an affair with a hot shot MLB player who he did not name.
"You were flying around the country sleeping with men, married men!" Craig said. "Ex-MLB players. That's what you were doing during quarantine. You know why Austen was at my house? Cause you weren't talking to him! You flew to Miami to f*ck an ex-MLB player." People then began to speculate that MLB player Madison's co-star was talking about was A-Rod…despite that he technically wasn't even married to J.Lo yet.
Madison then denied the cheating rumors altogether and told Page Six that Alex "never physically cheated on his fiancée with me" and added that she "talked to him [in a] randomly but not consistent" and "innocent" way. After J.Lo and A-Rod caught wind of the rumors, they issued a joint statement to TMZ that said "all the reports are inaccurate," and that they were "working through some things" that had nothing to do with a third party.
Guess there's nothing to do now but wait for the internet sleuths to uncover the identity of Madison's BF!
Source: Read Full Article