When expressing his gratitude to Backstreet Boys fans in general, the boybander admits that they have blessed the band 'to be able to entertain and bring joy.'
AceShowbiz –Nick Carter has responded to epic behind-the-scenes footage from the "I Want It That Way" music video. After the clip went viral, the Backstreet Boys member thanked Devon Daniels, a woman who appeared as an extra in the MV, for her outpouring support as she was the one who uploaded it.
Devon posted a TikTok video on June 2 in which she participated in the "I'll Never Forget You Challenge" and looked back at a memorable moment when she was featured as one of the screaming fans in Backstreet Boys' "I Want It That Way" music video back in 1999. In the TikTok video, Devon, who is now 39, revealed some candid shots she took while on the music video's set.
Tell me why 🎶 #iwantitthatway#bsb#backstreetboys#boybands#viral#neverforgetyou#trend#foryou#fyp#illneverforgetyouchallenge
In response to Devon's story, Nick tweeted on Tuesday, June 8, "Such a cool story. I just wanted to you personally thank @DevonDaniels_ for being in our video 22 years ago," alongside a BuzzFeed News article of the viral clip that has reached over 260,000 viewers. The 41-year-old singer added further, "We love you. I hope it wasn't too late. @backstreetboys #BackstreetBoys #iwantitthatway #devondaniels."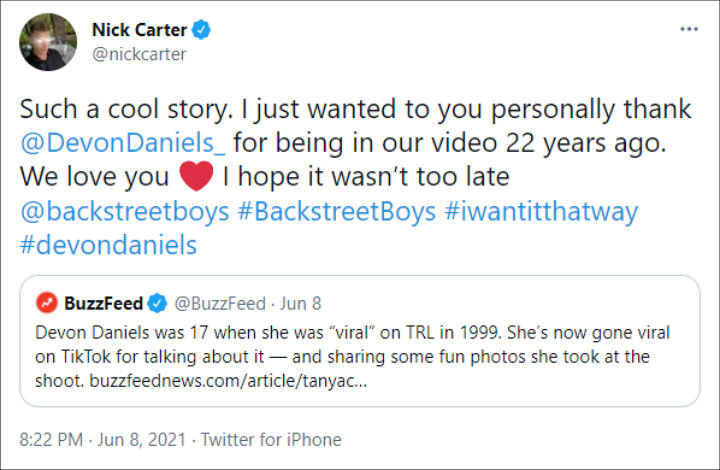 Nick Carter responded Devon Daniels' viral TikTok video via Twitter.
Replying back to Nick, Devon gushed over the band in a tweet that read, "Nick, the kindness and generosity you (and all the BSB!) have shown your fans for decades is truly inspiring." The mom of four elaborated, "I can't thank you enough for this unforgettable experience that I've gotten to enjoy for 22 years! I'm so grateful, then as now. #tellmewhy."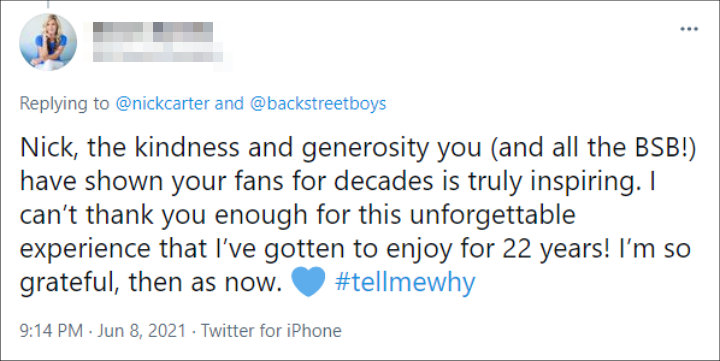 Devon Daniels replied back to Nick Carter.
After receiving a response from Devon, Nick went on to express his gratitude to her and other Backstreet Boys fans once more, saying, "Thank you but it's fans such as yourself that keep us going and have blessed us with this life to be able to entertain and bring joy. Thank YOU. #wearebsb #youarebsb #backstreetarmy." He then included a photo of himself flashing a peace sign with his daughter in a baby carrier.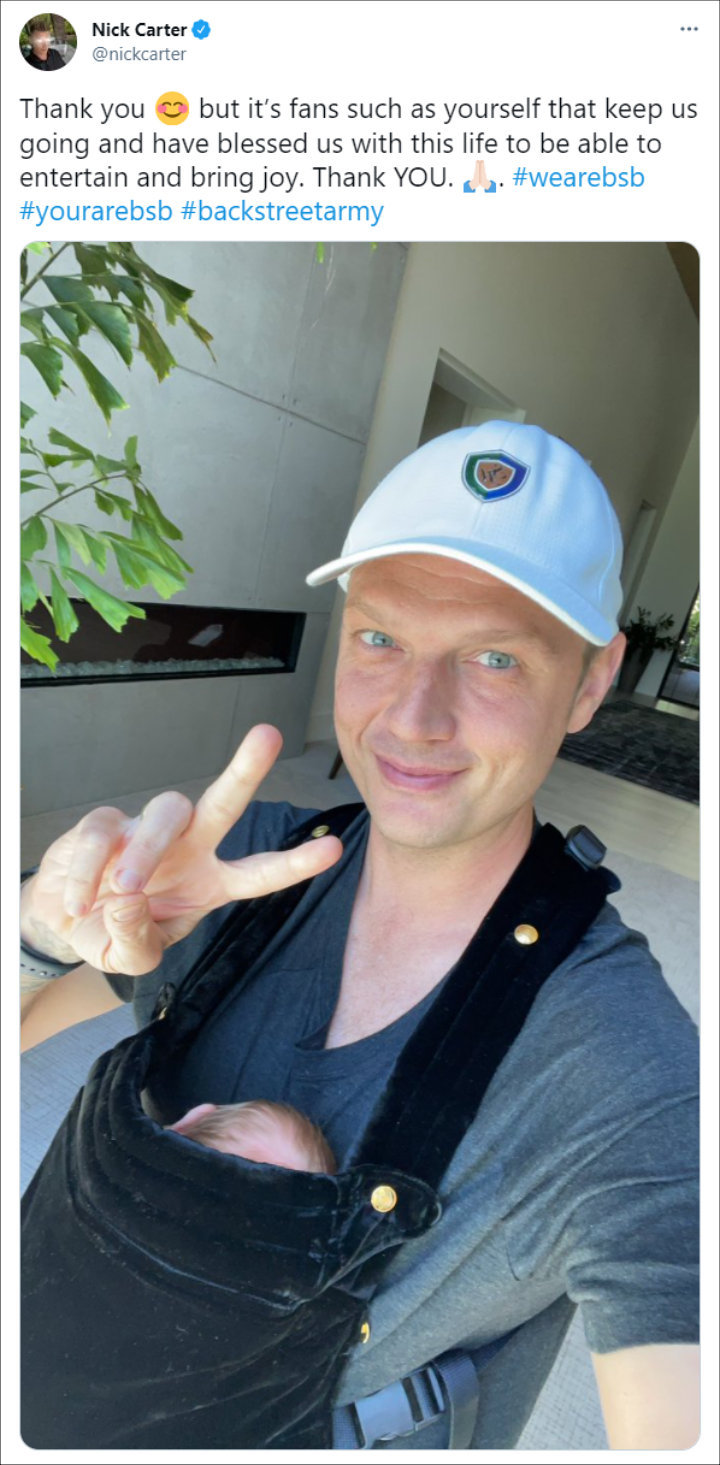 Nick Carter expressed his gratitude for all Backstreet Boys' fans.
Nick first caught wind of Devon's TikTok video almost a week ago. At the time, he jokingly commented on her clip, "Oh hey! The film pictures make me feel ancient." He then added, "I hope to see you again soon!"
Source: Read Full Article