Earlier this week, some photos of NicoleMurphy and married director AntoineFuqua kissing in Italy started making the rounds on the internet. After catchingheat on social media, Murphy has issued an apology to her own family and Fuqua'swife, Lela Rochon, for her actions.
The whole ordeal has ballooned into a celebrity scandal,causing Rochon to delete her social media accounts and placing Murphy, theex-wife of EddieMurphy, under a microscope. It hasn't been an easy week for the parties involvedin the mess.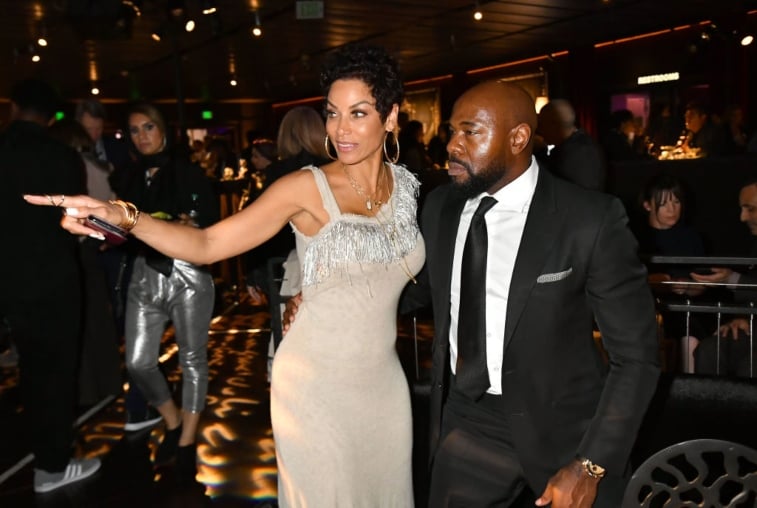 Murphy was initially dismissive of the photos
The photos of Fuqua and Murphy depict them smooching on thelips while poolside at a hotel in Ischia, Italy on Saturday. Fuqua was in the countryto attend the Ischia Global Festival where he was due to receive an award fordirector of the year. It is unclear whether Murphy accompanied the acclaimeddirector on the trip or if she met him there.
According to ET Online, a witness first saw the pair kiss when they sat down by the pool, and about 30 minutes later, they stood up and kissed again. They were described as looking very relaxed and very friendly, and Murphy was wearing a bikini while Fuqua had a towel wrapped around his waist. The same witness stated that the two were seen dining with the event's organizer later that evening.
Once the photos leaked on the web, Murphy was immediately slammed for going after a married man, and fans claimed that both she and Fuqua allegedly have histories of cheating behavior. In response to the backlash, Murphy immediately issued a statement through the blog Love B. Scott saying their relationship was innocent:
"Antoine and I are just family friends. I ran into him in Italy and we exchanged a friendly hello and that was it."
People were not buying it. Fuqua's wife, who's a beloved actress, wound up deleting her Instagram and Twitter accounts after being bombarded with comments. Lisa Raye McCoy, another actress who runs in the same circles, accused Murphy of going after her ex husband in the early 2000s, saying her deeds contributed to their divorce.
Fuqua remains silent, Murphy apologizes
Fuqua, 52, has been married to Rochon for 20 years and they share two children, a 16-year-old and a 15-year-old. He is known for directing Training Day, The Equalizer, The Magnificent Seven, Shooter, and The Replacements. Murphy, 51, has five children with ex Eddie Murphy but is currently single. Since the furor hasn't died down about the scandal, Murphy went through TMZ to issue an apology, saying:
"Without going into the entire situation, I want to apologize to my family and to Lela and the Fuqua family for what transpired. It was not my intention to be in this situation. I do not condone women kissing or interacting in any way inappropriately with a married man. I too was once married, and I would never intentionally undermine another woman, despite what has been written."
Reps for Rochon or Fuqua have not responded to media requests. Check out the video from E! News below.
Fans have been taking sides in the controversy, knocking Murphy for being "the other woman" and showing support for Rochon online. Other than Murphy, no one has spoken out.
Source: Read Full Article