The 'I Remember' rapper later confesses to having 'been in my feelings' earlier after seemingly talking about loyalty and lamenting not being able to see his daughter for weeks.
AceShowbiz – Quando Rondo has often got candid about his feelings on social media and he's now once again given an insight into his seemingly problematic life. The rapper issued a warning that it's "about to get slimey" on Twitter.
On Thursday, November 18, the Savannah-born star warned everyone around him that he's either going to kill or get killed. Seemingly sending a message about loyalty, he wrote on the blue-bird app, "Ima Either Get Killed Or Ima Kill Somebody So Everybody In My Environment Better Be With Me Or It's Gone Happen To Them."
"I Done Rode For Everybody And Ain't Nobody Roccin With Me S**t about To Get Slimey I'm Telling You WatCh," the 22-year-old continued. "I Can C Somebody Round Me Lul Homie Killing me."
Hours later, Quando, whose real name is Tyquian Terrel Bowman, lamented not being able to see his daughter. "I ain't seen my daughter in weeks I guess this s**t bout money," so he claimed. In another tweet, he wrote, "When Situations Get Sticcy, You C They True Colorz."
Quando was seemingly getting honest with those tweets as he also admitted, "I been in my feelings earlier."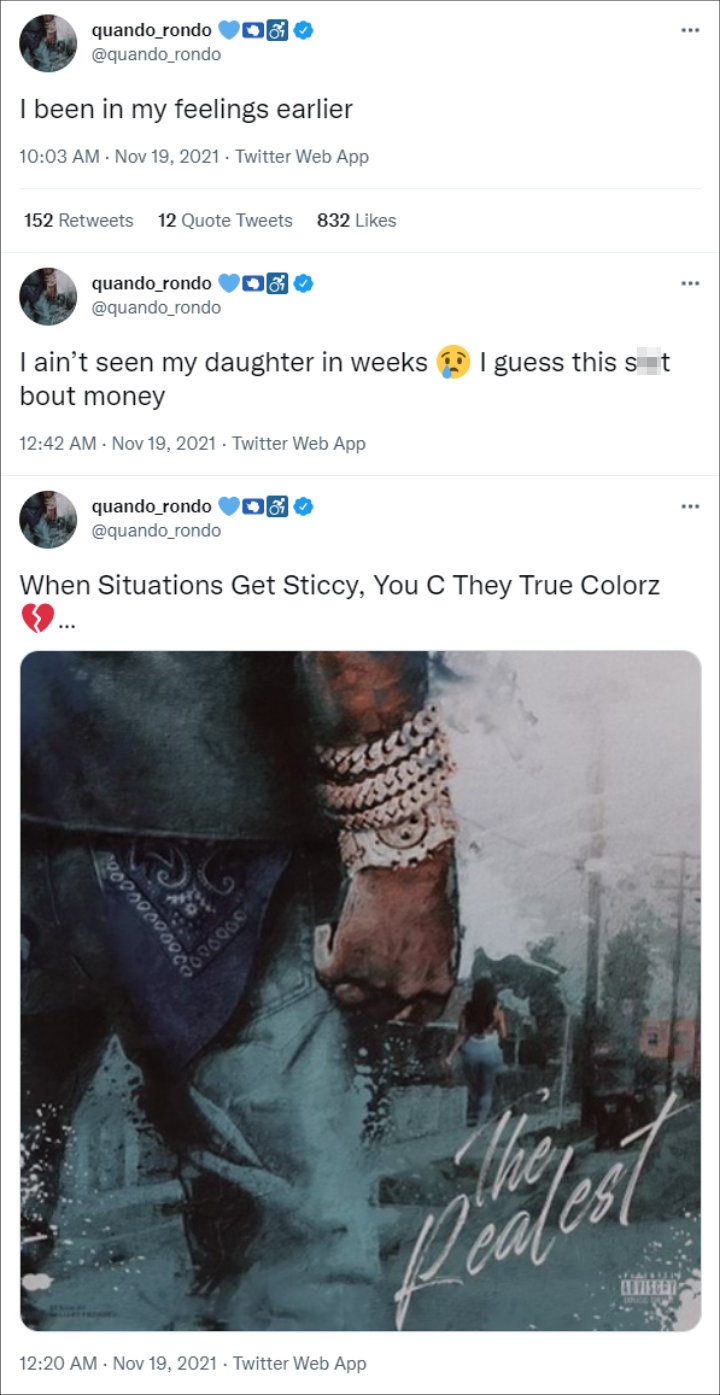 Quando Rondo posted troubling tweets.
It's unclear what situation that Quando has been dealing with, but people have been slamming him for spreading the negative vibe. Masika Kalysha urged him, "Black men do better." Bobby Lytes chimed in, "Exactly. This is some pure ignorant s**t. Some rappers be on some dumb s**t."
A third commenter wrote, "It's crazy… some people are out in opportunities to really make a difference for themselves and their lineage and choose to sacrifice it all for some dumb shxt that will either leave them hurried or behind bars and forgotten… very sad mentality that we need to fix up in our people."
"N***as love speaking this energy over their own existence," another criticized. Someone expressed sympathy as imploring, "Pray for that little boy he is SO LOST smh." One person begged with the star, "Quando please…. You have a child hang it up!"
Another warned him, "Be careful what you speak into the atmosphere words are powerful. Now you gotta work extra to stay alive. SMH." Someone else echoed the sentiment as writing, "The tongue is powerful, be careful how u speak."
Source: Read Full Article