The 'SOS' artist shows support to the 'WAP' femcee, who concluded her shooting case involving Tory Lanez late last year as he's found guilty of three charges.
AceShowbiz –SZA is sending love to fellow musician Megan Thee Stallion. The "SOS" artist showed support to the 27-year-old "Savage" femcee, who concluded her shooting case involving Tory Lanez late last year.
Making use of her Instagram account, SZA wrote a gushing post about the Hot Girl Summer. "Jus wanted to give some love to Meg," the "Kiss Me More" hitmaker wrote on Tuesday, January 17. "Your beautiful and we're all rooting for you."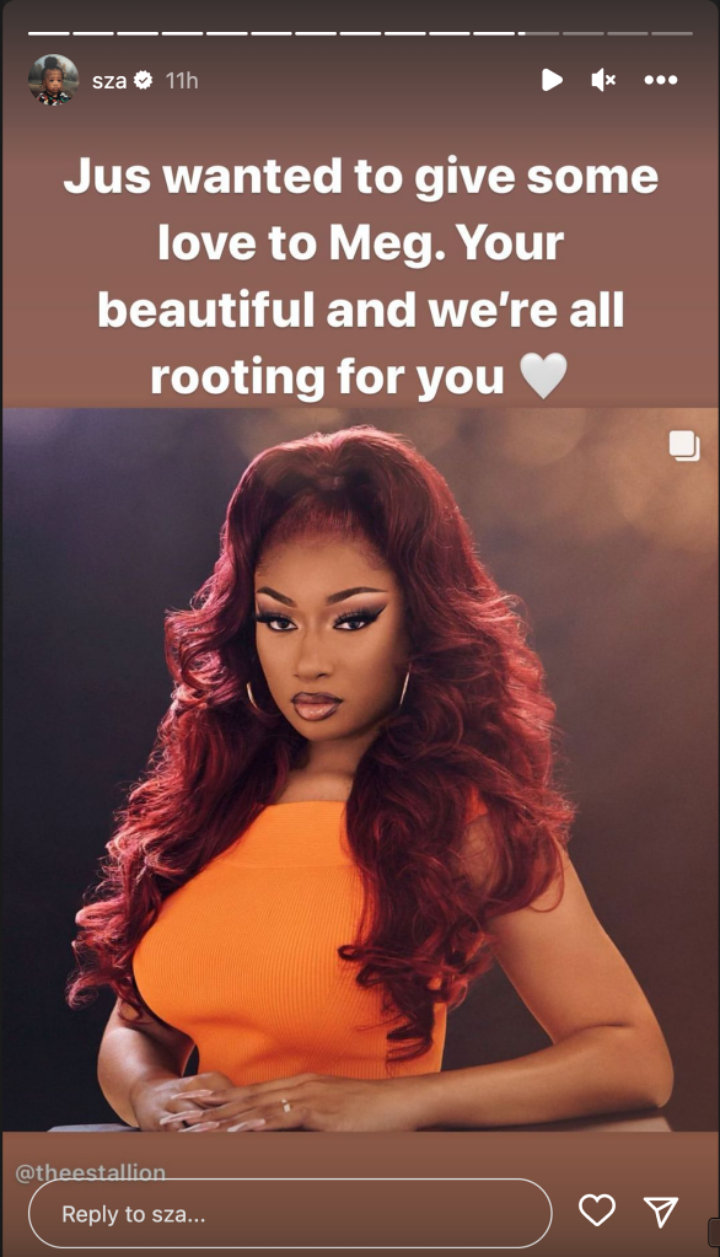 SZA gushed over Megan Thee Stallion.
The sweet message arrived after Tory was found guilty of three charges in the 2020 July shooting that left the "WAP" hitmaker injured. He was convicted of assault with a semiautomatic firearm, having a loaded unregistered firearm in a vehicle and discharging a firearm with gross negligence.
The Canadian rapper faces more than 22 years in prison and the possibility of deportation back to Canada. However, his legal team is currently planning to appeal the decision.
"We are shocked by the verdict," Tory's attorney George Mgdesyan said in a statement to The Shade Room on Friday, December 23. He continued, "There was not sufficient evidence to convict Mr. Peterson [Tory's real name, Daystar Peterson]. We believe this case was not proven beyond a reasonable doubt. We will be exploring all options including an appeal."
In addition, SZA raved about Taylor Swift after the latter broke new Hot 100 Billboard record with her hit song "Anti-Hero". The track became her longest-leading chart-topper in the process. "Congratulations to tay tay!" the R&B singer penned, "And thank you so much your album and writing is phenomenal ..as ALWAYS."
As for Taylor, the "Midnights" artist also gave SZA a loving shout-out. "been listening to SZA's album nonstop. Absolutely adore her music. So much love and respect for her!!!" she wrote.
You can share this post!
Source: Read Full Article