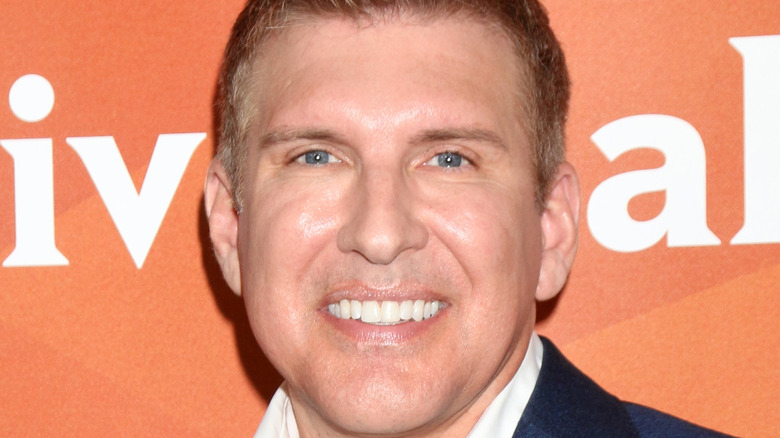 "Chrisley Knows Best" has been a mainstay in reality television since its debut in 2014. It's already aired eight seasons, and Season 9 is just around the corner, premiering on August 12, 2021 (via IMDb). The series is so gripping because of its large personalities and its extravagance; it's an escape for the everyday person, and it always has new developments that make it dynamic to watch. Still, there are some things long-time fans may not know about the series. 
No matter who your favorite Chrisley family member is, you're bound to pick up on the nuances of each relationship on the show. Of particular interest is the relationship between Todd Chrisley and his mother Faye, who's known as "Nanny" on the show. According to Live Ramp Up, Todd is one of three sons to the 77-year-old Faye. Faye is an eccentric character who loves to gamble, celebrate life, and spread love (via Feeling The Vibe), and because her life is on full display on television, viewers of the series have special access to her as a person and as a television personality. 
It's unknown just how much of a front the Chrisleys present on television, but it's clear that each relationship in the family — especially that of Todd and Faye — has been tested over time. (Let's not forget the time Todd revealed, according to Feeling The Vibe, that the worst advice he ever got from Faye was that he should give his first wife a chance.)
Money problems caused Todd Chrisley to do this to his mother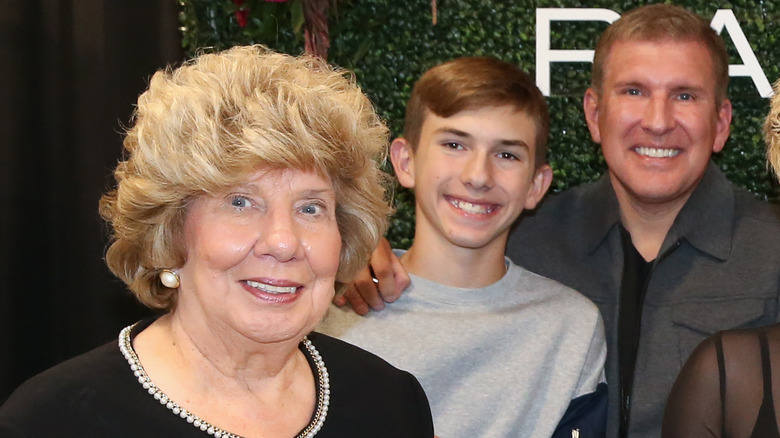 When it comes to Todd and Faye Chrisley's relationship, it's safe to say that matters are complicated — or at the very least, they have been in the past. On television, the Chrisleys appear to live a rather extravagant life, but this has come with a big cost. In fact, the cost is so big that, according to Live Ramp Up, Todd Chrisley actually has a negative net worth, meaning he's in debt. This led to the television star removing Faye from her house because he could no longer afford to pay for it.
Money problems weren't new to Faye at this moment, though. In one episode of "Chrisley Knows Best," she chides some of her grandchildren for their cell phone usage. She said, "I think about how hard I had to work, milking cows every morning at 4:30 in the morning, and then going to feed the hogs and the chickens…Y'all couldn't survive one week on what I had to do" (via Live Ramp Up). Faye wasn't raised with money, so while it's unclear exactly how she handled being removed from her house, it's likely that she understood, even if begrudgingly.
Despite everything, Todd and Faye Chrisley remain very close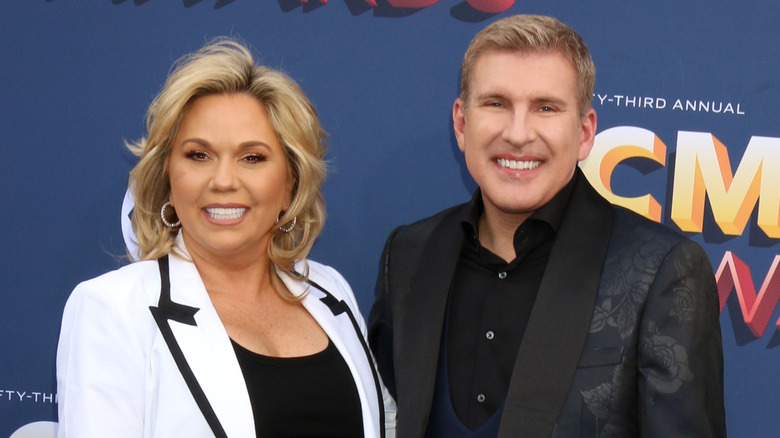 Outside of money problems, Faye and Todd Chrisley seem to have a sweet relationship. For example, Todd posts sweet messages about Faye for her birthday, per Feeling The Vibe. In 2019, he wrote, "Happy Birthday Mama, @nannyfayechrisley there are no words that will ever explain how blessed I am to have you as my mother, through every trial and tribulation our family has ever gone through, you have been the light that leads us through the darkness." Later in the post, he added, "God, thank you for this blessing and for every blessing of strength and perseverance that my mother has taught us all." 
Through everything, it appears that Faye has been a north star for Todd, helping him find his way back from his hardships. For example, in 2014, the star's debt included $500,000 that he owed the IRS as well as a $4.4 million loan (via Live Ramp Up). Matters like these require the help of those around you to help get you through them, and it seems Faye has never left Todd's side.
At the end of the day, it's clear that these two share a special relationship, especially because they've been tested so much. They'll be back to show their mother-son bond when "Chrisley Knows Best" Season 9 premieres.
Source: Read Full Article