Celebrity stylist Law Roach sets things straight that he's not breaking up with the 'Euphoria' star, one day after he announced his retirement due to 'the politics' and 'the lies' in the industry.
AceShowbiz -Law Roach's decision to retire early didn't have anything to do with Zendaya Coleman. In fact, the celebrity stylist claims that he still maintains a good relationship with the actress despite his shock resignation.
Law broke his silence on his retirement to deny that the two-time Emmy Award winner forced him to quit his job after people brought up a video of Zendaya and her stylist's interaction at a fashion show. In the clip, the 26-year-old was seen taking a seat on the front row next to Emma Stone at Louis Vuitton's show during Paris Fashion Week, while Law, who walked slightly behind her, was confused as to where he should sit.
The "Spider-Man: No Way Home" star was then seen pointing to an empty spot behind her, seemingly telling her stylist where he could sit. Some critics accused of Zendaya being "rude" and not "showing him respect," with some suggesting that the awkward moment was the catalyst for the 44-year-old stylist's resignation.
However, on Wednesday, March 15, Law himself took to Twitter to defend the star as he penned, "So y'all really think I'm breaking up with Z….. we are forever!" He added in a separate tweet, "She's my little sister and it's real love not the fake industry love."
Law also posted a GIF of a boy and a girl playing on a flower field and captioned it, "Literally me and zendaya…."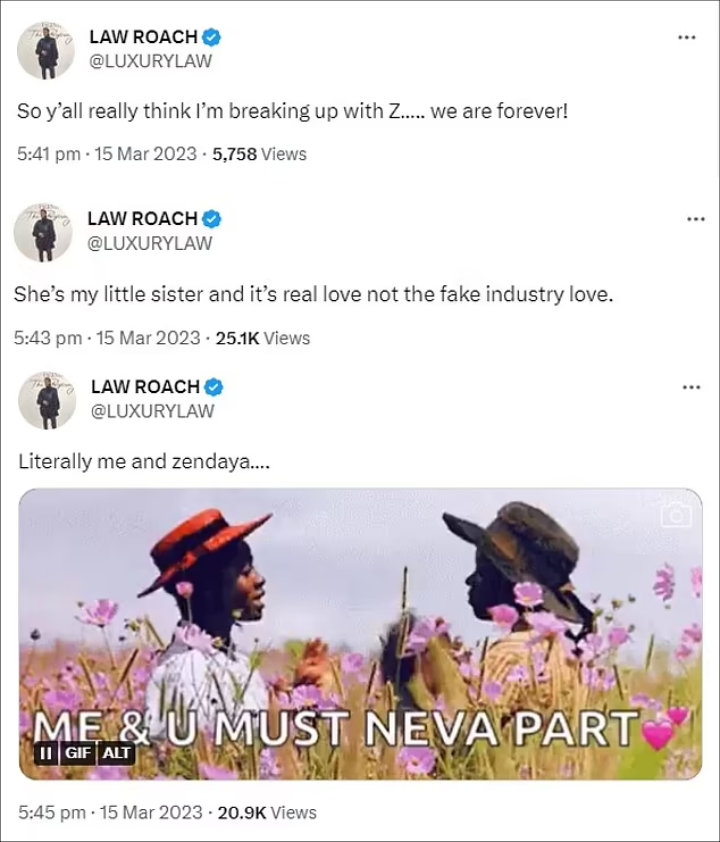 Law Roach defended Zendaya amid speculation she forced his shock resignation.
On Tuesday, Law shockingly announced his decision to retire as he's fed up with "the politics" and "the lies" in the industry. "My Cup is empty…..," so he began his statement, "thank you to everyone who've supported me and my career over the years. Every person that trusted me with their image, I'm so grateful for you all."
"If this business was just about the clothes I would do it for the rest of my life but unfortunately it's not! The politics , the lies and false narratives finally got me! You win … I'm out," he continued, without detailing the specific incident that drove him to the retirement.
Law has also worked with the likes of Kerry Washington and Issa Rae among other celebrities. Just days before his announcement, he styled Hunter Schafer in Ann Demeulemeester micro feather look at the Vanity Fair Oscars after-party on Sunday night. He was also responsible for Megan Thee Stallion's glamorous look that night.
You can share this post!
Source: Read Full Article