Sign up for the BuzzFeed News newsletter JPG for behind-the-scenes exclusives from renowned photographers and our hard-hitting photo stories.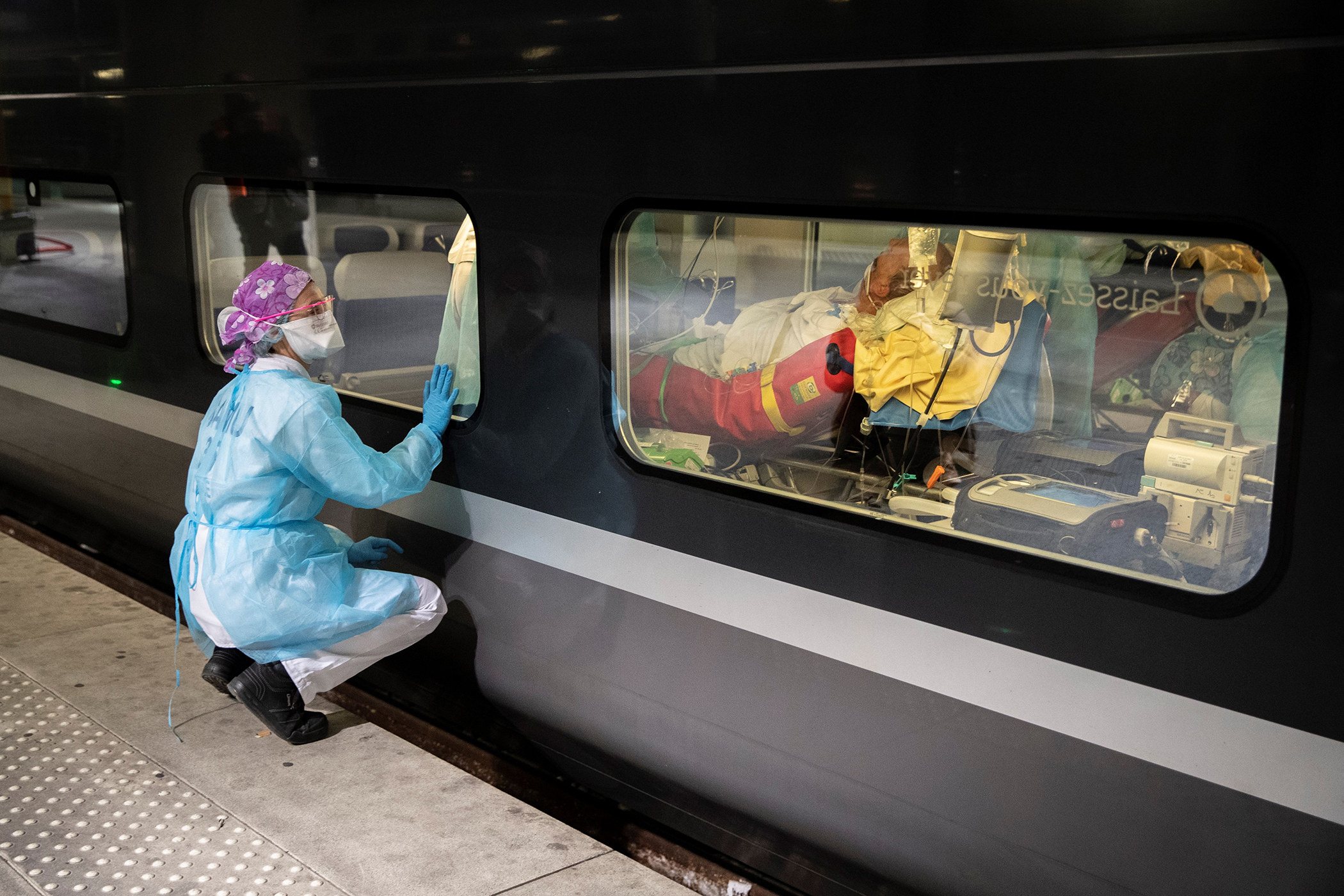 A medical staff watches from a platform of the Gare d'Austerlitz train station in Paris through the window of a medicalized TGV high speed train, before its departure to evacuate patients from Paris' region hospitals to other hospitals in the western France on April 1.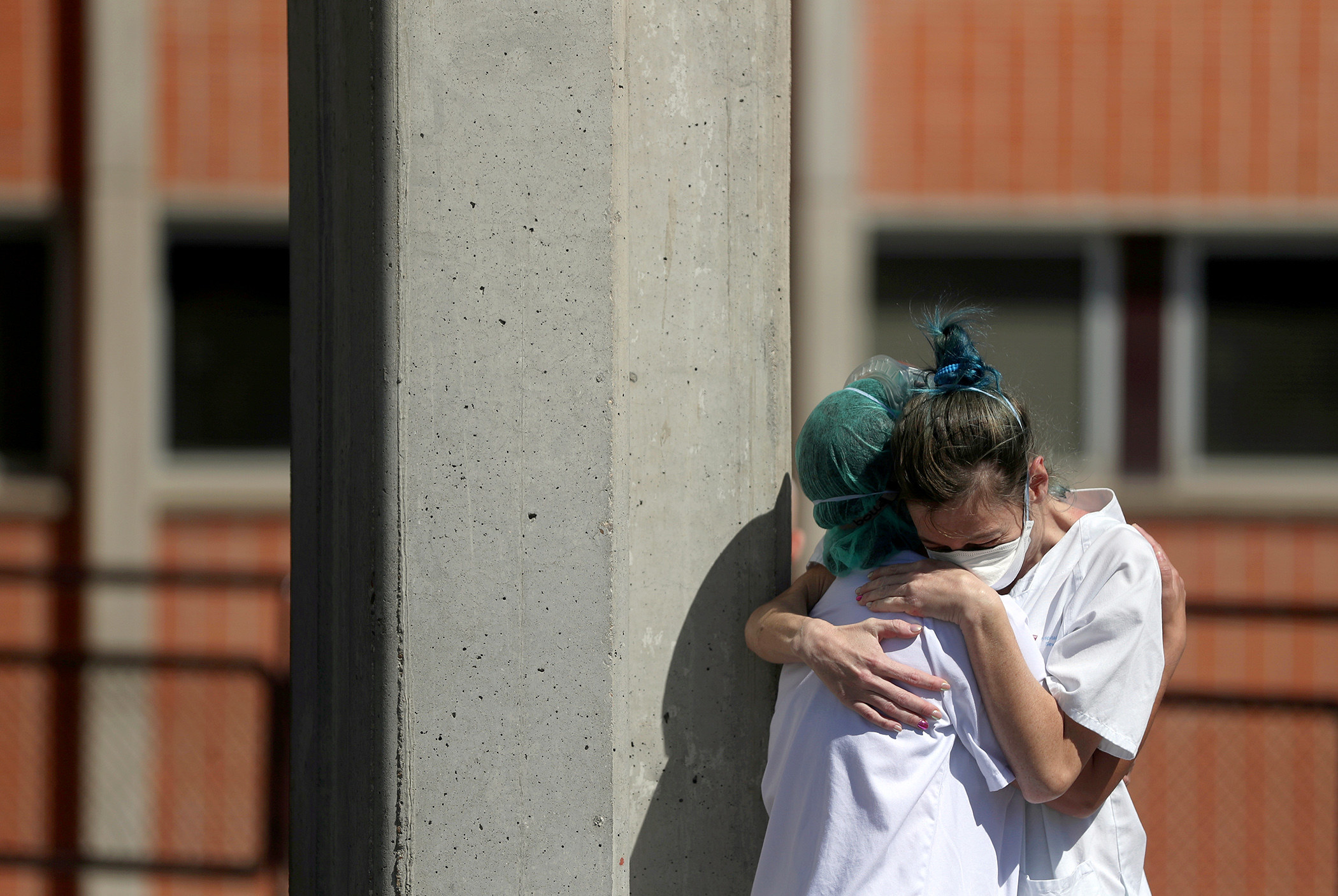 Medical workers hug each other outside the emergency rooms at Severo Ochoa Hospital in Leganes, Spain, on March 26.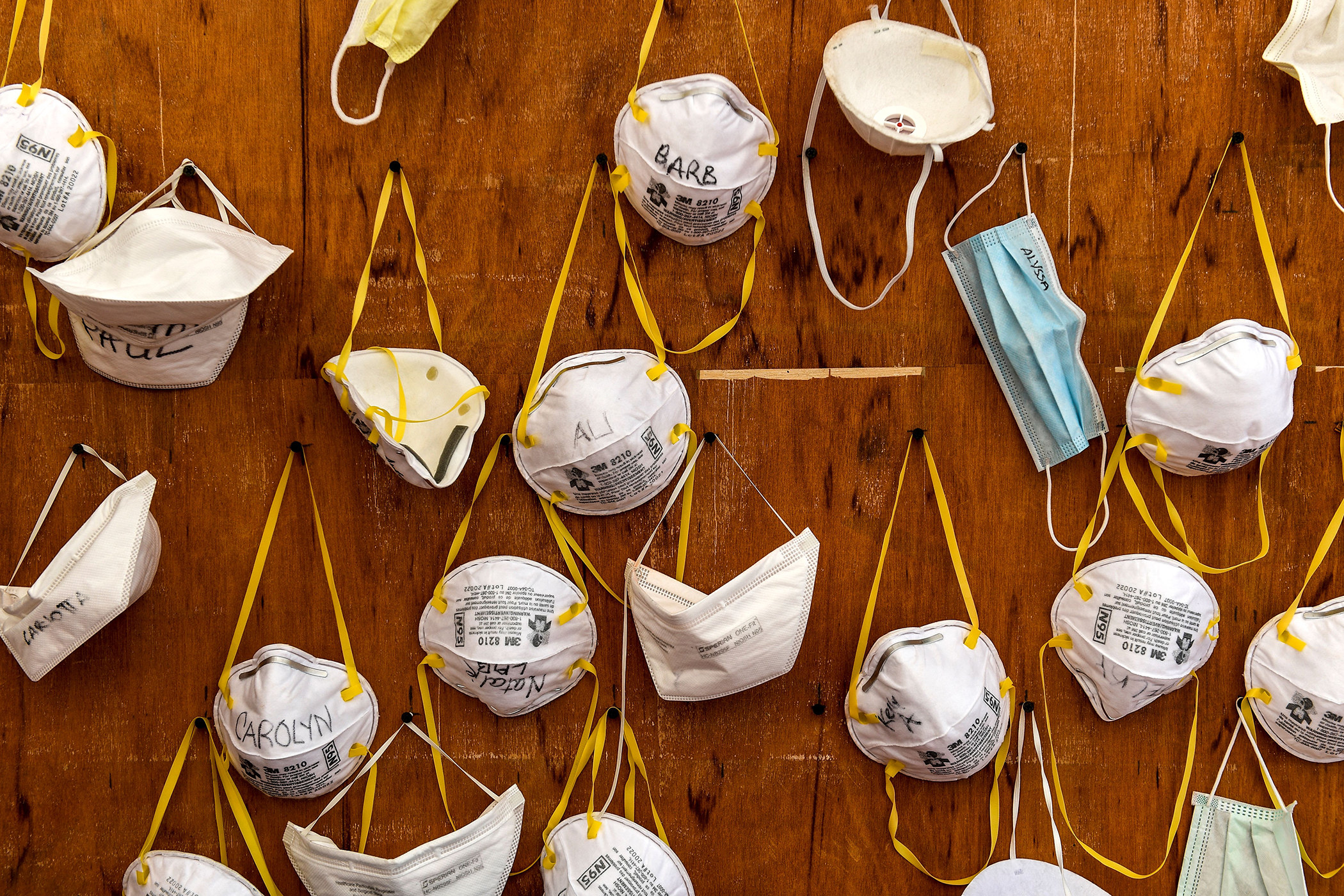 Protective masks bearing the names of medical staffers and nurses are pinned to a wall at an operative field hospital in Lombardy, Italy, on April 2.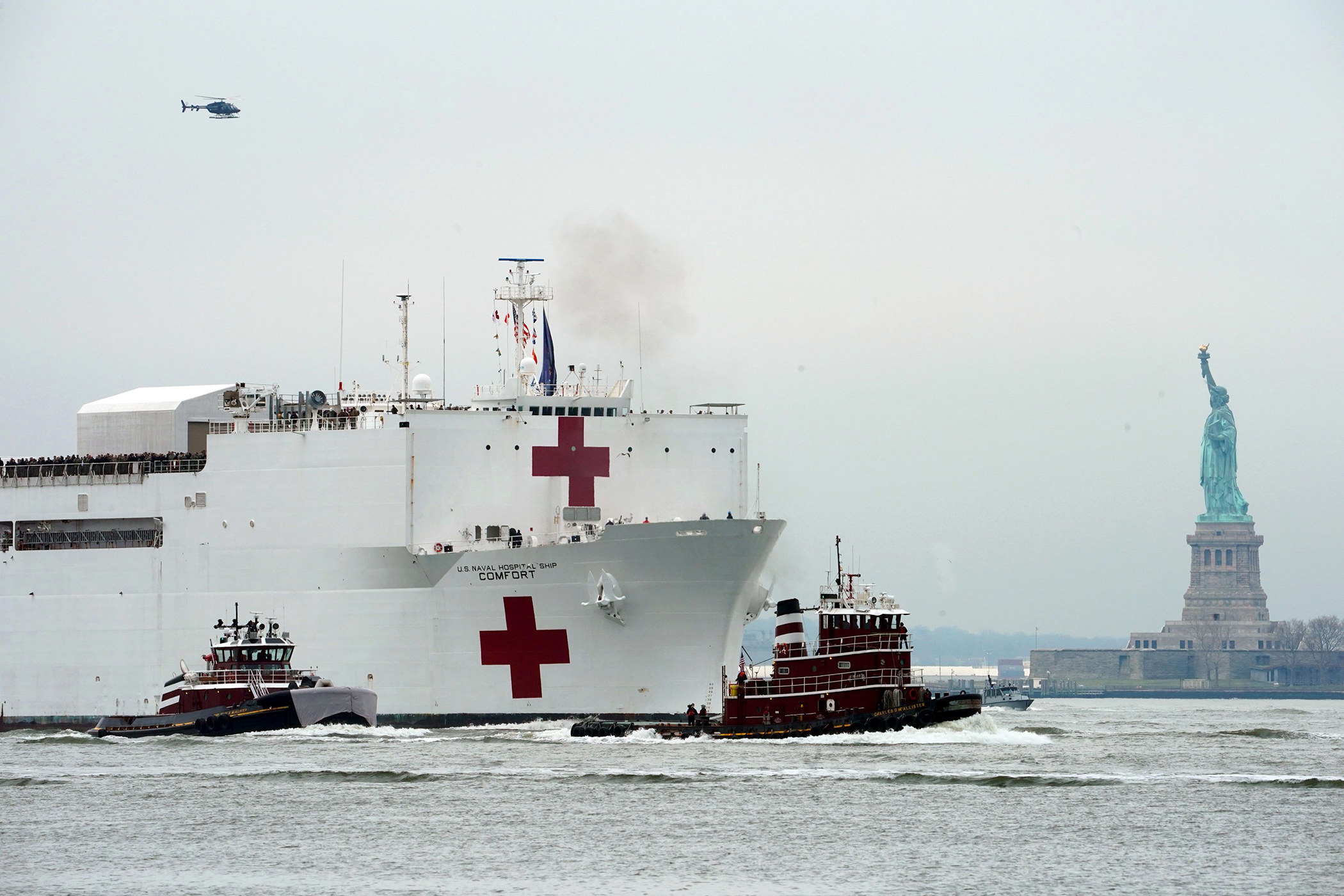 The USNS Comfort medical ship moves up the Hudson River past the Statue of Liberty in New York City on March 30.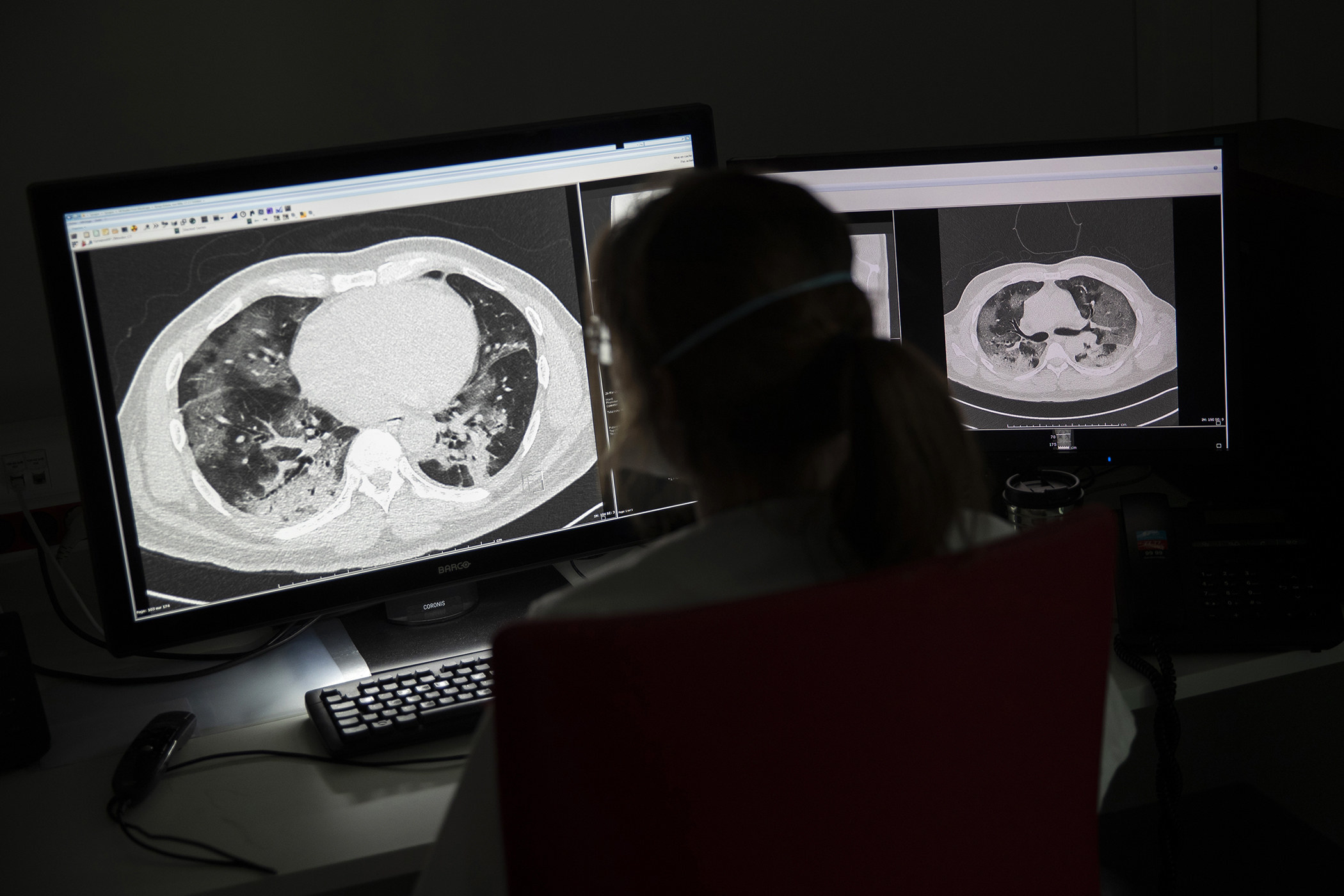 A doctor shows the lungs of Covid-19 patient on a computer screen at the MontLegia CHC hospital in Liege, Belgium, on March 27.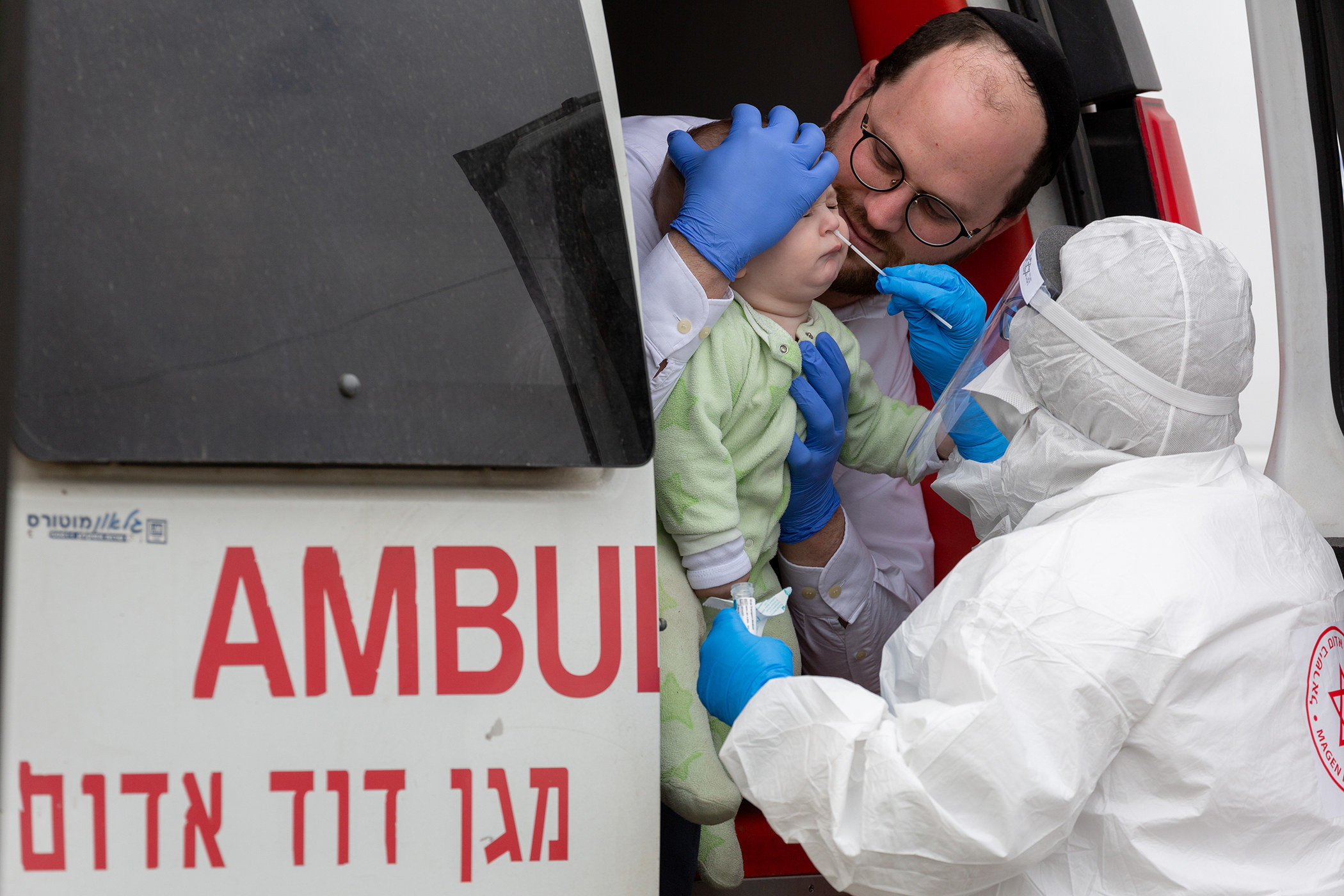 Medical teams take test samples for the coronavirus from an Ultra-Orthodox family at a drive-through site in Bnei Brak, Israel, on April 1.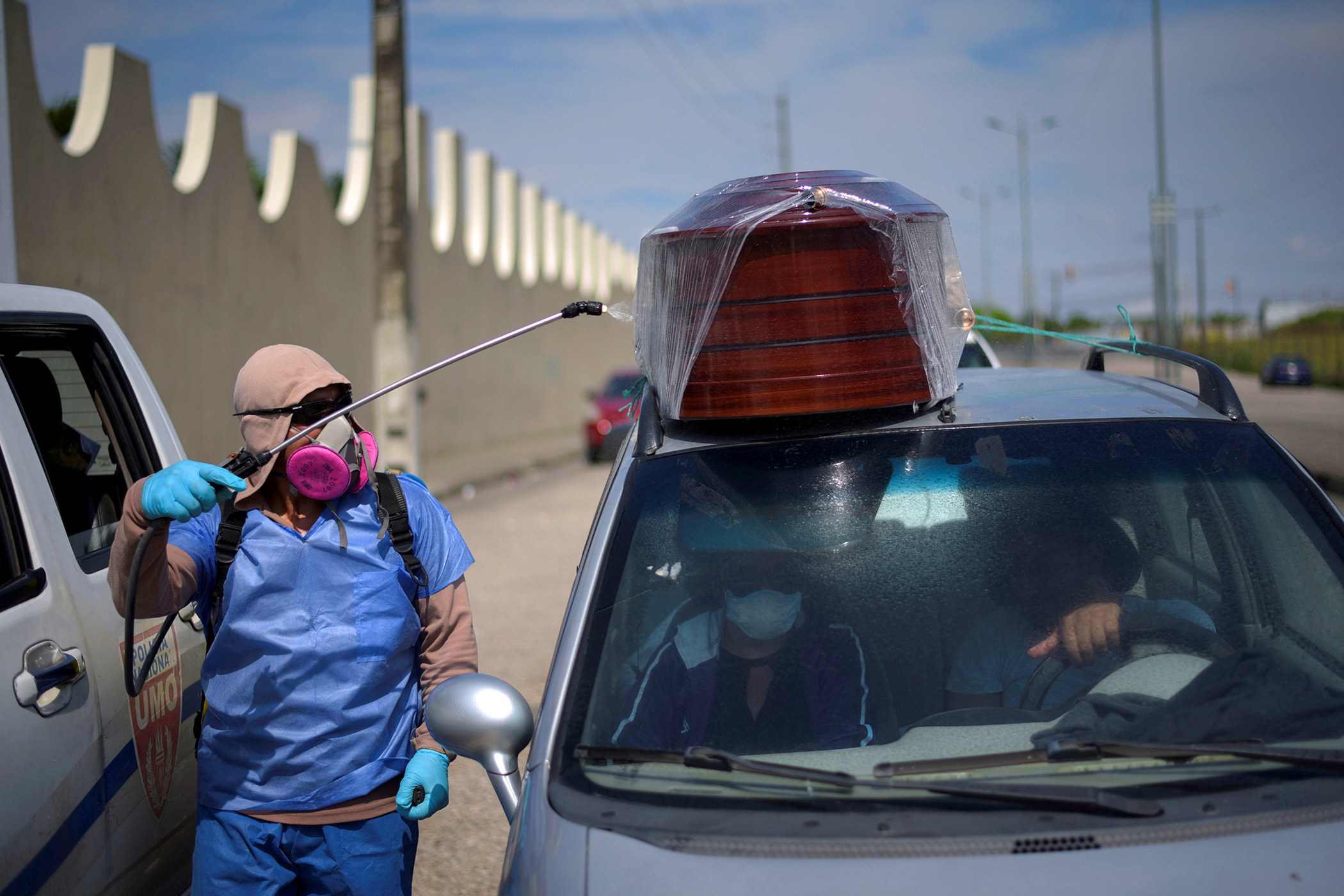 A worker sprays disinfectant on a vehicle carrying a coffin lined up to enter a cemetery in Guayaqui, Ecuador, on April 2.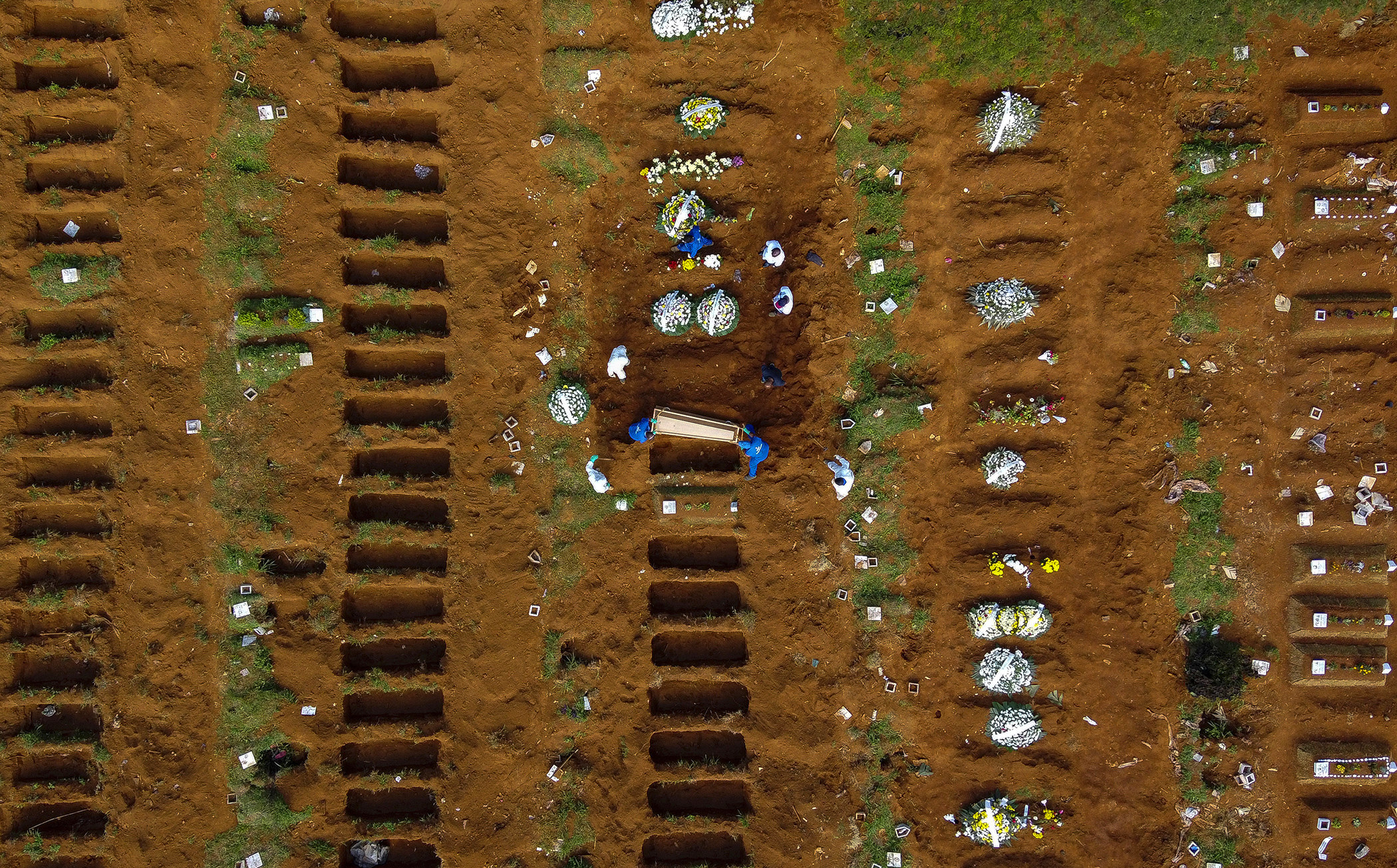 An aerial view of the Vila Formosa cemetery during a burial in Sao Paulo, Brazil, on April 1.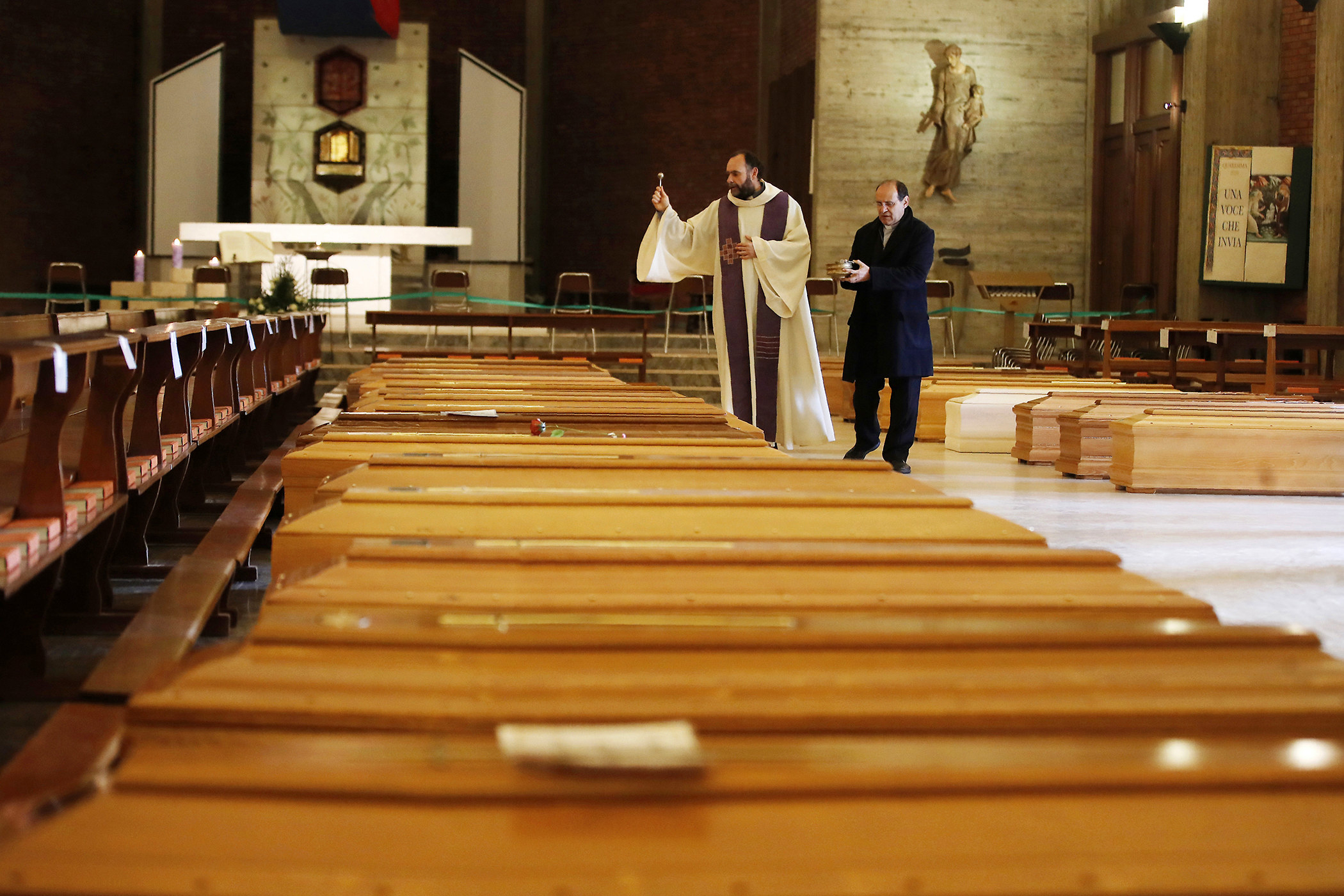 Don Marcello Crotti, left, blesses coffins with Don Mario Carminati in the San Giuseppe church in Seriate, Italy, on March 28.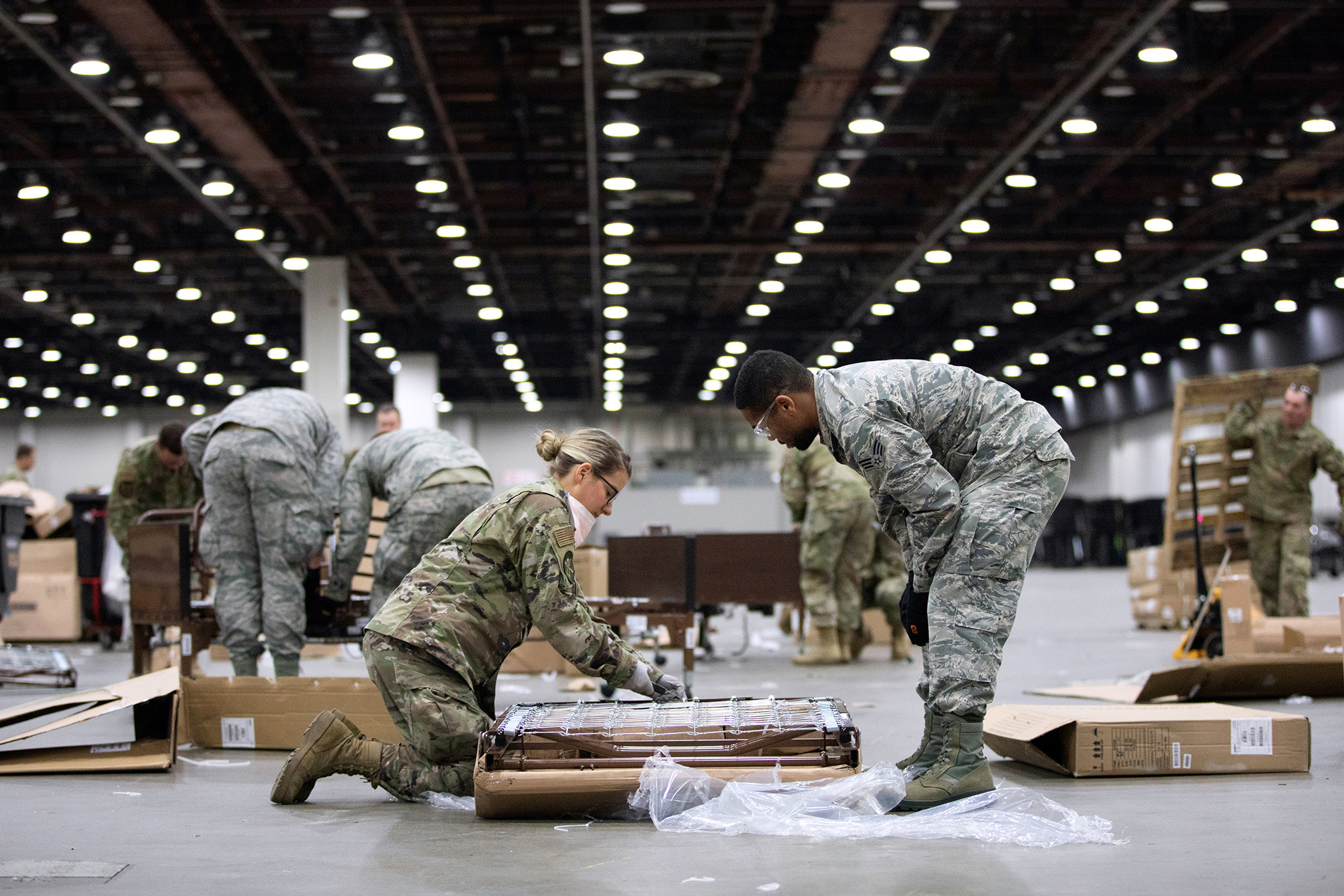 Members of the Michigan National Guard set up hospital beds as the Detroit TCF convention center is converted into a field hospital in Detroit, Michigan, on April 1.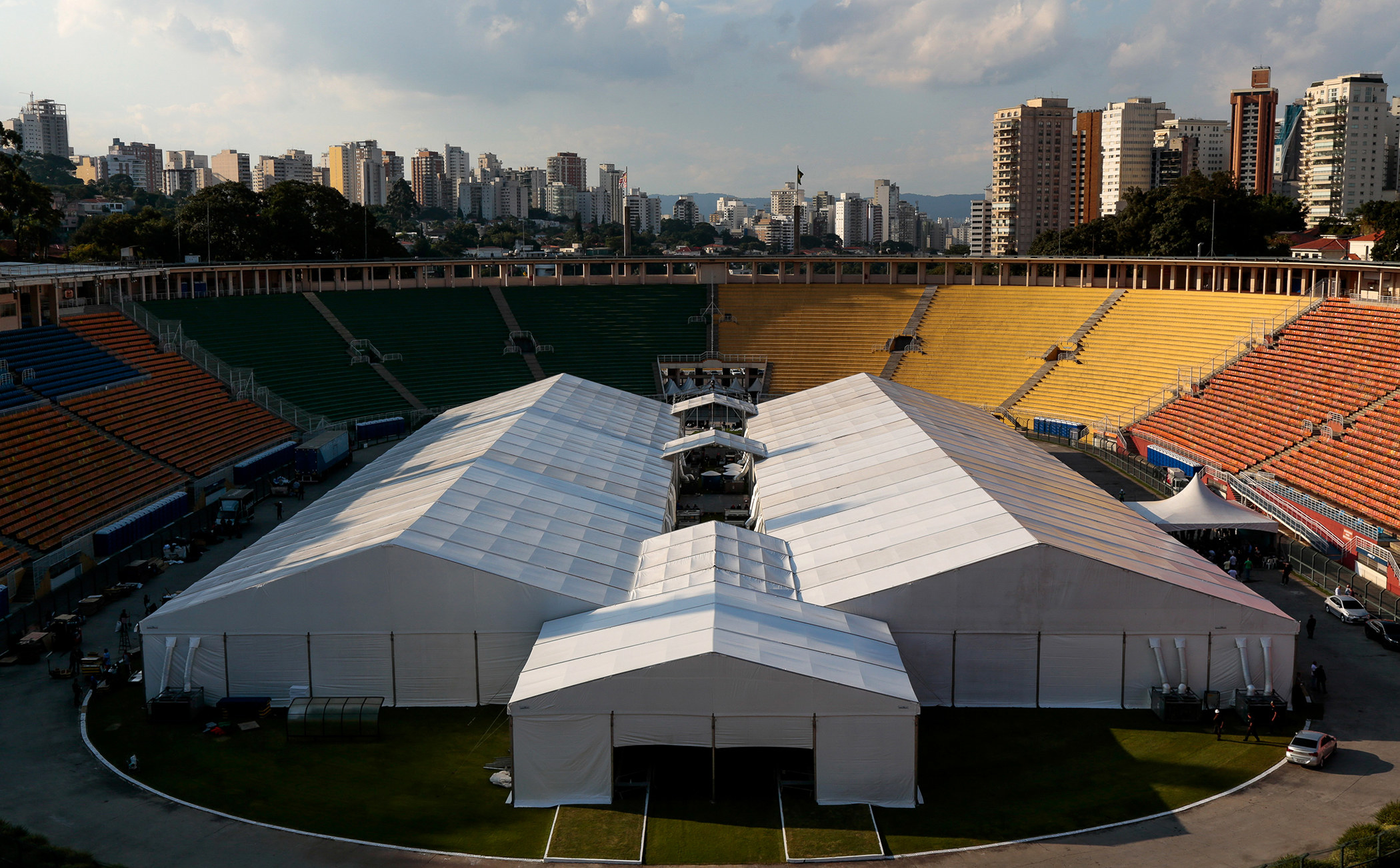 An emergency makeshift field hospital is set up at Pacaembu Stadium in Sao Paulo, Brazil, on March 27.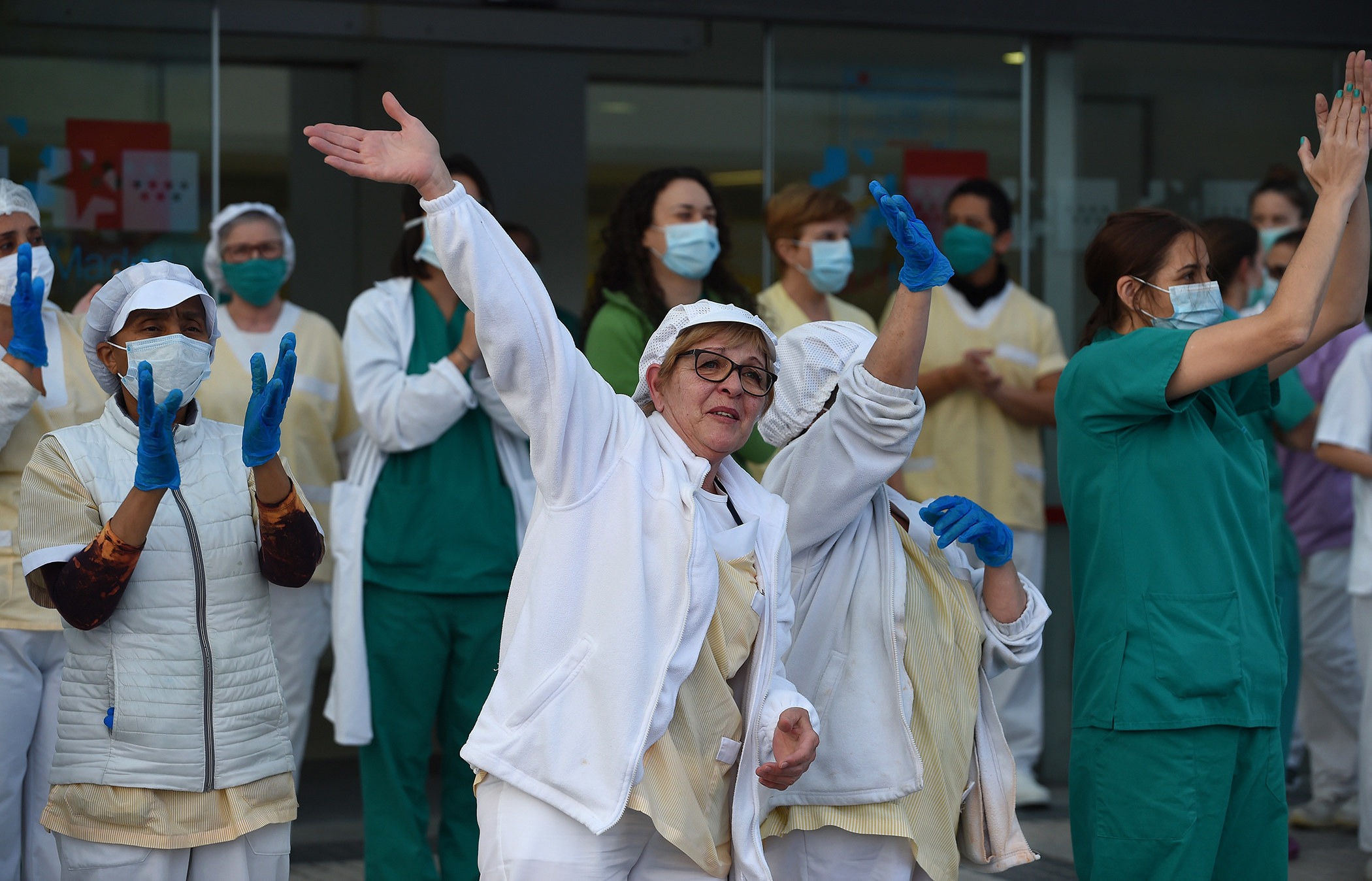 Doctors, nurses, and hospital workers applaud outside Puerta de Hierro hospital in Madrid, Spain, on March 29.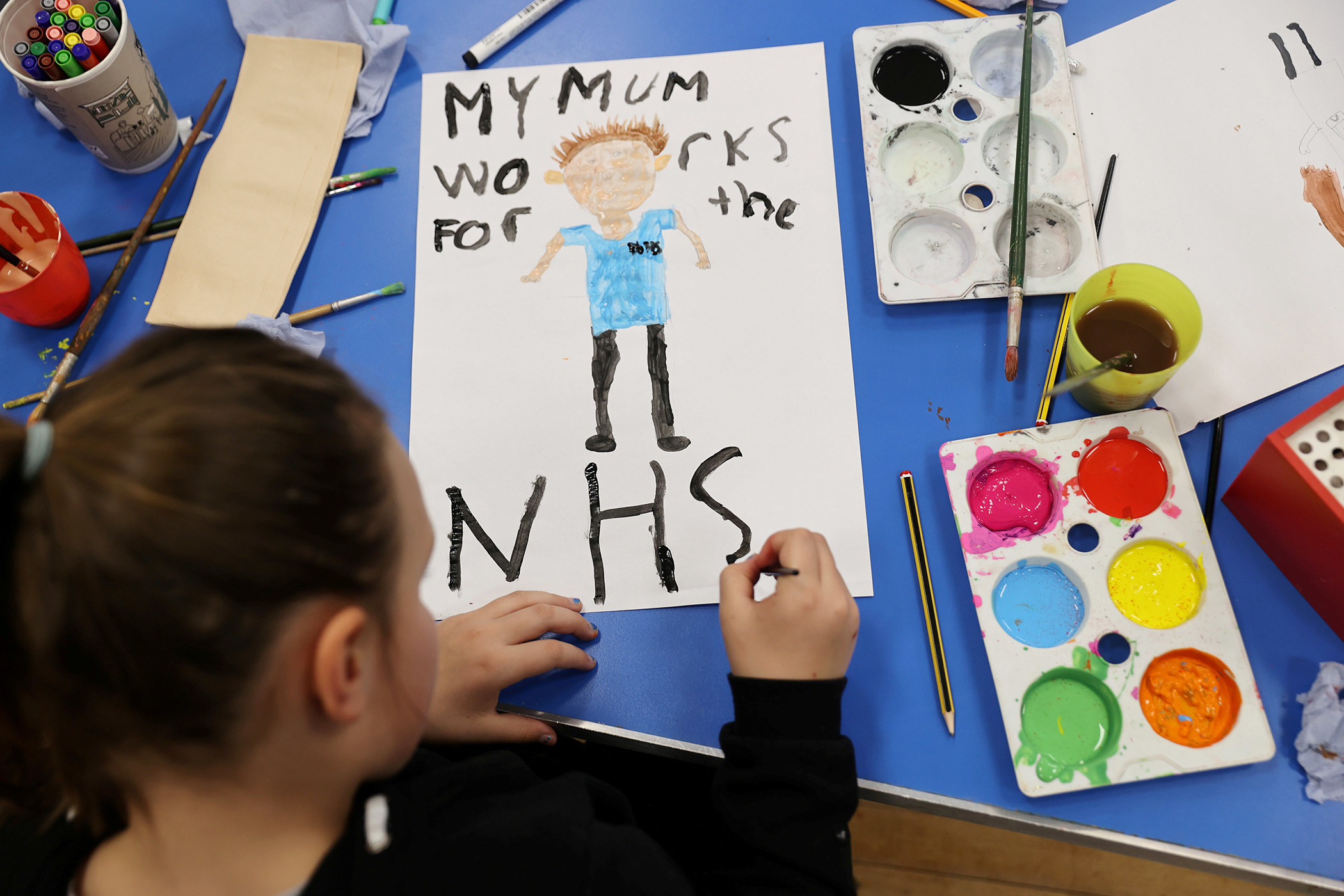 A child at Westlands Primary School paints a poster in support of the NHS in Newcastle-under-Lyme, Britain, on April 2.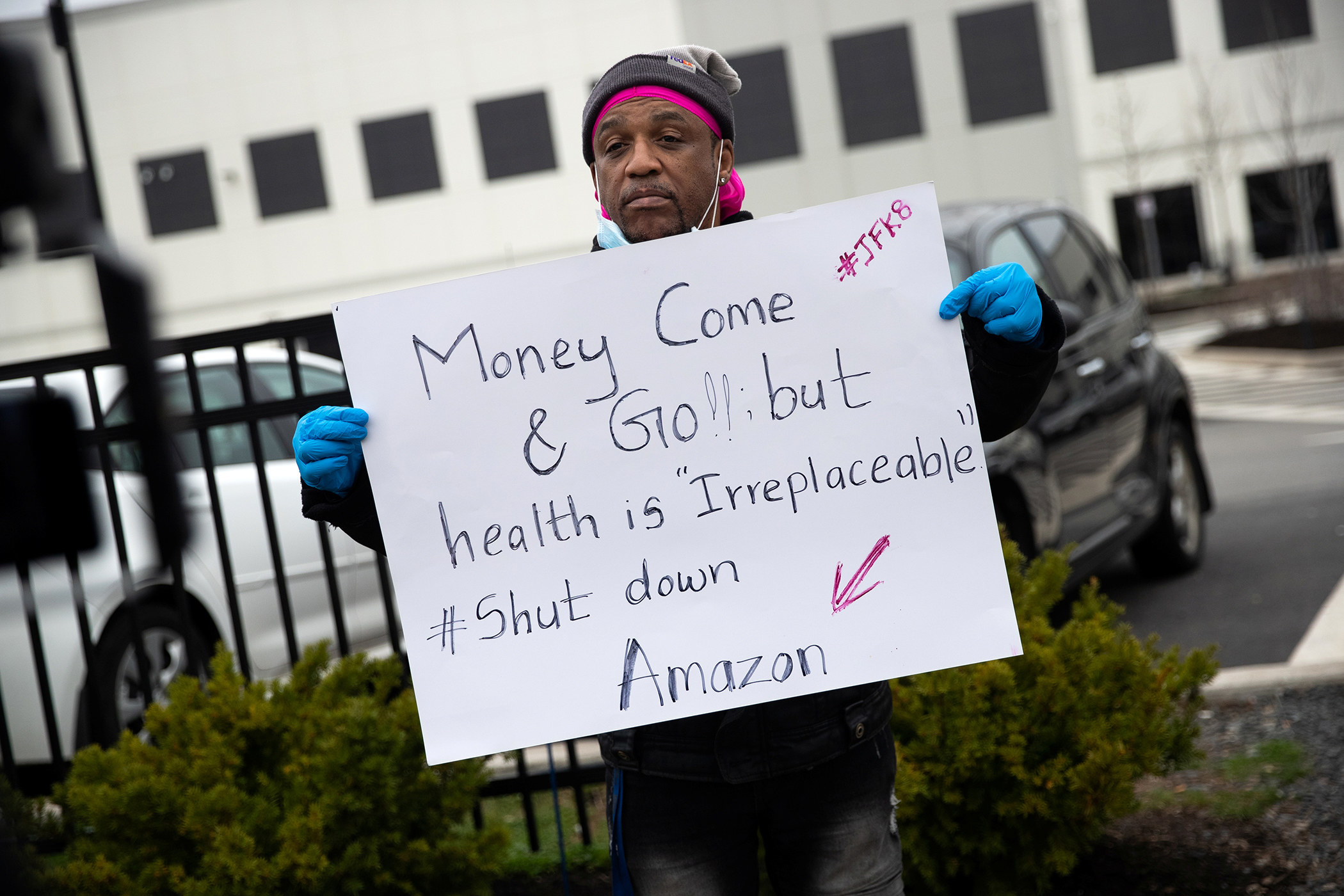 Gerald Bryson holds a sign at the Amazon building in the Staten Island borough of New York City on March 30.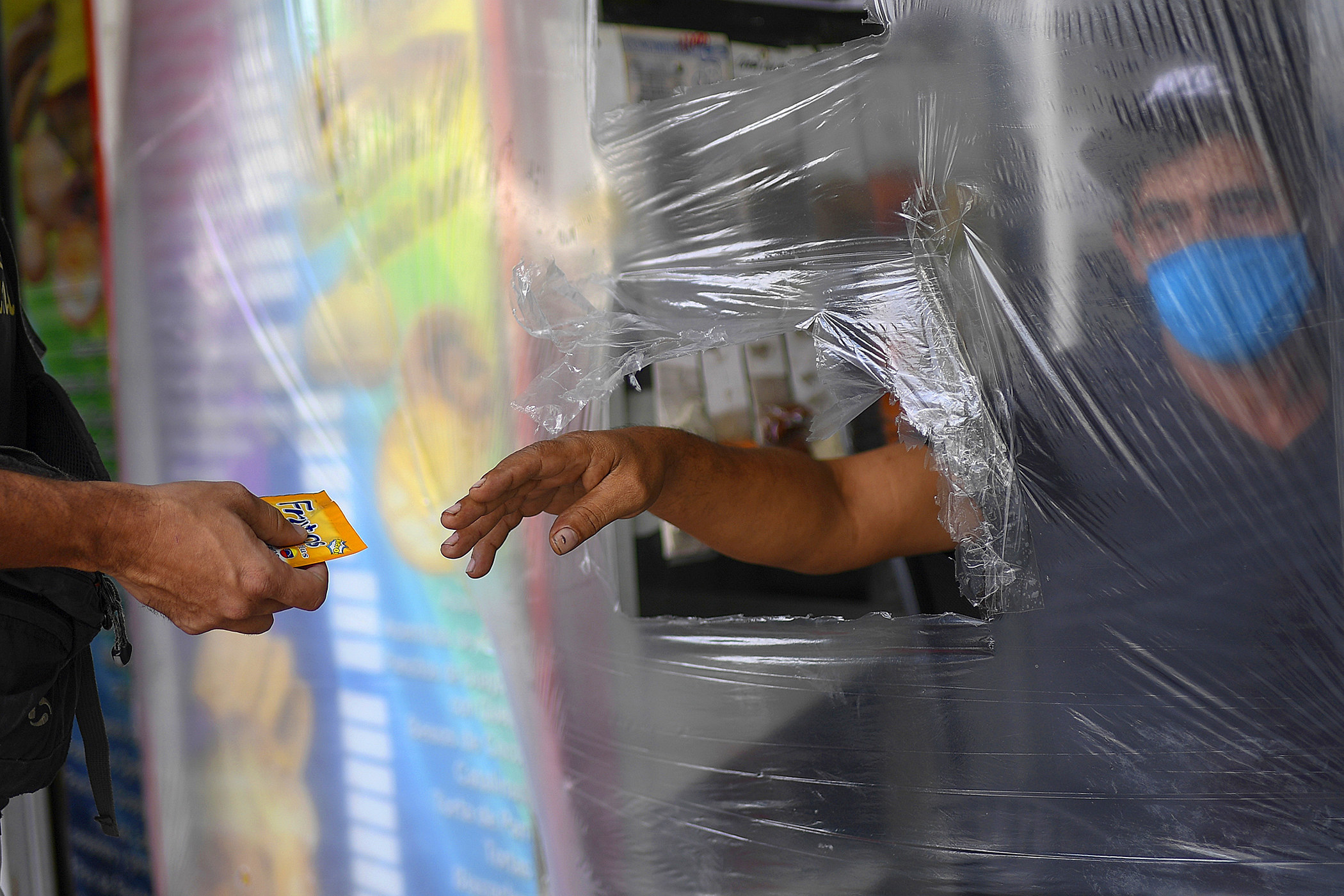 A cashier works from behind a plastic curtain in Caracas, Venezuela, on March 29.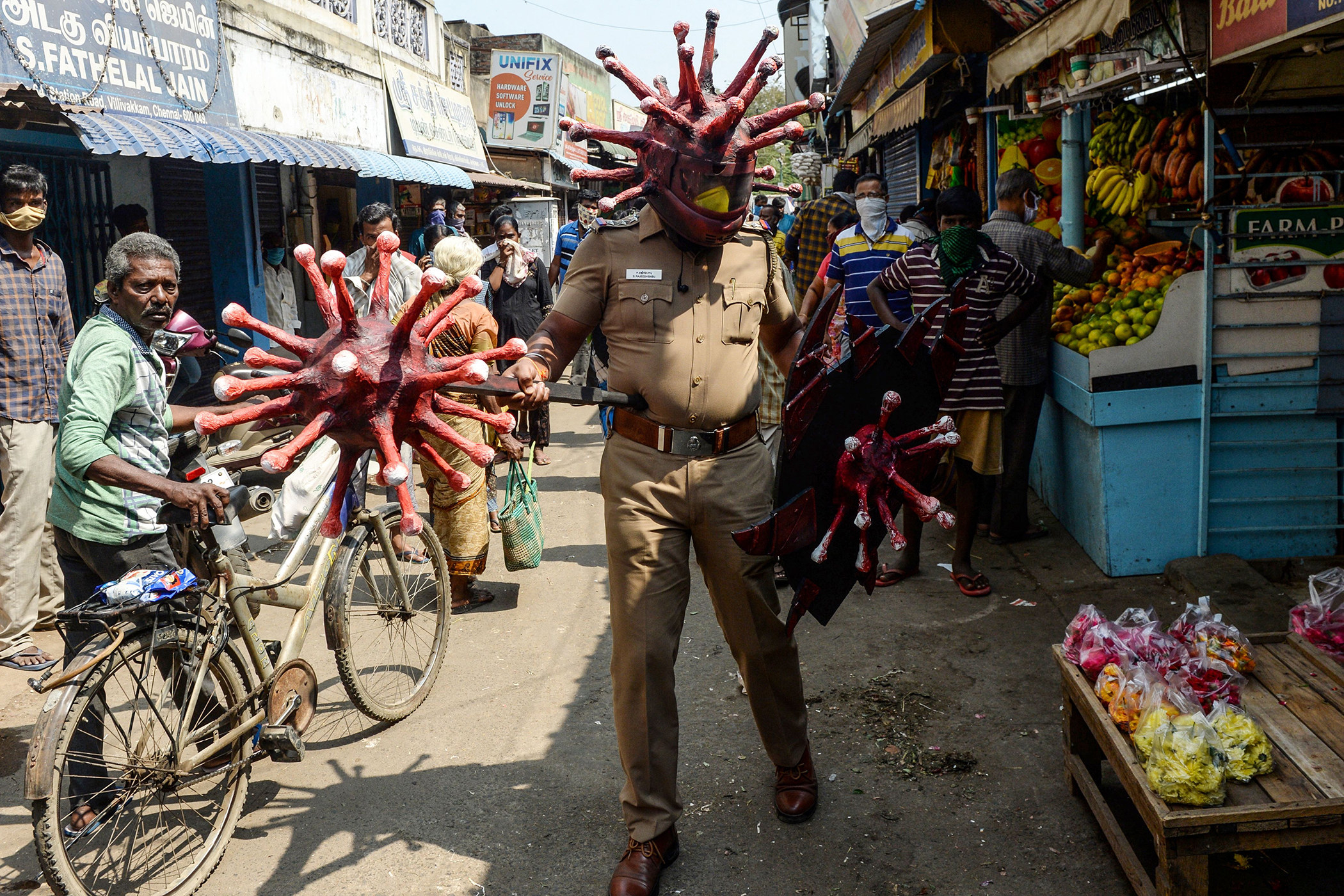 A policeman wearing a coronavirus-themed outfit walks at a market to raise awareness about social distancing in Chennai, India, on April 2.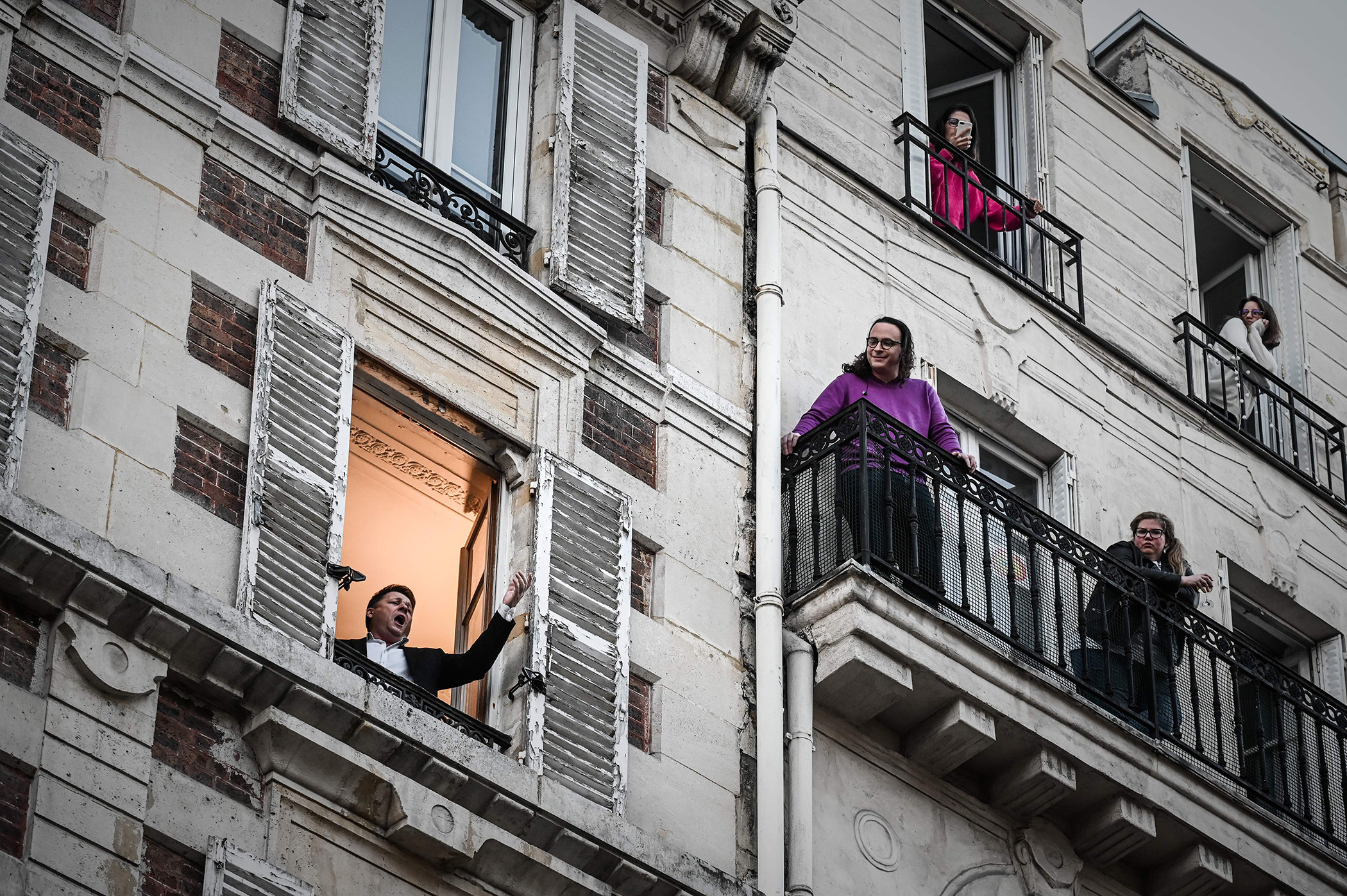 French opera tenor singer Stephane Senechal performs from his window in Paris on March 26.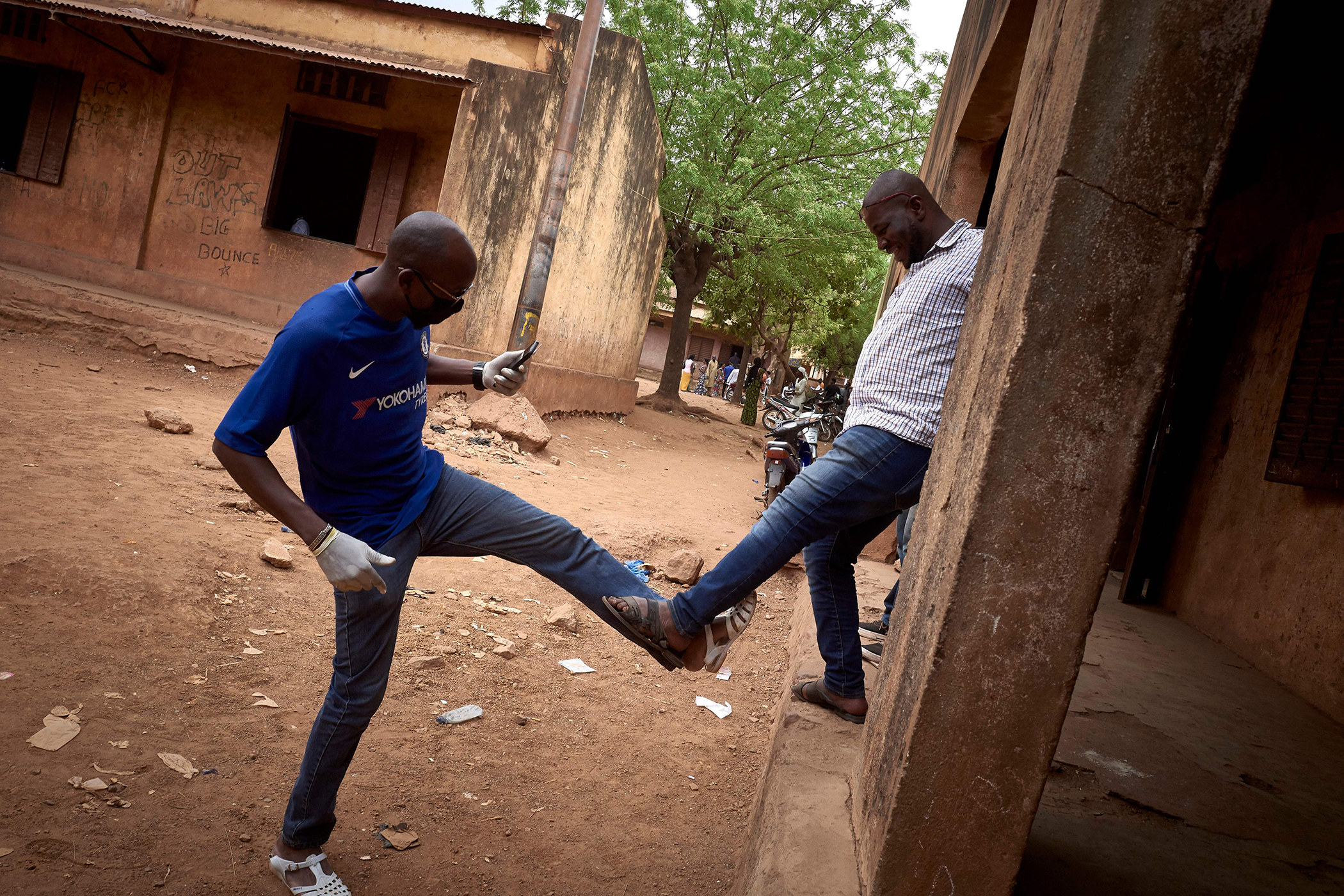 Malian voters greet each other without touching their hands in Bamako, Mali, on March 29.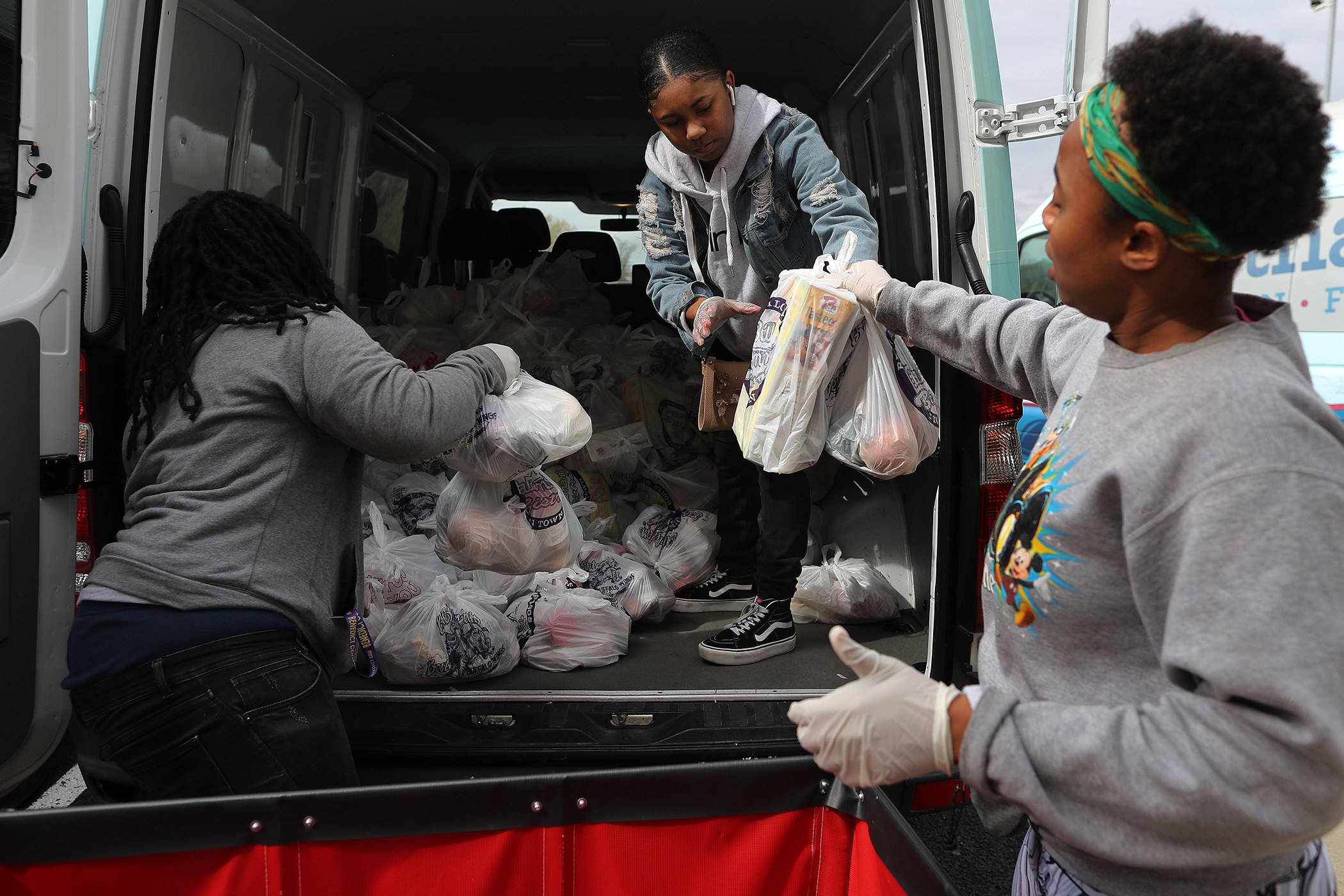 Volunteers for nonprofit organization Martha's Table load bags of fresh produce to distribute to people in underserved communities in Washington, DC, on April 1.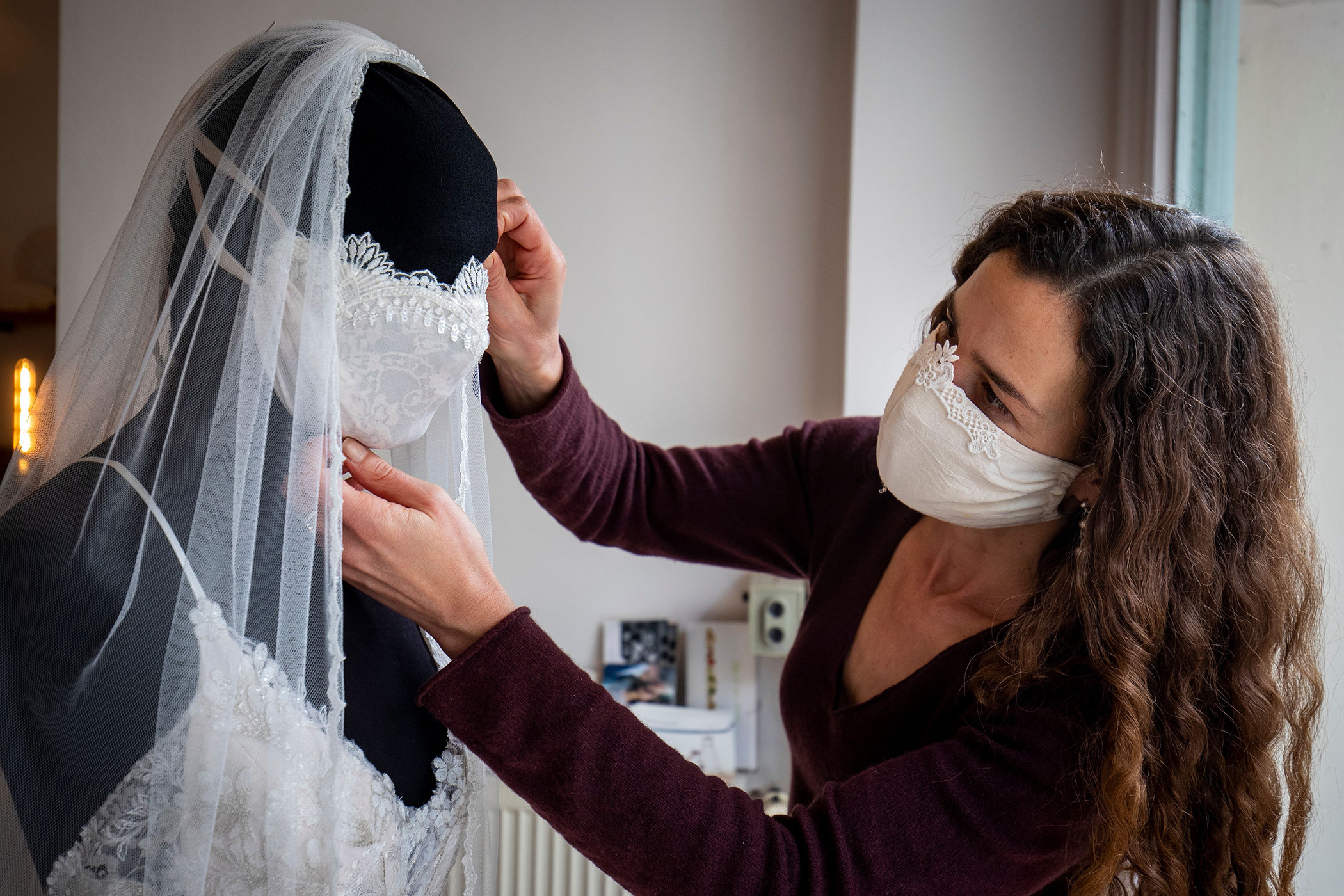 Wedding dress and evening wear designer Friederike Jorzig adjusts a mannequin wearing a wedding dress with matching protective mask in her Berlin store on March 31.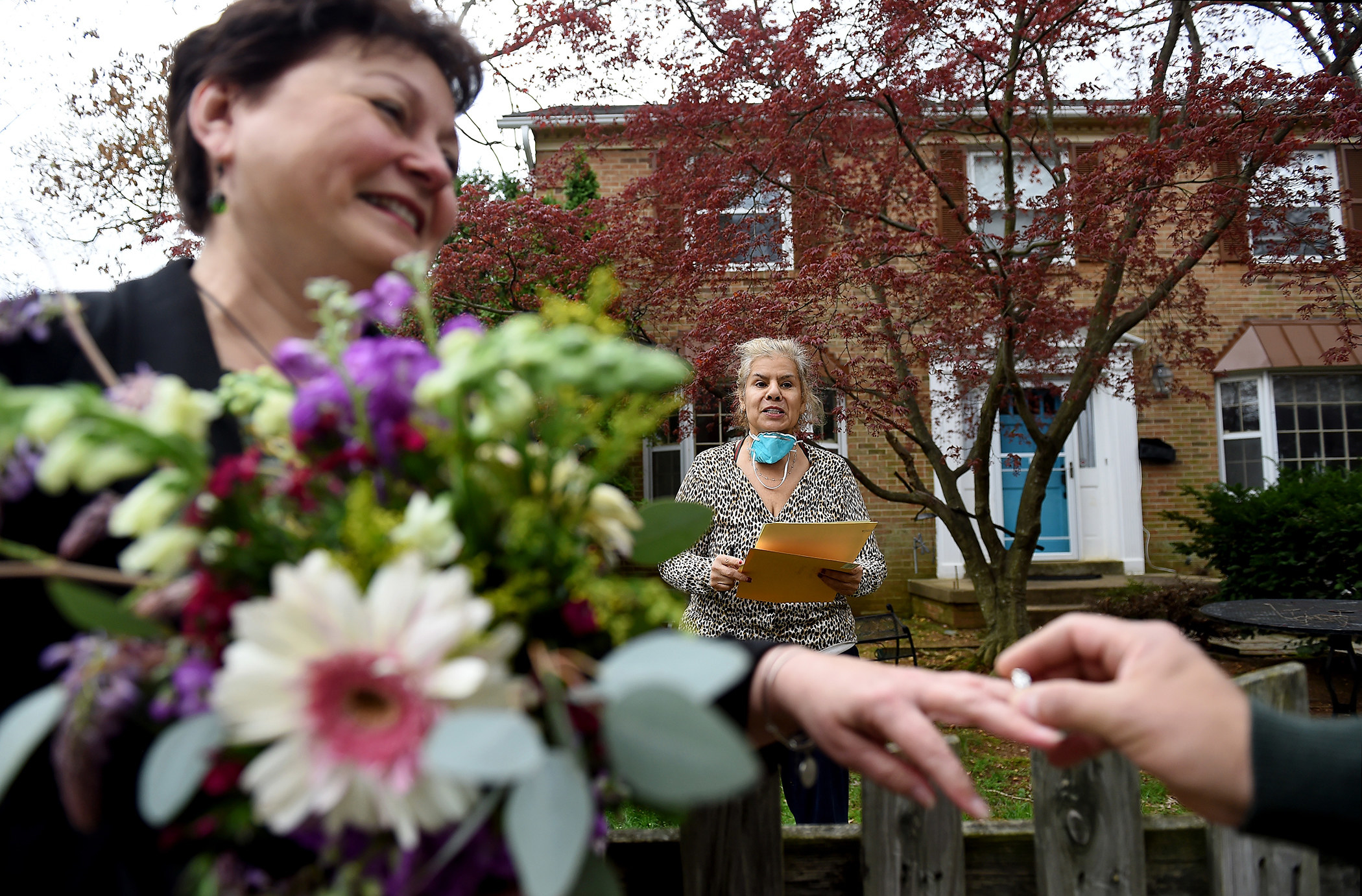 A newly married couple exchanges wedding rings in front of the home of a Virginia state marriage officiant in Arlington, Virginia, on April 1.
Local residents applaud as waste bins are collected by essential workers in Northampton, England, on March 30.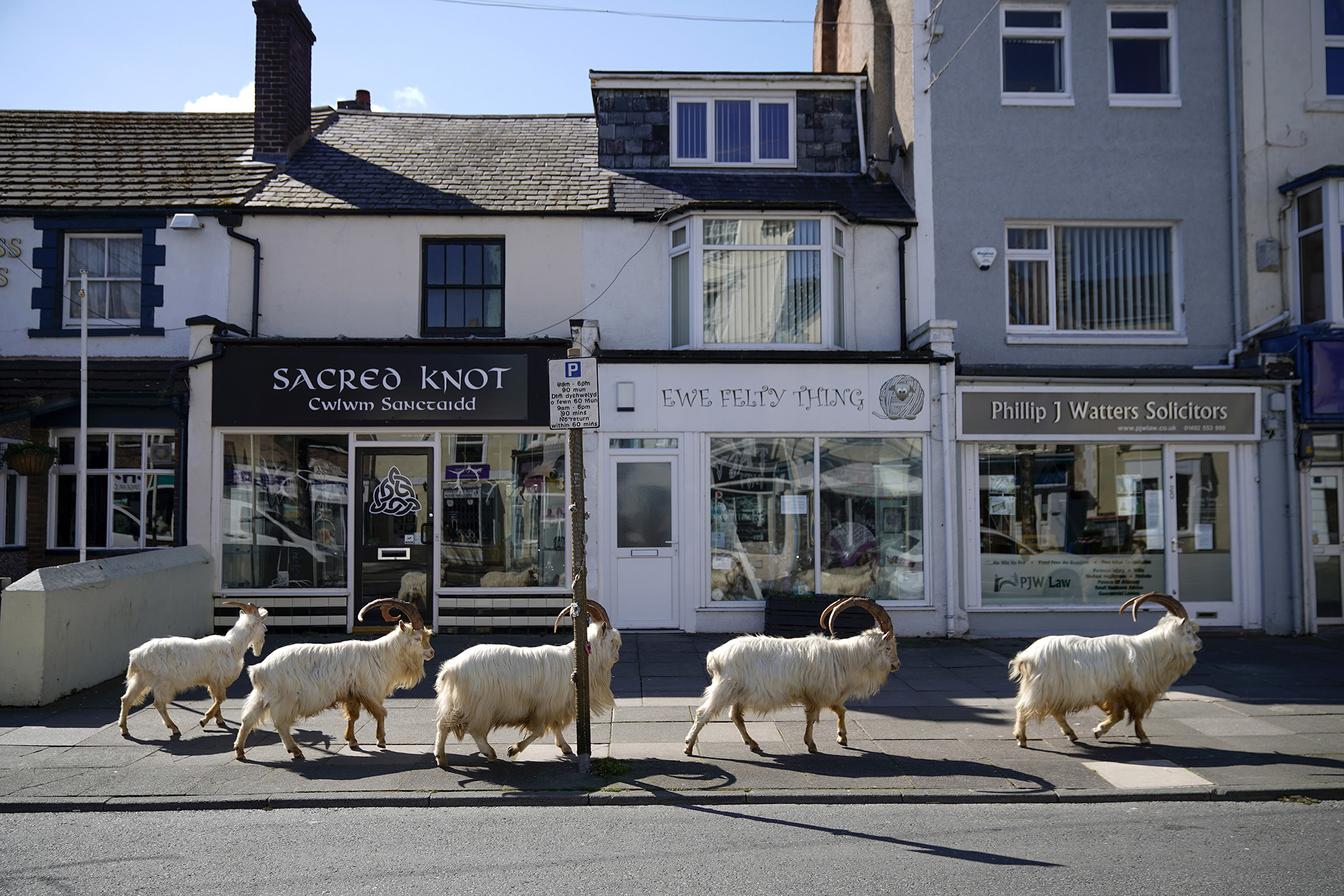 Mountain goats roam the streets of Llandudno, Wales, on March 31. The goats normally live on the rocky Great Orme and are occasional visitors to the seaside town, but a local councillor told the BBC that the herd was drawn this time by the lack of people and tourists due to the COVID-19 outbreak and quarantine measures.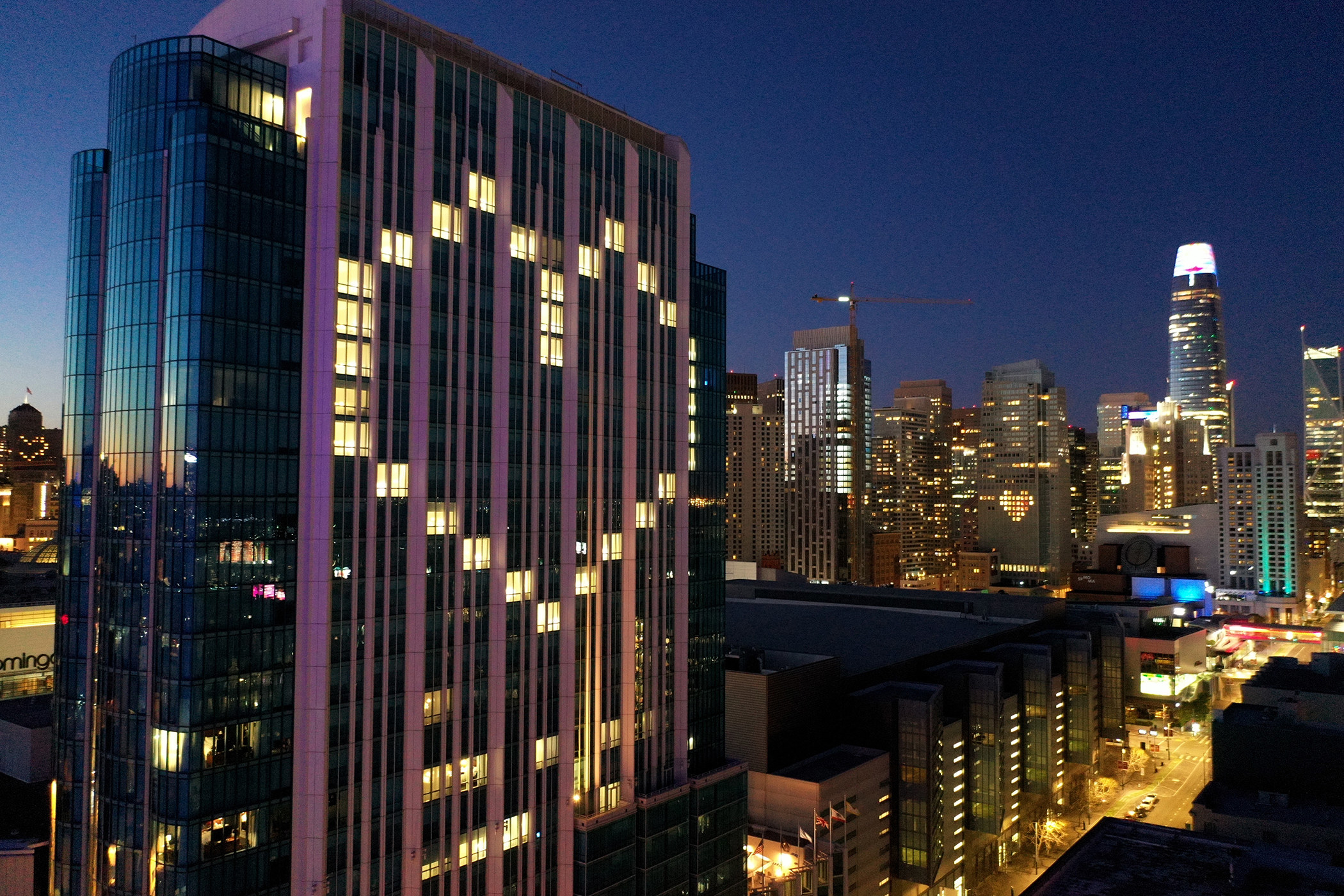 Window lights are illuminated in the shape of a heart at the InterContinental San Francisco Hotel on April 1.

Gabriel H. Sanchez is the Senior Photo Essay Editor for BuzzFeed News and is based in New York City.

Contact Gabriel H. Sanchez at [email protected]

Got a confidential tip? Submit it here.
Source: Read Full Article