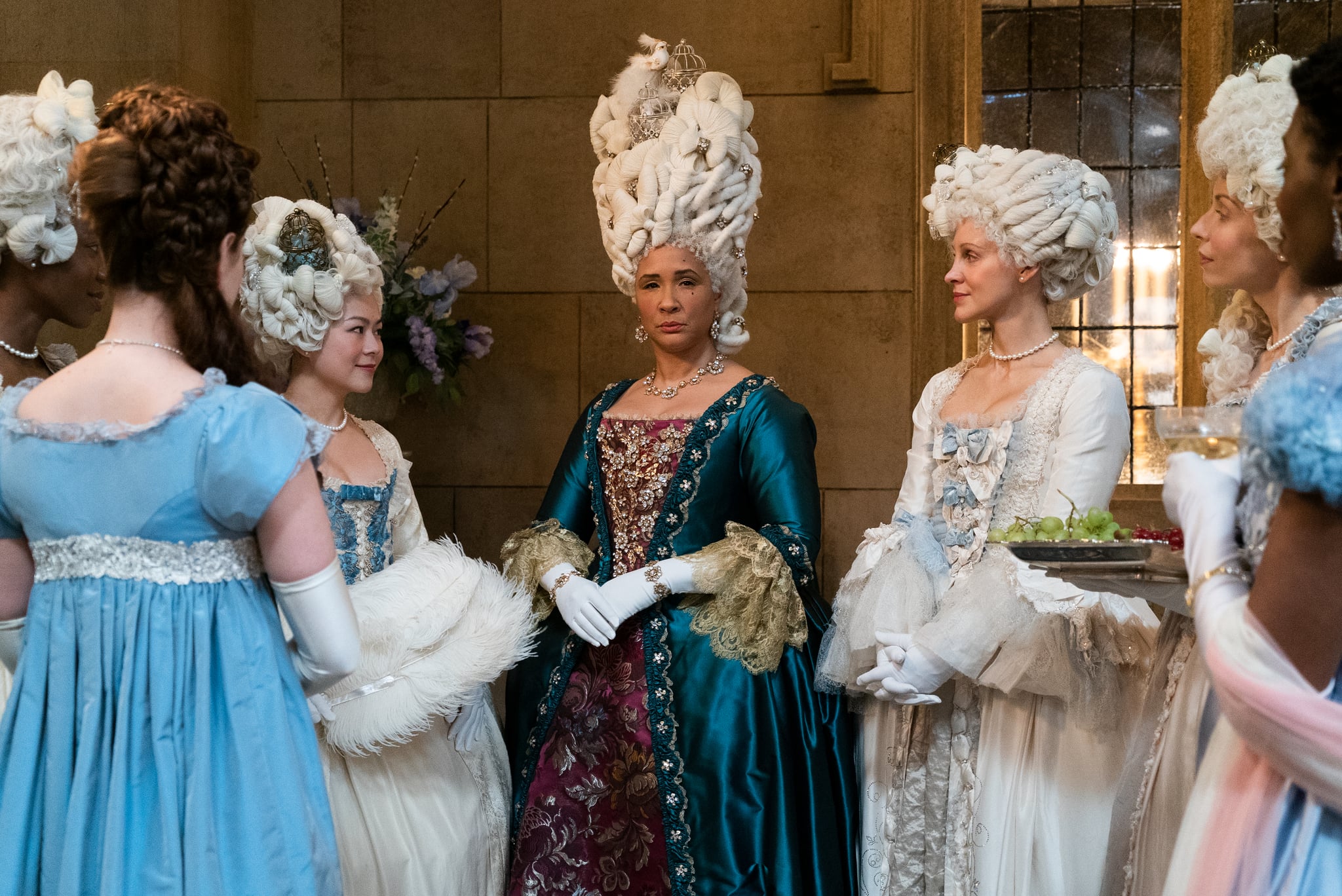 The hit series Bridgerton is still trending everywhere, following Netflix's reveal that 63 million households have tuned into the historical drama since its Dec. 25 release. The show, which boasts an impressive behind-the-scenes crew including executive producer Shonda Rhimes, offers a racially diverse 19th-century England, complete with beautiful gowns, corsets, elaborate hairstyles, and an amusing rendition of Ariana Grande's hit song "Thank U, Next." However, it falls short in its downplaying of the complexities of race, presenting a myth of a colorblindness, where race is nearly invisible. In doing so, Bridgerton sets a dangerous precedent by not acknowledging the challenges of what happens when race enters the room and the monarchy.
While the first season is packed with pairings, the main storyline is the fairy-tale romance between Daphne Bridgerton (Phoebe Dynevor), a white woman, and Simon Basset (Regé-Jean Page), Duke of Hastings, a Black man. The subject of race is vaguely mentioned in the eight-episode period drama, which is a strikingly different approach from how other interracial relationships have been depicted within the Shondaland enterprise.
"The first thing you see is the cast, this amazing diverse cast," show creator Chris Van Dusen said of the show's intentional choices to engage in color-conscious casting. Color-conscious casting is a process meant to be more inclusive, where race is a consideration in casting, particularly for roles that have been traditionally reserved for white actors and actresses. While casting is important in diverse storytelling, Bridgerton's omission of race presents a false colorblind narrative giving the illusion of a postracial society, where racism no longer exists. This oversimplification of the impact of racism is especially dangerous given the context of history as well as our nation's current racial reckoning. Race has real implications within society, and that fact can't be ignored despite color-conscious casting efforts.
For a real-world example of the insidious function of racism within the monarchy, look no further than when Meghan Markle, a light-skinned Black woman, was subjected to racial bias and discrimination by the British media, by whom she was branded as "difficult," a trope all too familiar to Black women. The cumulative effect of this brand of racism, and the denial of it, resulted in the Duchess of Sussex and Prince Harry announcing in early 2020 that they would be exiting from their official roles within the royal family.
Bridgerton is an epic piece of television that provides us with escapism during a dark time as we endure living through a global pandemic. However, in the show's attempt to be racially progressive, it actually whitewashes the Black characters, a step backward in its quest to help its viewers grapple with race and racism. Shows need to embrace being color-brave, addressing the topics of race and racism head on. Only by having more conversations about racism can we actively begin the work to dismantle the system of racism.
I hope season two of Bridgerton becomes more color-brave in its storytelling rather than hand-waving away the topic entirely. This will bring more depth to both the characters and storyline, encouraging viewers to have more honest, albeit difficult, conversations on race. In doing so, Bridgerton will seal its cultural influence extending beyond a fairy tale fantasizing a world free from racism.
Source: Read Full Article