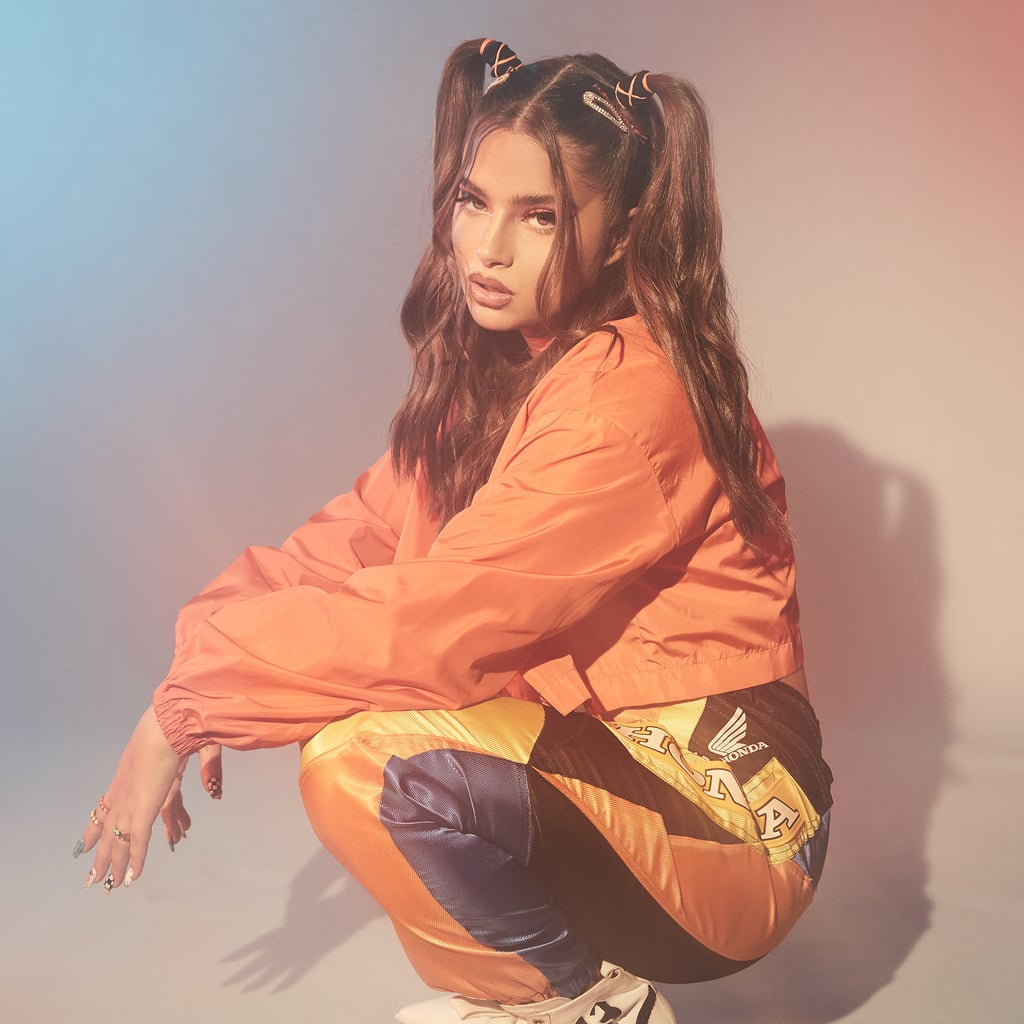 On Our Radar: Noa Kirel Sets Her Sights on Global Domination

Image Source: Jimmy Fontaine
Israel's biggest pop star, Noa Kirel, learned to speak English by listening to her idols Beyoncé and Jennifer Lopez. And like both global icons, female empowerment is at the helm of Kirel's music as she sets her sights on crossover success in 2022. "Israel is a small country, so I feel like I've done almost everything that I could do here," she told POPSUGAR. "My goal is to be on the biggest stages in the world, and I'm ready to do whatever it takes."
By the looks of it, the 20-year-old artist from Tel Aviv is already off to a strong start. The music video for her debut English-language single, "Please Don't Suck," which interpolates 1954's "Mr. Sandman," has garnered over 25 million views since premiering on YouTube last summer. Accompanied by a sci-fi-themed music video, her newest single, "Thought About That," will likely bring her one step closer to superstardom.
Though Kirel may not be a household name in America yet, she's been forging her own path for a while now. At age 14, she released her first single, "Medabrim" ("Talking"), before becoming the youngest-ever judge on Israel's Got Talent. "I started singing in school at different events and ceremonies," Kirel said. "The music teacher pulled me aside and told me, 'You're really good, you know?' And I'm like, 'I don't know, I'm just having fun.' I think he was the first one who told me that there was something more serious about it than just a girl who loves to sing and perform."
The four-time winner for best Israeli act at the MTV European Music Awards previously starred on Double Take, an Israeli TV series loosely inspired by her life, which recently wrapped up its fifth and final season. Kirel also oversees her beauty brand, but her girl-power anthem "Bad Little Thing" sums up the multihyphenate perfectly. "Don't buy me no ring / See I got my own . . . I'll let you hold me / You don't control me," she sings.
"When I heard the title, 'Bad Little Thing,' I immediately felt like it described me, because I'm bad in a good way and because I'm physically little," said Kirel, who signed a multimillion-dollar deal with Atlantic Records in 2020. "I fell in love with the message of the song, too. I'm talking about how I don't need anybody, I can do it on my own, which is very empowering for women." She added, "Whether it's the song or the music video, I'm very involved in the process, because at the end of the day, it's my name on it."
In December, Kirel opened the 70th annual Miss Universe competition, which broadcast live to over 600 million viewers worldwide. That same night, she took to Instagram to celebrate the important milestone. "What a night !! Basically, the craziest night of my life. A night full of emotions and pride," she wrote. "I got off the stage and remembered myself at the age of 10 standing in my room dreaming about the moment I would stand on a big stage and perform in front of the world, and it happened . . . Miss Universe was only the beginning, the best is yet to come."
This year, Kirel will uproot her life in Israel to start anew in Los Angeles as she tries to crack the American market. Ultimately, Kirel's goal is to "reach as many people as possible," and with instant earworms like "Bad Little Thing" and "Please Don't Suck," she's certainly going places. "Everything that I dreamed of seven years ago in Israel happened, which is incredible," she said. "It gave me hope that if it happened here in Israel, it can happen everywhere if I work hard." We can't wait to see what else is on the horizon for the rising artist. Ahead, see more of Kirel's global debut and listen to her brand-new single, "Thought About That."
Source: Read Full Article