It sounds like a Lynchian nightmare: an actor steps off set into the wings only to arrive on another stage. Fleeing that space they find themselves on a third stage, then a fourth, the playing spaces multiplying as they vainly attempt to return to the real world. The horrific realisation creeps over them: perhaps there is no backstage.
A Midnight Visit redefines the term 'immersive'.Credit:James Brickwood
This nightmare is the reality for the performers of A Midnight Visit, an epic work that takes place across several dozen environments over the course of an evening. Taking inspiration from the life and work of author Edgar Allan Poe, it is an encounter with the darker aspects of humanity that demands of its performers a complete surrender to their role. There's no backstage for them.
These days the label "immersive" is flung around with such reckless abandon that you half-expect your local fish and chip shop to rebrand itself as an immersive exploration of maritime sensations. A Midnight Visit can rightly lay claim to the term, though. A massive industrial space in North Melbourne has been made over into a labyrinth of hallucinatory spaces that conjure the mystery, terror and dark humour of Poe's writing and audiences will be free to make their own way through this maze. Music, poetry and performance will meet them at each turn but their senses will also be engaged by scent, touch and a unique sound design in every room.
"Because we're not on stage our audience can actually touch things, pick things up, open drawers, and so everything has to be done to a really good finish," says creative producer Kirsten Siddle. "With theatre you can usually fake a lot of stuff on stage and to the audience it will look brilliant or sound brilliant but it's not actually real. Whereas for us it has to look and feel as it would in real life."
Director Danielle Harvey says: "The rule is that if there's a drawer and you can open it, there's got to be something meaningful inside.
"We create an enormous amount of work for ourselves by making the whole thing a stage and inviting people onto it."
"The only thing you have to do is bring your curiosity," says director Danielle Harvey.Credit:James Brickwood
When the pair first met, Harvey was head of contemporary performance at the Sydney Opera House and Siddle was director of programming at the Melbourne Recital Centre. "While we were working there we hit it off and realised we shared an interest in engaging audiences in really impactful and unusual ways. That's how we got to know each other and we realised there wasn't this work being created," Siddle says.
It makes sense that two people who have long curated festivals and programmed arts centres would conceive of a theatrical production that is more of a curated assembly of interlocking encounters.
A Midnight Visit is the product of more than 100 artists, designers, builders and performers, including actors, musicians, burlesque dancers and circus artists. It has played to rapturous crowds in Sydney and Perth and in both cities some fans have seen it five times or more.
The most obvious comparison is to Sleep No More by New York theatre company Punchdrunk, a deconstructed take on Macbeth that takes place simultaneously across a series of warehouses. It's been running continuously since 2011 and in that time has shifted from underground art phenomenon to a kind of theatre-as-theme-park tourist hit.
A Midnight Visit features more than 30 different rooms for audiences to experience.Credit:James Brickwood
Harvey and Siddle are wary of that theme park effect – A Midnight Visit doesn't appeal to the sensory at the expense of deeper engagement. "Nothing can be in this world unless it actually relates back to Poe's work," Siddle says. "Just because it looks cool doesn't mean we want it. It has to be very much grounded in the work."
The fact that Poe's writing covered so much terrain helps. Best known for his macabre short stories, in his 40 short years the 19th century writer also invented the detective thriller, was a forerunner of both the fantasy and science fiction genres, penned scathing satires and even dabbled in fake news – his thrilling newspaper report on a transatlantic balloon flight was quickly unveiled as a hoax.
Poe's own life was as colourful as his imagined worlds: an orphan with a fractured upbringing, his life was scored through with the motifs of poverty, disease, addiction and death. He married his 13-year-old cousin Virginia and lost her to tuberculosis 11 years later. His own death remains a mystery: found wandering the streets in a delirious state (and somebody else's clothes) he had no memory of the preceding events and within days was pronounced dead.
A Midnight Visit draws on both Poe's writing and the facts of his life. You might enter a room to find yourself confronted by a character from The Raven or The Murders in the Rue Morgue, or it might be Virginia herself coughing up blood, or one of the many mother-figures that populated his personal history. Some encounters might be sinister, some melancholy, some designed to provoke laughs.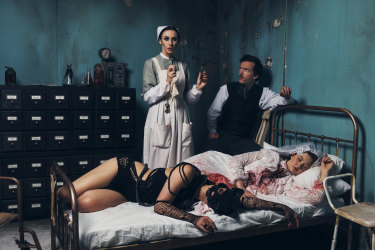 "Nothing can be in this world unless it actually relates back to Poe's work," says creative producer Kirsten Siddle.Credit:James Brickwood
"It's really important with this kind of immersive work that you've got multiple tones going on, otherwise it'd be a pretty one-dimensional experience. We're creating an entire world for you to come and spend time in," Harvey says.
"There's no right or wrong way to engage with this experience. The only thing you have to do is bring your curiosity, because that's going to ultimately guide whether you decide to climb or follow a character or stay very still."
That "climb" is meant literally. "There are a lot of physical aspects to this show," Siddle says. "When we warn people that they may creep or crawl or climb we're not joking, that actually is part of the experience if you want it to be. We have huge cloaking facilities but seriously, leave your stuff at home, you don't want it. It will just weigh you down."
In an era in which entertainment endlessly plunders the past for inspiration, it's strange that Poe hasn't had a pop culture revival. Unlike the works of many of his contemporaries, his short stories have lost none of their bite and offer more than enough shocks, surprises and laughs to inject some emotion into every one of A Midnight Visit's many spaces.
"He was a true romantic," Harvey says. "He was having all of the feelings, all of the time. That's kind of how this works. All of the feelings, all of the time."
A Midnight Visit opens July 30, 222 Macaulay Road, North Melbourne. amidnightvisit.com
Source: Read Full Article