Shelley Long's beloved film Troop Beverly Hills is getting a sequel thirty years after its release in 1989. See where the cast ended up.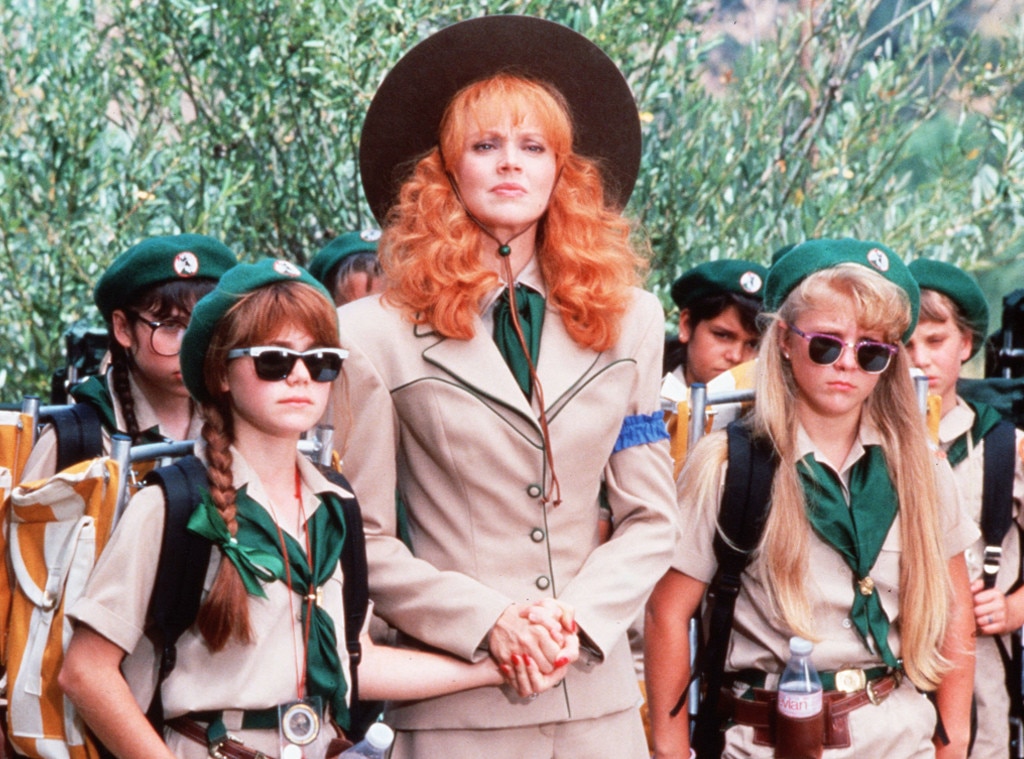 Who's ready to go glamping in Beverly Hills?
E! News can confirm that Tri-Star has greenlit a sequel to the cult classic film, Troop Beverly Hills. Producer Laurence Mark, who has credits on Jerry Maguire, Julie & Julia, The Greatest Showman and more, will produce the movie based off of screenwriter Aeysha Carr's script, which is going through a rewrite by Tamara Chestna. And Oran Zegman will make her directorial debut with the project, following the success of her short film, Marriage Material. 
Additionally, the screenwriter of the original film, Ava Fries, and Charles W. Fries will executive produce, as they did in the 1980s.
All that's to say the sequel is in good hands. 
Nonetheless, it will be tough to recreate the beloved comedy that Shelley Long and the original cast made in 1989. It followed the trials of a Beverly Hills mother (Long) who became a troop leader to prove to her daughter that she has the grit to lead a pack of girls. What ensued was a series of mishaps, with plenty of adorable moments sprinkled in between. 
To see where Troop Beverly Hills is 30 years after the film's release, keep scrolling below!
Trending Stories
See How Khloe Kardashian Pulled Off Kourtney's Birthday Parade
Jay Cutler Breaks Silence on Tomi Lahren Romance Rumors
Cheer's La'Darius Marshall Prompts Concern With Alarming Post
Best known then for playing rich girl Margot in Punky Brewster, Foster was a natural to play the sweet-hearted Claire, daughter of a romance novelist and a successful divorce attorney.
"You might remember me from some classic 80's television," Foster notes in her Instagram bio.
The multi-talented child star gave up acting as an adult, however, and settled into raising two kids with her firefighter husband Trent DeFries. Daughter Tessa recently got her first car for her sweet 16 and son Brock plays on a championship-winning youth baseball team.
Before playing Tessa, the daughter of two directors who enjoys psychoanalyzing others with what she's learned from her own therapist, Hopper played Nikki on Good Morning, Miss Bliss—the sitcom that later became Saved by the Bell.
She only acted a bit after Troop Beverly Hills, popping up on Beverly Hills, 90210, The Shield and the soap opera Passions, choosing instead to focus on raising her daughter, who was born in 1998.
Nowadays she leads a private life in her home state of California, but did join the rest of the cast for a 30th anniversary reunion in 2019. "I think that since Tessa had so much therapy—she was always in therapy—it probably inspired her to become a therapist, a psychiatrist or a psychologist," Hopper told Entertainment Tonight. "I definitely think she would be in that field."
The child star also played nosy next-door neighbor Harriet on the family-pretending-a-robot-is-a-real-girl sitcom Small Wonder before landing the role of Tiffany, daughter of a renowned plastic surgeon and diamond enthusiast.
In addition to making close to 200 commercials, she appeared in shows like The Wonder Years and ALF and starred in the short-lived family drama Christy. Schulman stopped acting in the mid-'90s and after high school became a commercial talent agent, and then an acting teacher. She's mom to four children with her husband since 2002, Derek Webster.
Scott stole the show as Jasmine "Officer, do you know who this man is?" Shakar, the proud daughter of a famous boxer. She continued to act on TV—most prominently in the sitcoms South Central with Larenz Tate and The Parent 'Hood with Robert Townsend—and played Dorothy in a 1996-97 touring production of The Wiz.
After a 20-year break from acting, she popped up in the 2018 indie movie Bluest Moon.
Her mom being in labor for 17 hours meant nothing to the ruthless Cleo Plender, daughter of the win-at-all-costs Velda.
After appearing on The Jeffersons, Facts of Life, Life Goes On and others, Lacey stopped acting in 1990 but the proud mom made the Troop Beverly Hills fans happy with an appearance at Wondercon in 2019 and joined in the ET reunion.
Lily Marcigan was the daughter of the cheerful dictator ("just call me 'Bong Bong'") of an unspecified country and his shoe-hoarding wife, obviously inspired by Ferdinand and Imelda Marcos.
Soriano had a few more appearances in the 1990s, including on Blossom and Hangin' With Mr. Cooper, but stopped acting and moved on to focus on her family and activism on behalf of the Filipino community. She was honored for her work as executive director of the Pilipino Workers Center by the L.A. County Board of Supervisors in 2016.
That's Gugino as Chica, daughter of well-meaning but forgetful and sometimes neglectful international jet-setters who blows out the candles on a lasagna cake when Phyllis and Rosa whip together a birthday celebration for her.
Gugino has been working ever since, with movie highlights including Son In Law, Michael, the Spy Kids movies and Sin City, as well as an endless stream of TV work that most recently includes Netflix's The Haunting of Hill House, Cinemax's Jett and Spectrum's Manhunt: Deadly Games.
She's been in a relationship since the 1990s with filmmaker Sebastian Gutierrez, who created Jett, in which she plays a top-notch thief who, fresh out of prison, gets pulled back into that life.
"He wrote nine hours on spec, for free," Gugino said on Today in 2019, describing the four-year labor of love that Jett was for both of them. "…And we waited a long time to make it the way we wanted to make it, not knowing we were going to get to make it."
"I don't think there's any magic bullet [to work well with your partner], but I'll just say, with us, what's great is that we are good at different things and therefore makes it a good balance…And you do have trust. I think that's great for creativity."
Emily was the only member of Troop Beverly Hills who had trouble paying the dues because her dad (played by Edd "Kookie" Byrnes) was between acting jobs. That's when, as Tiffany reminds her as she fronts Emily the money, having kind-hearted "friends with money" doesn't hurt.
Martin was a prolific child actress who went on to star as Becca Thatcher in Life Goes On and ill-fated doctor Lucy Knight on ER. (She also starred as the titular teacher in 1912-era Appalachia in the short-lived Christy with Emily Schulman.) Most recently she's been the star of the Hailey Dean Mystery movies on Hallmark Movies & Mysteries.
The Yale graduate has two daughters with husband Keith Christian, whom she married in 1999.
The future star of Beverly Hills, 90210, reality TV and some epic TV movies (Death of a Cheerleader, in which her mean-girl character is killed by Kellie Martin; Mother, May I Sleep With Danger? with James Franco) had bit roles in a number of her mega-producer dad Aaron Spelling's productions, including The Love Boat and Fantasy Island, before she showed up as Cleo's largely silent Red Feather sidekick Jamie.
But though she was a Wilderness Girl of few words, Spelling cherished the experience as much as anybody.
"I came from Beverly Hills to Troop Beverly Hills, did Beverly Hills, 90210, Beverly Hills is in the blood," she mused about her character's fate to ET in 2019. "So, I would have to somehow go back to my roots and do Beverly Hills again."
Married to Dean McDermott since 2006, she's mom to Liam, Stella, Hattie, Finn and Beau—and yes, her kids have seen Troop Beverly Hills, though they didn't initially recognize her as a brunette.
If you have your indie pop druthers about you, you know that the artist formally known as Phyllis' gymnast daughter Hannah was the lead singer of L.A.-based band Rilo Kiley, which she formed with Salute Your Shorts star Blake Sennett.
They disbanded in 2014, but Lewis also has four solo albums under her belt, the most recent being 2019's On the Line, which delves deeply into grief following the death of her mother and a painful breakup.
"It's life. It's work. Life mirrors work, vice versa. I don't know," Lewis told 303 in 2019. "But it couldn't possibly just be a breakup album because you don't just break up and then nothing else happens. It all happens at once. People love a breakup album and I think it can stand as one but then it is also about a rebound, rebirth and death. Thinking of a breakup as an end is a misstep, for me. It was a beginning."
Although touring life is on hold right now for musicians everywhere due to the coronavirus pandemic, as of February 2020 she was looking forward to hitting the road with Harry Styles as a special guest at his Love On Tour.
In addition to playing Phyllis' soon-to-be ex-husband, auto parts titan Freddy "The Muffler Man" Neffler, Nelson had just started what would be a nine-season run playing college football coach Hayden Fox on the ABC sitcom Coach, for which he won the Emmy for Best Actor in a Comedy Series in 1992.
Definitely in the running for America's Dad, Nelson—who started out as the tough but terrified dad in the 1982 horror classic Poltergeist—is the voice of Mr. Incredible in Pixar's smash-hit The Incredibles and its 2018 sequel; he was Ryan Reynold's dad in The Proposal; and he tugged all the heartstrings as family patriarch Zeek Braverman on the NBC drama Parenthood. 
Nelson also starred in the 2000-'04 court drama The District, and most recently he's been playing Sheldon's twin sister's baseball coach and potential love interest for his grandma on the CBS hit Young Sheldon.
He's been married to Doria Cook-Nelson, his second wife, since 1987 and has three grown kids from his first marriage.
The Hillstreet Blues star was a seven-time Emmy nominee—and winner in 1985—for her supporting role as Sgt. Lucy Bates when she took on the role of Phyllis' ruthlessly determined nemesis Velda Plender, leader of the Culver City Red Feathers.
It turned out she had comedic timing to spare, but Troop Beverly Hills was her last acting job before she turned to directing—and was ragingly successful at it. She won an Emmy for directing an episode of the HBO comedy Dream On, and then made HBO's The Late Shift, The Brady Bunch Movie (reuniting her with Shelley Long), the Howard Stern biopic Private Parts, Doctor Dolittle with Eddie Murphy, 28 Days with Sandra Bullock, and John Tucker Must Die, among others. Most recently she has directed episodes of the Netflix comedy Grace and Frankie.
Born Betty Nienhauser, her married name is Thomas. Asked where her Troop Beverly Hills character would be today (in 2019), she told ET, "Velda is a lying cheat and she doesn't tell the truth. I think I'd be running for president!"
Gross sharpened her comedy chops as a cast member and writer on Saturday Night Live for four years, so she was sneakily good as the soft-spoken Annie Herman, who starts off as Velda's spy but comes into her own under Phyllis' wing.
The character actress' roles over the years ran from voicing Katie's mom on Animaniacs to playing Mrs. Quick on Sabrina the Teenage Witch to appearances on Boston Legal, Californication and Hart of Dixie.
Fun fact: Her older brother is Michael Gross, best know as dad Steven Keaton on Family Ties. 
The British actress played romance novelist Vicki, Claire's mom and Phyllis' best friend who is appalled to see her depressed pal drowning her sorrows in a case of Evian.
Most memorably, Beacham played Sable Colby on Dynasty and her own spin-off, The Colbys, with Charlton Heston; she was nominated for a Golden Globe for her role as a nun who takes a flock of kids under her wing in the short-lived sitcom Sister Kate; and she played Dylan McKay's artsy mother Iris on Beverly Hills, 90210.
In 2009 she played Martha on the long-running British soap opera Coronation Street and starred in the BBC One sitcom Boomers, which ran from 2014 to 2016. Beacham has two daughters from her marriage to late actor John McEnery, whom she divorce in the 1970s.
Before she played Frances Temple, head of the Los Angeles County Wilderness Girls program and the leader with the power to say "you're fired!", Lindley had a long career as a theater and film actress, but was best known to audiences as Mrs. Roper, the caftan-rocking landlady on Three's Company.
The Golden Globe nominee later played Phoebe's grandmother Frances on a 1995 episode of Friends and had a recurring role playing Cybill Shepherd's mother on the CBS sitcom Cybill. The twice-divorced mother of five died in 1997.
As Phyllis' indispensable housekeeper, Rosa, Morrison had one of the most famous lines in the whole movie with "We don't need no stinkin' patches!"
A decade later the Bronx-born actress had a recurring role as Karen's acerbic maid Rosario in Will & Grace, for which she shared in two SAG Award nominations for ensemble performance. After Morrison died in December 2019 at the age of 83, the rebooted Will & Grace had Karen pay uncharacteristically emotional (but still crude and funny) tribute to Rosario as well.
In the end, Phyllis Neffler proved she was way more than a Beverly Hills housewife, whether she was helping her girls smash records in the cookie-selling department, winning the annual Jamboree or redefining troop leader fashion forever. 
Long, an Emmy and two-time Golden Globe winner, saved the day for Sam and Diane fans when she returned for the series finale of Cheers in 1993. She then played the iconic Carol Brady in The Brady Bunch Movie and A Very Brady Sequel. Though her movie heyday was a couple of decades ago, Long never stopped acting and had a recurring role playing family patriarch Jay Pritchett's ex-wife DeDe on Modern Family until 2018. DeDe's off-screen death injected some intense emotion into the usual shenanigans as the show headed into its 10th season, and co-creator Steve Levitan told The Hollywood Reporter that Long was "very sweet about it."
Long is mother of daughter Juliana with ex-husband Bruce Tyson.
Source: Read Full Article