Bali: Prime Minister Anthony Albanese has pushed to strike trade deals with some of the world's biggest economies in a series of back-to-back meetings with world leaders following his landmark encounter with Chinese President Xi Jinping.
Galvanised by his meeting with Xi, Albanese met French President Emmanuel Macron on the sidelines of the G20 summit in Bali on Wednesday before meetings with new British Prime Minister Rishi Sunak and Indian Prime Minister Narendra Modi.
Anthony Albanese meets with French president Emmanuel Macron.Credit:James Brickwood
Even as relations with Beijing begin to thaw, the government is determined to diversify Australia's export markets to make the Australian economy less reliant on China.
In Xi's first official meeting with an Australian prime minister in six years, Albanese urged the Chinese president to lift sanctions on Australian goods worth $20 billion a year in a bid to assist Australian exporters of barley, beef, wine and lobster.
In turn, Xi told Albanese he hoped Australia would "provide a good business environment for Chinese enterprises to invest and operate in Australia", according to state-owned Chinese media.
Securing better access to major export markets for Australian companies remained at the top of Albanese's agenda a day later as the government races to finalise trade deals with India and the United Kingdom by the end of the year.
Albanese with Indian Prime Minister Narendra Modi.Credit:James Brickwood
India and the UK are the world's fifth and sixth-largest economies respectively.
Australian wine producers have welcomed the opportunity to expand sales in India as a way to plug the $1 billion hole that has opened up following the collapse of sales to China.
Indians have not traditionally been big wine drinkers, but that is beginning to change as the country's economy grows and it becomes regarded as a status symbol.
Albanese also met top officials from the European Union as the government seeks to sign an EU trade deal early next year that would expand access to a market of 350 million people.
Albanese told reporters that he was "very hopeful" an EU deal could be struck quickly, adding the European leaders he had met in Bali were "very positive about the prospect of success".
Describing Australia and Europe as "very strong friends" before his meeting with EU officials, Albanese said: "I hope that today we're able to progress the discussion that we've been having about an Australia-EU free trade agreement."
Albanese said a free-trade pact would "be very important for both Europe and Australia and expand the economic opportunities which are there".
European Commission President Ursula von der Leyen told Albanese: "I'm very much looking to working in-depth on the free trade agreement.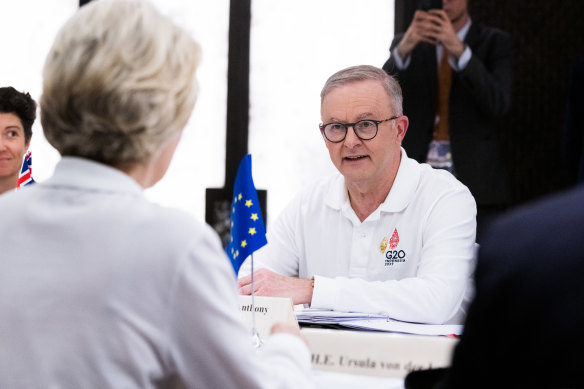 Prime Minister Anthony Albanese meets top European officials in Bali to discuss a free trade deal.Credit:James Brickwood
"Both sides want it and both sides want to conclude it."
Noting that any Europe-wide trade pact would have to be ratified by all EU member states, Albanese said that he was having as many informal "pull aside" meetings with European leaders as possible in Bali.
Albanese discussed trade with new Italian Prime Minister Giorgia Meloni in an informal session. As part of the trade negotiations, Italy has sought to restrict Australian producers from using geographic food names such as parmesan and prosecco.
Endorsing Albanese's stance on China, Macron told the prime minister: "I completely agree with you on the strategic approach to Indo-Pacific strategy."
Albanese told Macron he wanted to achieve greater defence and security co-operation with France following the controversial cancellation of a $90 billion submarine contract last year with the French company Naval Group.
Meeting Macron for the second time since Labor's May election victory, Albanese said he also wanted to achieve closer educational and cultural links with France.
Trade Minister Don Farrell this week said diversifying Australia's trade markets was a major priority for the government.
"As we have discovered, overreliance on any single trading partner comes with significant risks," he told the RMIT APEC study centre.
Farrell said an EU trade deal could be a "game changer" for Australian consumers as well as exporters.
"A trade deal with the European Union that eliminates the 5 per cent import tariff on motor vehicles could result in savings of up to $2000 for an Australian family purchasing a VW Golf," Farrell said.
"A plumber could save up to $2600 on a VW Transporter Van."
Cut through the noise of federal politics with news, views and expert analysis from Jacqueline Maley. Subscribers can sign up to our weekly Inside Politics newsletter here.
Most Viewed in Politics
From our partners
Source: Read Full Article