It's being called "one of the most horrific" cases in the area; the suspect allegedly moved the victim "from room to room to deceive police" as they searched his home.
A Cleveland man was arrested and charged this week for, according to prosecutors, "kidnapping, stabbing, and shoving a 60-year-old woman into a plastic container."
Dalontay Edmond-Geiger, 31, was taken into custody on May 3, after police reportedly responded to a 9-1-1 call from a nearby store concerning a woman being tied up in the man's basement. During the initial welfare check, officers were allowed to search his home after a 30-minute delay, but found nothing but an air mattress in the basement.
They left, but returned later that evening after another woman reportedly told authorities that a woman was beaten and possibly killed inside the home and the suspect even showed her photos of the victim.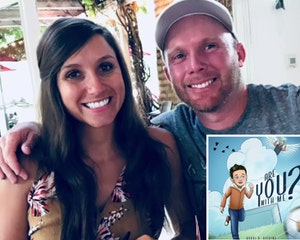 Author Who Wrote Book About Dealing with Husband's Death Now Charged with His Murder
Local news outlet WOIO reported that during that second search, police heard moaning … but the suspect allegedly kept pumping music from his phone to muffle the sound. According to the arrest affidavit, Edmond-Geiger also admitted, after he was arrested, to "moving her body from room to room to deceive police" during their search.
Authorities eventually found the victim "inside a small plastic container, moaning in pain, on the porch." Police said the suspect "forcefully" "stuffed and folded" the victim into a 3 ft x 3 ft plastic container, trapping "her motionless body inside" and sealing the lid, "restricting air to victim" before she was discovered.
She was taken to a hospital and treated for her injuries, while Edmond-Geiger was arrested at the scene.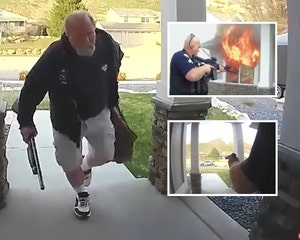 Chilling Video Shows Moment Man Fatally Shot His Brother Before Setting Fire to Home
Following their investigation, police determined the suspect picked the woman up and "gave her a ride to his residence," before he "physically assaulted her, stabbed her in the arm, zip tied her hands, and proceeded to torture her."
"I have seen a lot of truly terrible cases over the years, and this one is one of the most horrific I've seen," said county prosecutor Michael O'Malley. "Thankfully, law enforcement found her alive, and I am praying for her recovery."
Edmond-Geiger was indicted on one count of attempted murder, two counts of felonious assault, one count of kidnapping, one count of tampering with evidence and one count of having weapons under disability, after an AK-47 was also found at the scene.
He's being held on $500,000 bail; his arraignment is set for May 15.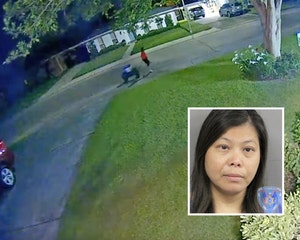 Chilling Video Allegedly Shows Murder Suspect Wheeling Bucket With Dead 6-Year-Old Inside Down The Street
Source: Read Full Article