On May 2, BTS virtually attended Nickelodeon's Kids' Choice Awards 2020: Celebrate Together, the first major awards show to take place remotely during the coronavirus (COVID-19) outbreak. At the Kids' Choice Awards, BTS won Favorite Music Group and sent in a video message for ARMY.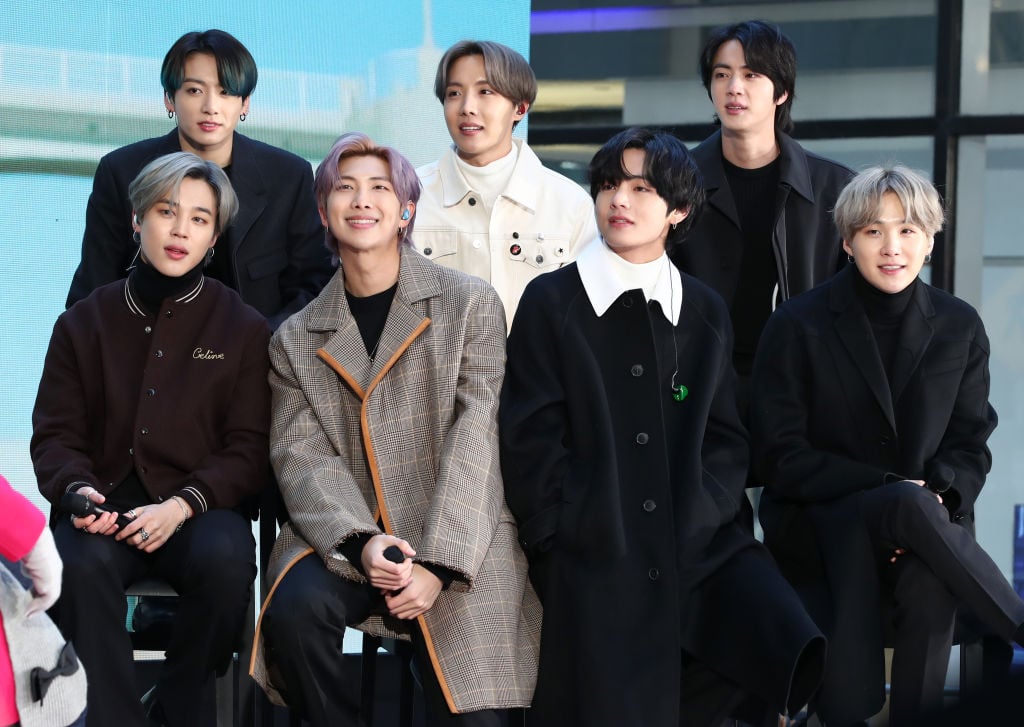 BTS won Favorite Music Group at the Kids' Choice Awards
The awards show was originally scheduled to take place on March 22, but it was delayed until May 2. Victoria Justice hosted the show, and Nickelodeon donated $1 million to No Kid Hungry to support those affected by the coronavirus.
Back in 2018, BTS won Favorite Global Music Star at the Kids' Choice Awards. This year, BTS was nominated for two awards: Favorite Music Group and Favorite Global Music Star. The group took home the award for Favorite Music Group.
In the other music categories, Ariana Grande won Favorite Female Artist, Shawn Mendes won Favorite Male Artist, Lil Nas X won Favorite Breakout New Artist, Mendes and Camila Cabello won Favorite Music Collaboration for "Señorita," Taylor Swift won Favorite Global Music Star, and Billie Eilish won Favorite Song for "Bad Guy."
BTS thanked their fans in their acceptance speech
During the virtual awards show, BTS accepted the award through a video message. Each member of the band took the time to speak during the celebratory video.
"Wow this is amazing thank you so much!" RM said. "So happy to get this award."
V told fans, "Thank you for voting for us ARMY. Your love keeps us going."
"Thank you so much for loving our new album 'Map of the Soul: 7,'" Jin said. "Hope we can see you all very soon!"
"Yeah we are doing great, working very, very, very hard on our music," Suga said.
Jungkook told fans BTS missed them, saying, "We miss you ARMY so, so much and hopefully see you soon!"
"Stay safe and connected," J-Hope added. "We hope everything will get better soon."
"Thank you ARMY and thank you Kids' Choice Awards," Jimin concluded.
The group is making a new album
During the acceptance speech, Suga said the group was working hard on their music. This is because BTS is currently working on a new album, and they will be self-producing the album, with each member taking on a different role.
In a YouTube Live, RM told fans, "To be honest, I'm not sure if I'm supposed to be talking so casually like this but— As many of you probably expected, our album is going to come out. We've decided to prepare for a new album, so we've started preparations… We've kicked it off… We'll be sharing the process of preparing and stuff, which is a first. I'm a bit torn about how much we should show— But we'll be trying to show you some of the processes that we go through together, from now on…"
Suga then held a YouTube Live a few days later and revealed that the group will be self-producing the album.
"Yes, well, right now we're starting to work again on the album. We started by deciding on the leaders. General manager… Visual general manager? Music general manager? We split it up this way…," he said. "Today we discussed among ourselves and made decisions. Related videos will be out soon, so stay tuned!"
Source: Read Full Article