Fans of ChanceThe Rapper were waiting for July 26 to arrive like Christmas morning. Why? Oncehe announced that he would be debuting his first album (yes, everyone isaware that he's dropped five mixtapes and more than a dozen singles), the actualclick-button ability to buy it couldn't come fast enough.
And it didn't. After some delay, The Big Day was officially released on Friday and has been ruling playlists ever since. Besides producing his own work since 2012, Chance The Rapper has worked with a long list of music favorites, including Kanye West, Skrillex, Lil Wayne, and Justin Bieber. Although it should come as no surprise to fans that Chance would have a number of features on his album, some of the guest collaborations might shock you—in a good way. Here's a rundown of some of the most notable features on his debut.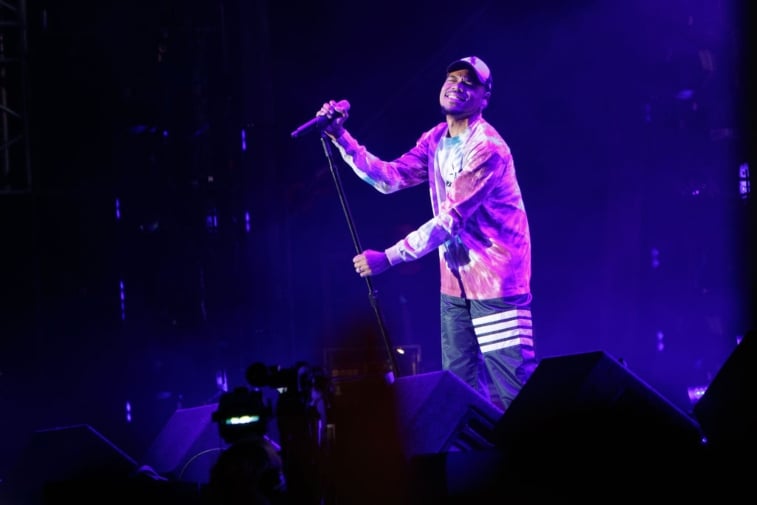 Nicki Minaj
The mega star is featured on two tracks: "Zanies and Fools"and "Slide Around" which also features Lil Durk. Oh, and Minaj delivers some barsthat are setting off rumors about her personal life. Don't miss out.
Lil Durk
The Chicago native raps alongside Nicki Minaj and Chance inthe aforementioned "Slide Around."
Death Cab For Cutie's Benjamin Gibbard
According to the band, they've known Chance The Rapper for a while and was pleased to learn that his love and knowledge of their music runs deep. NME notes that fans are beside themselves that Gibbard did a feature on "Do You Remember" with Chance, Justin Vernon, and Francis Starlite.
Bon Iver's Justin Vernon
This team-up is nothing new, but Vernon contributed his talentsto "The Big Day," "Do You Remember," and "Town On The Hill."
Francis Starlite of Francis and the Lights  
Francis and the Lights is a frequent collaborator of Chance The Rapper, and Francis Starlite worked on several songs for this album, including "The Big Day," "5 Year Plan," "Do You Remember," and "Town On The Hill."
John Legend
Friend and fellow musician John Legend appears on "All Day Long," an upbeat love track.
Gucci Mane and Timbaland
Veteran producer Timbaland is featured alongside Chance andAtlanta rapper Gucci Mane on "Big Fish."
Randy Newman
Newman is a famed songwriter and the voice behind the Toy Story hit, "You've Got a Friend in Me." According to Spin, the Rock and Roll Hall of Fame inductee has composed music for scores of Pixar films, launched numerous personal albums, and worked with greats like Jimi Hendrix, The Eagles, and Bruce Springsteen. A pianist, singer, writer, and composer, he hits Chance The Rapper's debut on the track, "5 Year Plan." Boom.
John Witherspoon
The comedian, who famously starred in Friday, TheBoondocks, and The Wayans Bros., appears on the "Photo Ops" skit.
Cree Summer and Jackée Harry
Both actresses lent their voices to another skit on the albumcalled "Our House."
Shawn Mendes
A fave among teens everywhere, pop singer Shawn Mendes showsup on "Ballin Flossin" to sing the hook.
Megan Thee Stallion
The hot girl summer rapper features on "Handsome" with PinkSweats and Chance.
En Vogue, Kierra Sheard, and Ari Lennox
En Vogue, the famous girl group from the '90s (with some member changes) hopped on "I Got You (Always and Forever)" along with gospel singer Kierra Sheard, and rising R&B singer, Ari Lennox.
Ben Lusher
Thirdstory's Lusher contributed vocals, writing, and productionfor the album, including the songs "We Go High" and "Let's Go on the Run."
Taylor Bennett and CocoRosie – Roo
The younger brother of Chance The Rapper, Taylor Bennett jumped on "Roo" with the indie sister musical duo, CocoRosie.
DaBaby, MadeinTYO
Malcolm Jamaal Davis, who goes by the stage name MadeinTYO, featureson the song "Hot Shower" along with DaBaby.
Murda Beatz
The Canadian beatmaker/writer has worked with artists likeGucci Mane, PARTYNEXTDOOR, and French Montana in the past. Here, you can hearhim on "Found a Good One (Single No More)," a party jam.
Fans can stream the entire album through Spotify, Apple Music, Amazon, and other platforms, or check out "The Big Day" on YouTube where Chance The Rapper's shared it for free. Listen to find out who else worked with the rapper for his big day.
Source: Read Full Article