90 Day Fiancé fans watched as Darcey Silva dated Jesse Meester and Tom Brooks on 90 Day Fiancé: Before the 90 Days. Now, it's Darcey's twin sister Stacey Silva's turn to share the spotlight on the sisters' new spinoff, Darcey and Stacey.
Darcey and Stacey premieres on TLC on Aug. 16, but the early premiere episode was recently released on the network's mobile app, TLC GO. In the first episode, Stacey opened up about falling hard for her husband-to-be, Florian Sukaj, a fitness model from Albania.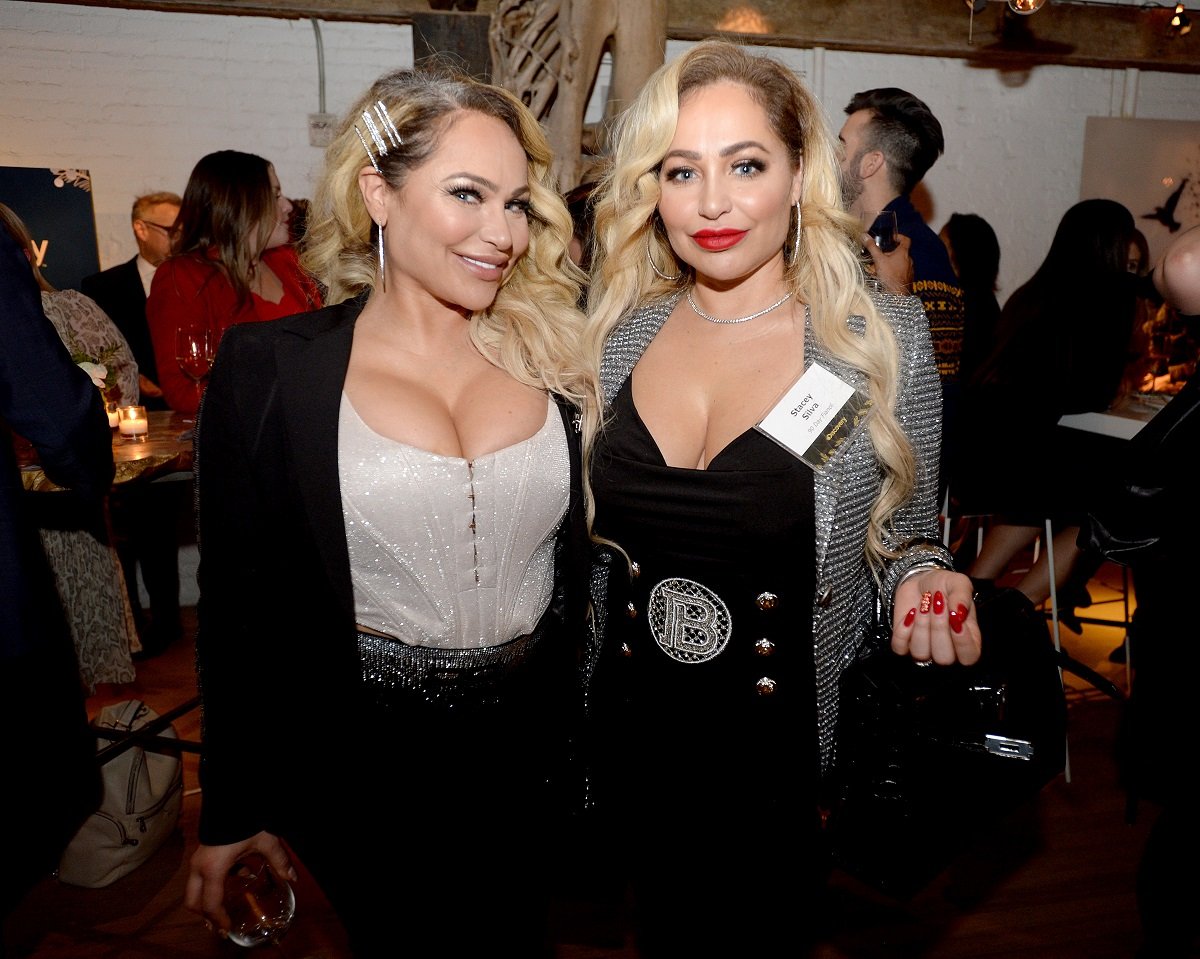 Stacey met Florian on social media and fell for him fast
Calling Florian her "soulmate," Stacey opened up on the Darcey and Stacey premiere about how they fell in love.
"Florian and I met four and a half years ago on social media," Stacey explained. "He went on my page, and liked some of my pictures, and I was like, 'Wow, this guy's really good-looking.'"
Their age difference—she was 40 at the time, while he was just 25—admittedly concerned Stacey. At first, she wondered if the fitness model could truly be serious about a long-term commitment.
But eventually, Stacey and Florian couldn't ignore the sparks between them.
"There was just something about him," Stacey gushed. The 90 Day Fiancé star added, "And over time, our love grew."
The '90 Day Fiancé' star said Florian proposed to her 10 days after they met
After six months of talking online, Stacey finally decided to book a ticket to Albania to meet up with Florian. The 90 Day Fiancé star said their encounter was immediately magical.
"It was amazing," Stacey raved about her first trip to Florian's home country. "It was like a whirlwind adventure."
The pair hit it off right away, despite their 15-year age difference and language barrier. And soon, they were promising their lives to each other—although their engagement story was a bit unconventional.
"He proposed fairly quickly, 10 days after we met, in our hotel room," the Darcey and Stacey star revealed of Florian's proposal. "He looked me in the eye, and he asked me to marry him. We were making love."
Of course, Stacey knew it wasn't necessarily a practical proposal. But the 90 Day Fiancé star was head over heels in love, and she felt she'd found the one at last.
"He didn't speak any English, really, but the way he looked at me—I just felt that love, and I just didn't really want that moment to end," Stacey said wistfully. "So I said yes."
Since then, Florian and Stacey had dated long-distance—with a few in-person visits in Albania each year—for nearly five years. Eventually, they applied for the K-1 visa so Florian could come to the U.S. to be with his longtime fiancée. Their application was approved, and Florian would soon arrive in Stacey's home country.
But Florian knew very little English and had never been to the U.S., held a steady job, or even lived away from his parents. Stacey knew that it would be a huge adjustment for both of them.
"As soon as he gets here, everything's about to change," she mused.
Darcey warned Stacey that her future husband might not be trustworthy
Stacey might have been entirely confident in her relationship with Florian, but her twin wasn't so sure. Darcey worried about the couple's differences in age and background.
"I just know that I'm skeptical, because he's a young guy," Darcey told 90 Day Fiancé producers. "Stacey sees him once or twice a year…I'm not quite sure if I trust Florian."
But Darcey also had deeper concerns, like infidelity. Florian had been accused publicly of cheating when a mystery woman posted risqué, intimate pictures with him on social media. In some, they embraced and kissed each other's cheeks. In another, the woman in question donned lingerie and cuddled up to a shirtless Florian in bed.
When Darcey confronted her sister on the Darcey and Stacey episode, Stacey insisted that the pictures didn't mean anything.
"Those are rumors," Stacey retorted. "Florian didn't do anything."
"Maybe he's just lying," Darcey pointed out, adding that her British ex, Tom, had been outed as a cheater by pictures on social media.
But Stacey reminded Darcey that Florian and Tom weren't the same person.
"He said nothing happened, and I believe him, so that's what it is," the 90 Day Fiancé star said.
But Darcey pushed back, arguing that Florian shouldn't even have given the appearance of being unfaithful to his future wife.
"The point is, do you trust him? Why would he put himself in that position?" she asked Stacey.
Stacey wasn't having it, responding simply, "Darcey, everybody makes mistakes."
Although she seemed to take Darcey's warning to "be careful" so she wouldn't get hurt, Stacey adamantly defended her relationship with Florian.
"I want her to realize that Florian truly loves me, and he's coming here so we can start our life together," Stacey said. She hoped her twin sister would eventually see that she and Florian were the real deal.
Source: Read Full Article