"Cooking with Paris" is the latest of celebrity cooking shows to hit Netflix, giving fans a taste of what it's like in Paris Hilton's glamorous kitchen. The six-episode series features the celeb with some famous friends as Paris takes on recipes of every food group. "I love cooking," Paris said in the first episode (via The New York Times). "But I'm not a trained chef, and I'm not trying to be."
Fans already know Paris as the hotel heiress turned socialite turned reality star turned DJ that has kept her A-list status since the early 2000s. No stranger to the small screen, Paris' life as a young party girl with friends Lindsay Lohan, Kim Kardashian, and even Britney Spears gave way for the celeb to star opposite her best friend (at the time) Nicole Richie in "The Simple Life." The reality show followed the two rich ladies into homes across the country, taking Paris and Nicole from Beverly Hills to working-class locales the world over.
Almost two decades later, "Cooking with Paris" follows a similar playbook as fans watch the celeb attempt to cook without her personal chefs. Read on to find out how and when to tune into the Netflix series and which famous friends you can expect to play sous-chef.
"Cooking with Paris" is based off a viral YouTube video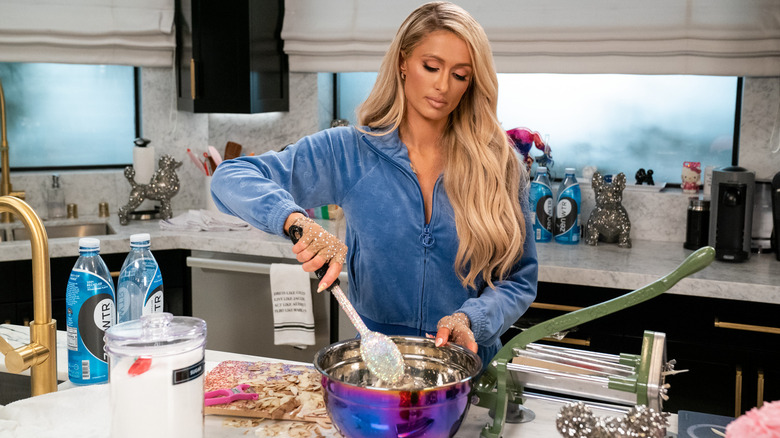 The Netflix series "Cooking with Paris" premiered on the streaming service on August 4. The six-episode celebrity cooking show follows Paris Hilton as she turns "the traditional cooking show upside down," according to a Netflix press release. "She's not a trained chef and she's not trying to be. With the help of her celebrity friends, she navigates new ingredients, new recipes and exotic kitchen appliances." 
Executive producer for the show Aaron Saidman told The New York Times, production for "Cooking with Paris" began after Paris posted a now-viral video on YouTube. The video, also titled "Cooking with Paris" was uploaded back in January 2020 and featured the reality star making Lasagna. Saidman had previously worked with Paris on the celeb's documentary "This Is Paris," where "The Simple Life" star opened up about past trauma in her childhood. "Cooking with Paris" was Saidman and Hilton's way of creating a "lighthearted" reality series for the star. "We thought it'd be fun to delve into her cooking skills, or lack thereof," said the producer.
Kim Kardashian, Demi Lovato and more are in Paris Hilton's new show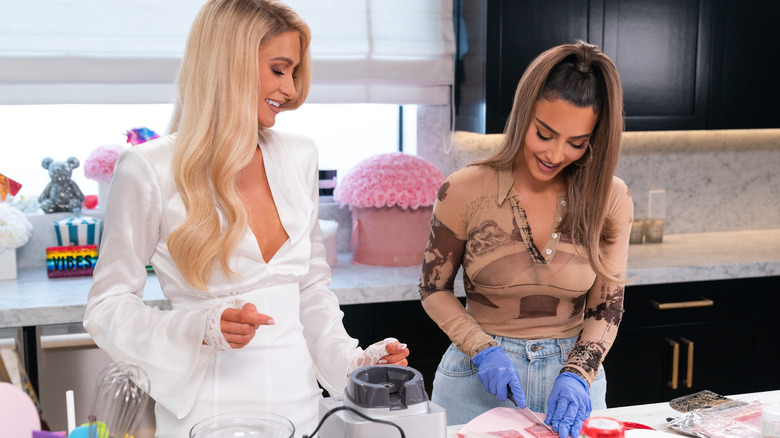 Aside from Paris Hilton herself, "Cooking with Paris" comes with a few famous cameos including Demi Lovato, Saweetie, and Paris' once-bestie Kim Kardashian. In the premiere episode of "Cooking with Paris," Paris invites Kim, who seemingly has more experience in the kitchen, to assist her in making a breakfast frittata. Fans may remember Hilton's role in helping Kim break into the fame game after the two long-time friends were seen out and about in the early 2000s, prompting a paparazzi following for the Kardashians.
"We'd go anywhere and everywhere just to be seen," revealed Kim to Rolling Stone in 2015. "We knew exactly where to go, where to be seen, how to have something written about you." Of course, the process worked for both Kim and Paris, as the "Keeping Up with the Kardashians" star went on to make billions from reality TV, brand advertisement deals, and her own business, SKIMS and KKW Beauty.
Possibly as a thank you to Paris for jump-starting her career, Kim was the first of many celebs to join "Cooking with Paris." Saweetie makes a stop to share her famous shrimp tacos recipe, Demi Lovato reveals they have zero cooking skills in an Italian-themed episode, and of course, Paris' own family joins for a night of steaks.
Paris Hilton's style in the show turned heads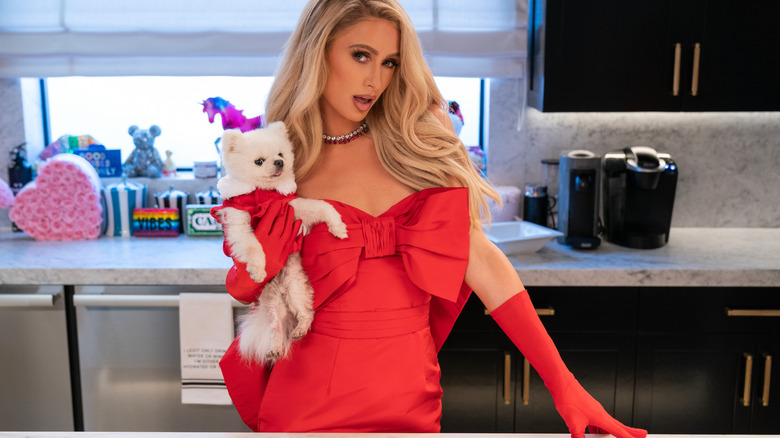 "Cooking with Paris" isn't the only celebrity cooking show to hit televisions in recent years. In fact, executive producer of Paris Hilton's new series, Aaron Saidman, was also the mastermind behind HBO Max's "Selena + Chef" starring Selena Gomez. "Even in failure, a good time can be had by all," Saidman told The New York Times about the new series. "But in many cases, they made things that were tasty."
After the release, viewers took more note of Paris style than her cooking, as the celeb decided gowns, diamonds, and lace gloves were her go-to choice of dress as a chef. "It's not the most practical cooking outfit, but I like to cook in style," said Paris. The celeb writes her sometimes tasty recipes made on the show in a pink cookbook with her own face on it, and of course, plenty of glitter and crystals.
To watch "Cooking With Paris," tune into Netflix where all six episodes are available for streaming.
Source: Read Full Article