Ever since Jennifer Lopez rekindled her relationship with Ben Affleck after splitting from Alex Rodriguez, the couple has been spotted everywhere from Los Angeles to Montana. Yes, Montana.
The reunited power couple is definitely not shy about their relationship, reportedly "telling friends" they are, in fact, together, according to Entertainment Tonight. Once they determined the "spark was still there," they both went all-in and "talked about the past and why things didn't work out," a source told the outlet. "They are both hopeful about their relationship this time around and putting the effort in. They have both matured and are on the same page and it has been easy."
J-Lo seems happier than ever and "really trusts Ben." The source added, "Ben is more traditional and low-key in his values and Jen is into that. She likes that they can go on dates and have fun. She also thinks that Ben is extremely smart and has a lot of great input." Well, now that that's all settled, and Lopez and Affleck are clearly in it for the long haul, how do close parties feel? Specifically, how does Lopez's mom feel about her relationship? Keep reading for more details.
Jennifer Lopez's mom approves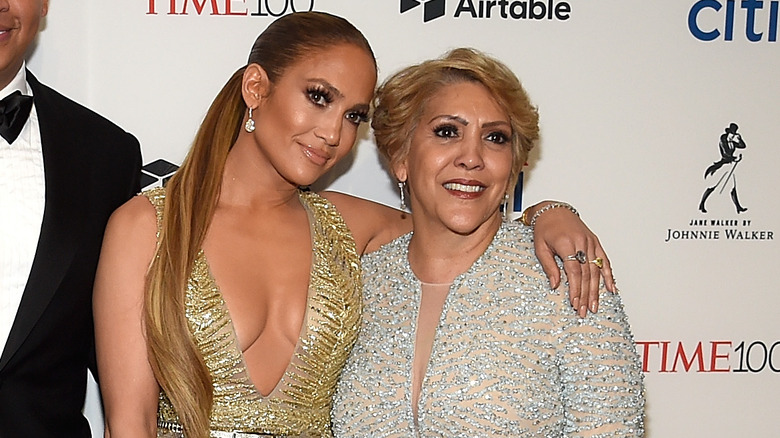 So, what does mom think? Jennifer Lopez's mom, Guadalupe Rodriguez, reportedly gave two thumbs up for "Bennifer 2.0." According to Page Six, Ben Affleck and Rodriguez reportedly hit the gambling tables in June at the Wynn resort in Las Vegas — where he was filming a new movie, per the outlet. "In the past, Jennifer's mom and Ben were very close," a source told People on June 12. "Guadalupe loved Ben. She was sad when they couldn't work things out years ago. She is thrilled that they are back together now."
The source added, "Jennifer is very close with her mom. It's very important to her that the person she is with, gets along with her mom." And how does J-Lo feel? The source added to People, "Jennifer loves that Ben and Guadalupe hung out in Las Vegas. They both love gambling and had fun together at the Wynn hotel." A source told the outlet earlier that "Lupe was there to film a fun cameo." So it all lined up!
J-Lo has been filming a music video in Miami, Fla. where she's based, per People, but has spent a lot of time seeing Affleck in Los Angeles, Calif. It sounds like she is going to rack up quite a few frequent flier miles this summer! Especially now that mom seemingly approves. 
Source: Read Full Article