Zooey Deschanel is one of the most recognizable names in Hollywood, and she's starred in plenty of hits that we know and love, like "Elf," "500 Days of Summer," and, of course, the Fox hit, "New Girl." She's quirky and relatable! According to IMDb, Deschanel got her start in 1998 on an episode of the TV show "Veronica's Closet." From there, her career took off. Deschanel looks super similar to Katy Perry, and the two used to get mistaken for one another. She's also dating "Property Brother" Jonathan Scott, and the two are just too cute for words.
In 2012, the actor — and singer (in She & Him) — went through a very public divorce from rocker Ben Gibbard. The court revealed much of her financial information (via The Hollywood Reporter), including her "monthly expenses," which were about $22,500 at the time. While that may seem like a lot ($2000 went towards "clothes"), Deschanel did shell out another $1,500 a month to charities … how sweet!
In 2020, Deschanel went through another public divorce from Jacob Pechenik. But, according to People, some of their assets were not split. "All retirement, pension or deferred compensation assets in either party's name shall be and are confirmed to each as their sole and separate property," court papers read. Keep scrolling to find out how Deschanel's bank account is faring.
Zooey Deschanel is '500 Days of Successful'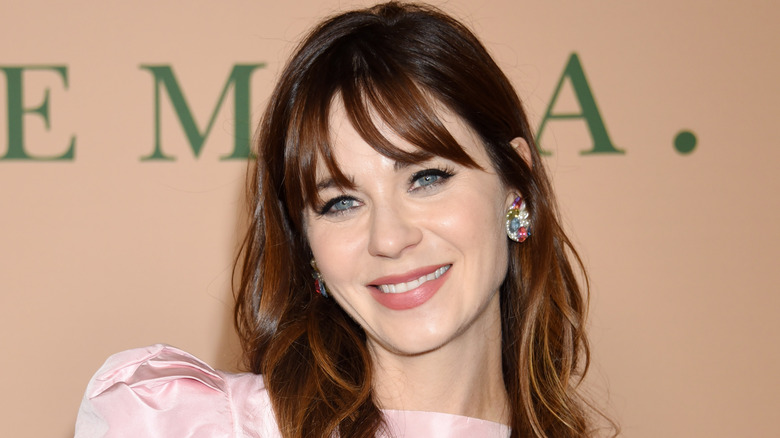 Zooey Deschanel has made a killing in Hollywood. Celebrity Net Worth estimates the actor's fortune at $25 million … not too shabby if you ask us. In 2012, The Hollywood Reporter shared that Deschanel raked in around $95,000 a month for her role on "New Girl." Once the show took off and had great success, Deschanel's salary also went up quite a bit. In 2016, E! reported that the actor pulled in around $125,000 per episode. She also starred in the box office hit "Elf," which raked in $220 million, and she undoubtedly got a piece of that pie too.
Like many other celebrities, Deschanel has spent a lot of money on real estate. In 2019, Variety shared that the actor sold her Manhattan Beach, Calif. home for $4.7 million after listing it at $5.25 million. However, she still made a bit of money on it as she and her ex-husband Jacob Pechenik purchased the home for $4.57 million. The Observer also shared that Deschanel sold her Hollywood Hills home for $2.33 million in 2015. According to Acme, Mark Ruffalo also owned the three-bedroom, four-bathroom home, which boasts 2,900 square feet of living space. It's safe to say that Deschanel is probably living somewhere nice with her boyfriend Jonathan Scott, who probably fixed the whole home with his bare hands! While they re-did her best friend's house together, it's not entirely clear where the pair call home.
Source: Read Full Article