Ratings: ABC Ranks 3rd on 'Dancing With the Stars' Double-Elimination Disney Night
Getty Images
IATSE Strike: Which Film and TV Projects Will Shut Down – and Which Will Keep Shooting
A few shows, like HBO's "House of the Dragon," will continue production…but almost everything else will come to a halt
Backed by tens of thousands of below-the-line film and TV workers, IATSE has set the countdown clock on talks with Hollywood studios. If a deal isn't reached on a new bargaining agreement by Sunday evening at midnight, the union will begin its first-ever Hollywood strike, shutting down almost every film and TV project currently shooting or in postproduction.
Dozens, if not hundreds, of film and TV productions will come to a sudden halt if the union walks out — but there are two major exceptions, thanks to separate agreements that IATSE has made for certain productions. The first is for shows and movies being produced specifically for pay TV channels like HBO, Showtime, Cinemax and Starz. These include shows like HBO's "Game of Thrones" spinoff "House of the Dragon," Showtime's "Billions" and Starz's "Power." These shows are produced under a separate IATSE agreement that runs through the end of 2022, and IATSE has instructed members working on such shows to disregard the strike order and show up on set.
The second major exception is for animated projects. IATSE Local 839, aka The Animators Guild, negotiates its own bargaining agreement with the AMPTP, which handles labor negotiations for the studios. That agreement is set to expire at the end of this month, but the AMPTP and Local 839 agreed to postpone talks while negotiations with the rest of IATSE continued. This means that production on projects like Pixar's "Turning Red," DreamWorks' "The Bad Guys" and a slew of streaming animation projects like "Zootopia+" and HBO Max's revival of "The Boondocks" can continue.
Continue reading
Join WrapPRO for Exclusive Content,
Full Video Access, Premium Events, and More!
Productions that adhere to agreements for sports broadcasting, music videos, low-budget film productions and commercials will also be able to continue during a strike. And IATSE has separate postproduction agreements with some individual facilities that would exempt them from a strike action, including Lucasfilm's Skywalker Sound, Vice Media and Tyler Perry Studios.
But beyond this, nearly all film and TV production in the U.S. and Canada would immediately cease on Monday since the agreement covers 60,000 workers in 13 West Coast locals as well as 23 locals that work on film and TV shoots nationwide.
In the immediate term, that means a stop to most late-night talk shows, from ABC's "Jimmy Kimmel Live" to NBC's "Saturday Night Live" (Aidy Bryant even sported an IATSE-logo T-shirt during the show's season premiere.) A strike that lasts for a month would then hit broadcast and cable TV shows, as most of those shows complete work on episodes around three weeks prior to them airing.
On the film side, many of the top movies coming in 2022 have already finished principal shooting — though some, like Disney/Marvel's "Black Panther: Wakanda Forever" are still in production. Many of the films that would have to turn off cameras are set for release in late 2022 or early 2023, like Warner Bros.' "Wonka" starring Timothée Chalamet.
Even Hollywood productions that are shooting outside of IATSE's jurisdiction in North America would be affected. While some of those overseas productions hire local, non-IATSE talent for jobs like set construction and grips, key department heads like lead costume and makeup designers and directors of photography are all hired from IATSE locals.
On the postproduction side, there is some confusion among union members over whether the strike will affect their current projects. That's because some postproduction facilities like Skywalker Sound and Tyler Perry Studios have separate agreements with IATSE which would allow film and sound editing to continue. Skywalker Sound has been the go-to postproduction facility for most of Disney's live-action and animated projects.
One member of the Motion Picture Editors Guild, IATSE Local 700, told TheWrap that while there's overwhelming support for a strike within her industry social media groups, there is uncertainty among members about the status of their project and leaders are reviewing agreements to provide more detailed instructions.
Reps for Local 700 did not immediately respond to a request for comment.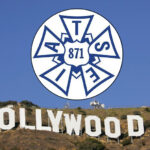 The Hollywood giant that is likely in the best position to weather a months-long strike is Netflix. While IATSE has been pushing hard for significant increases in wages for its members on streaming projects, the streaming giant would likely run the same playbook it used to get through the COVID-19 production shutdown: Bank on its immense amount of already-completed content while dealing with delays on active and soon-to-start productions.
Also working in Netflix's favor is the growing interest in non-English productions, as evidenced by the recent rise of "Squid Game" into a pop culture phenomenon. Even if a strike happens, Netflix can continue filming hundreds of overseas productions that employ below-the-line workers represented by unions for different countries.
But rival streaming services like Peacock and Apple TV+ do not have as much of a backlog of projects, and a shutdown could cause delays in their release schedule for next year. The same could go for film distributors — depending on how far along their 2022 titles are in the postproduction process.
But IATSE members have presented a united front demanding higher wages and a change in working conditions — despite the financial struggles from pandemic-related work shutdowns. For months, the union's IA Stories Twitter and Instagram pages have been filled with stories from members detailing physical and mental burnout from 14-hour work days on production shoots and postproduction deadline crunches.