Ken Jennings became a household name during his record-breaking run on Jeopardy! in 2004. The quiz whiz racked up 74 wins and over $2.5 million in cash, and later went on to earn the title of Jeopardy!'s Greatest of All Time in 2020. Now serving on the legendary game show as as guest host and consulting producer, Jennings clearly remembers the very first Jeopardy! episode that launched his fame.
Ken Jennings had to wait a year after his audition to appear on 'Jeopardy!'
Jennings was on vacation in LA with a pal and wanted to try out for Jeopardy! When they learned the auditions would be held after their return home, they decided to take an extra road trip.
"We drove back home and came back," the Jeopardy! star told Vulture in 2020. "My wife was all right with it. We had been married for about four years at that point, my son had just been born, and we had recently moved into our starter home. I was a computer programmer at a small firm. So, we both drive back to Los Angeles, and we both passed the test at the Radisson on a Tuesday morning. It was great."
Jennings nailed the tryout and was given the green light for Jeopardy! He ended up having plenty of time to study.
"A year goes by," he recalled. "I totally forgot about it, and suddenly I'm sitting at my boring job and a guy from Jeopardy! calls me. He was basically like, 'Hey, you're going to be on the show in three weeks.' I panicked."
'Jeopardy!' GOAT calls first episode 'a real experience'
Though he had practiced playing the trivia game countless times at home to prepare, Jennings admitted that being on the Jeopardy! stage is a different ball game.
"It's crystal clear in my mind," he said of his first episode in 2004. "Of all the years of amazing experiences I've had on Jeopardy! since then, nothing has come close to this one in intensity. Playing Jeopardy! for the first time just knocks your socks off. You're expecting it to be chill like it is at home, and it's so different on the other side of the screen."
Meeting Jeopardy! icon Alex Trebek, who died in November 2020, was high on Jennings' list of favorite memories of his initial game.
"You can't believe the pace and the intensity and the number of things you're being asked to do at once, in addition to the surreality of having Alex there," he commented. "It's a real experience. I had almost put the game away before the end of the second round, but then one of my fellow contestants found her buzzer groove, so I only had a narrow lead going in Final Jeopardy!"
Ken Jennings recalled first seeing Alex Trebek in person
Jennings revealed a rule that prevented Trebek from mingling with Jeopardy! competitors, even those who stay on the show for a great length of time.
"I never really got to hang out with him during my entire run because of those really strict FCC regulations left over from the '50s game-show scandals," he explained. "Contestants have to stay apart from the staffers who know the material."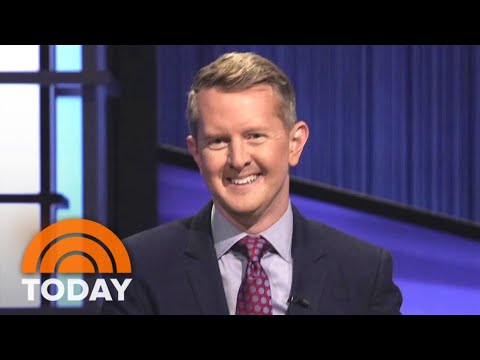 As a longtime Jeopardy! viewer, Jennings was a loyal fan of Trebek and shared what it was like to see the game show legend in person for the very first time.
"I remember standing behind the podium when he first walked out," the Jeopardy! GOAT revealed. "It was almost like an angelic visitation or vision, something you heard described and can't believe it's actually happening to you."
Source: Read Full Article