Nicole "Snooki" Polizzi is a Jersey Shore favorite. She's the original wild child, but now she's less focused on finding where the beach is and more dedicated to her family.
As a mother of three, fans wonder if "Snooki's" kids understand that she's a famous reality star. Does Polizzi plan to let Lorenzo, Giovanna, and Angelo watch Jersey Shore or Jersey Shore: Family Vacation when they're older?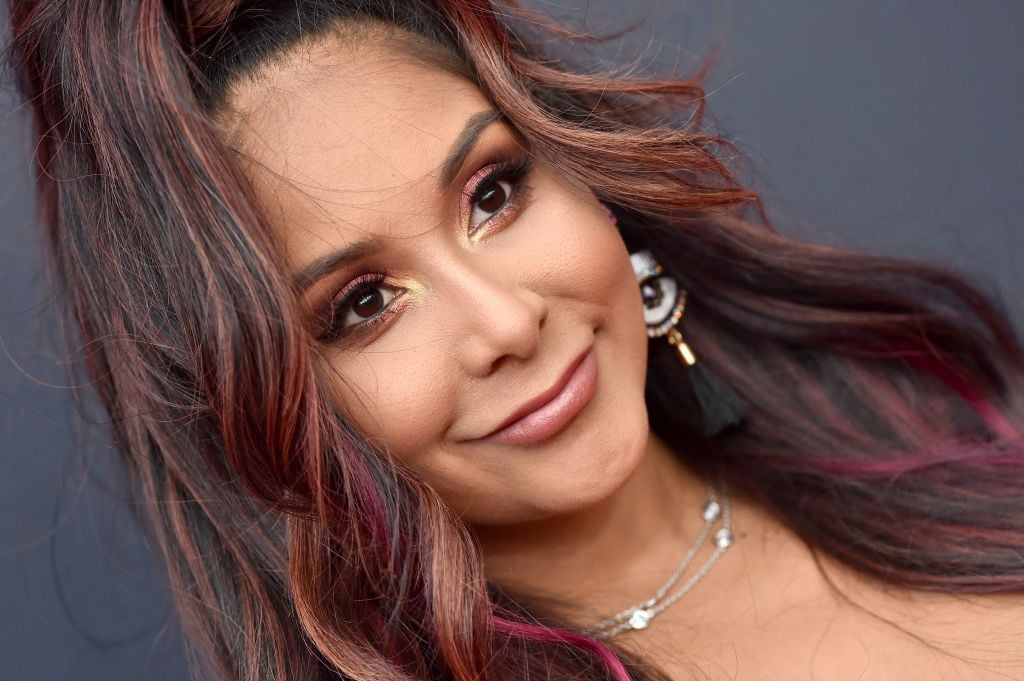 Nicole is leaving 'Jersey Shore' to spend time with her family
In December 2019, Polizzi told the world she was leaving Jersey Shore on her podcast It's Happening With Snooki and Joey. "I am retiring from Jersey Shore," Polizzi explained. "I am not coming back for season four if there is one."
Another season of Jersey Shore: Family Vacation has yet to be confirmed, but fans are hopeful it will happen. "I'm just not comfortable filming that show anymore with the direction it's going with all the drama," she added. Polizzi is likely referring to what happened during Angelina Pivarnick's wedding.
RELATED: 'Jersey Shore: Family Vacation': Will There Be a Season 4?
Aside from her desire to escape the drama, Polizzi wants to be there for the big moments in her children's lives. She shares three children with her husband, Jionni LaValle. 
What will 'Snooki' do after 'Jersey Shore'?
One of the main reasons for Polizzi's exit was to spend more time with her children, but she has other creative pursuits on her list. Polizzi is the owner of The Snooki Shop, a boutique where she curates items for her fans. Polizzi also runs an Etsy store, where she sells Jersey Shore-inspired clothing, mugs, and accessories. 
Aside from the world of merchandise, Polizzi has other television aspirations outside of Jersey Shore. "I would love to do something with Jenni again," she told HelloGiggles. "Just because filming Snooki & Jwoww, our spinoff from Jersey Shore a while ago, was the funnest show ever." Polizzi also has an interest in hosting. "Like a fun game show or something, where I could do something fun with the people, and it's not all about me, ya know?" Being out of the direct spotlight is what Polizzi is craving most. 
'Snooki' wants her kids to watch 'Jersey Shore' so they can learn 'how not to be trashy'
Though she prefers her children "not ever watch it," Polizzi understands her kids are bound to stumble across Jersey Shore at some point. "They're already on YouTube, and my daughter and my son always ask me, 'Who is Snooki?' when I go out and people are calling me that," Polizzi explained. "I'm like, 'Oh, you know, it's just my actress name.' They think I'm an actress right now." 
RELATED: 'Jersey Shore: Family Vacation': Angelina Pivarnick Is Only On Speaking Terms With 1 Roommate Since Her Wedding
Polizzi says she'll wait until her kids are old enough — "16 or 13 or [even] 14," she says — to explain to them how "'Mommy's college years were on video for everyone to see, and if you do see it one day, learn what not to do from Mommy.'" 
Polizzi likening her experience on Jersey Shore to anyone's college years makes sense. Those wild and crazy experiences are what make the series so relatable. "That's what I always used to tell anyone who would judge us," Polizzi added. "Like, oh, you never got drunk and peed? Okay."
Fans are excited to see what Polizzi's future has in store. Regardless of what "Snooki" does next, Jersey Shore fans are sure to follow.
Source: Read Full Article