First ladies can be many things. Some have held pivotal roles in U.S. history. Others have faded into relative obscurity. A new Showtime series will examine three first ladies from a new, dramatic angle. The featured wives in the first season will be Michelle Obama, wife of President Barack Obama, Betty Ford, wife of President Gerald Ford, and Eleanor Roosevelt, wife of President Franklin Delano Roosevelt. Showtime has announced the actors playing each first lady, and they are some big names. Keep reading to learn more about Viola Davis as Michelle Obama, Michelle Pfeiffer as Betty Ford, and Gillian Anderson as Eleanor Roosevelt in Showtime's The First Lady.
'The First Lady' comes out in 2022
There are a lot of biopics about first ladies. But Showtime's series The First Lady promises something different. Showtime reps told EW that the new series will have "an enlightening intimacy." Although all three first ladies in the series have been featured in other works, this will be different.
The new show boasts Crash's Cathy Schulman as showrunner, and The Undoing's Susanne Bier as director. The First Lady is being billed as a limited series for now, although Showtime could expand to future seasons. There would probably be a focus on another three first ladies if that were the case, however. Fans can watch the new show in spring of 2022, on the Showtime channel or Showtime's streaming service.
Viola Davis, Michelle Pfeiffer, and Gillian Anderson will have starring roles in 'The First Lady'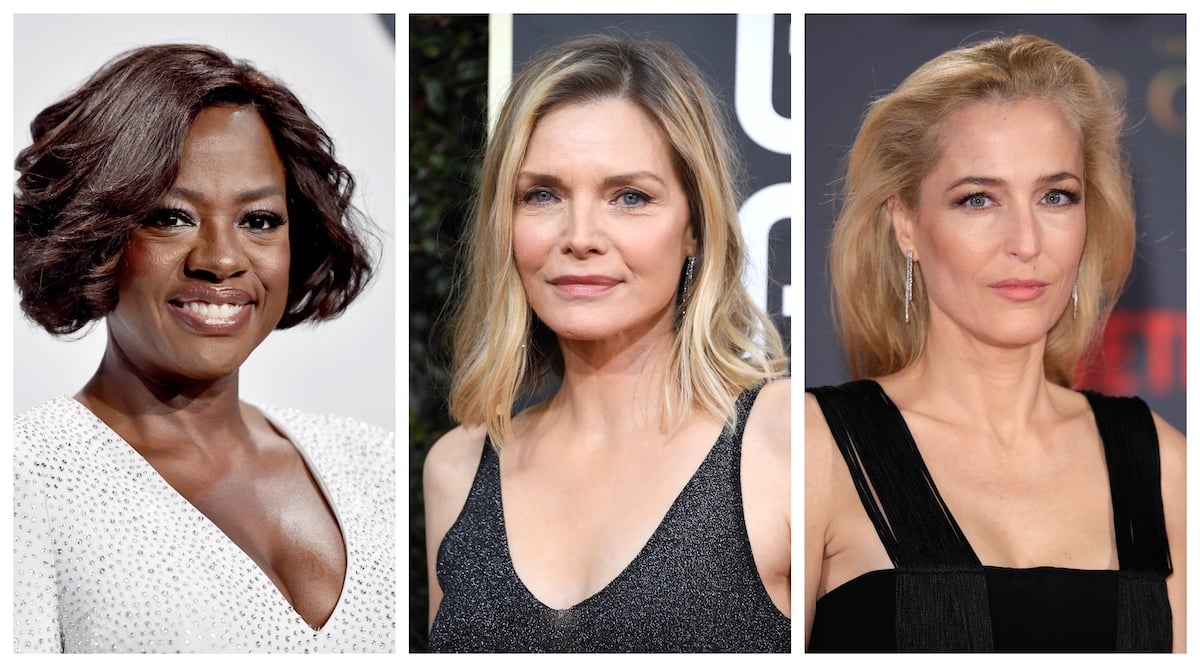 The actresses in these roles have some big shoes to fill. So it makes sense that Showtime picked three powerhouses to play their three first ladies.
Viola Davis will play Michelle Obama. Davis has proven she can be vulnerable and powerful at the same time with her work in How to Get Away with Murder. That's a skill she'll likely need when playing First Lady Michelle Obama. For her part, Davis is excited to do right by Mrs. Obama. Davis told EW, "It's our job as actors not to judge whoever we are portraying, but I ended up thinking she's just dope."
Michelle Pfeiffer will be playing Betty Ford, wife of President Gerald Ford. In a way, Pfeiffer had a harder part to play than Davis. Although First Lady Ford was also outspoken about important issues, much like First Lady Obama, she was also deeply troubled. Pfeiffer had to find a way to balance Mrs. Ford's addiction issues with her passion.
Gillian Anderson will bring new life to First Lady Eleanor Roosevelt. Anderson is no stranger to playing strong women. She had the role of Margaret Thatcher in The Crown. Mrs. Roosevelt is similar, in that she's strong, and whip-smart. But First Lady Roosevelt was born in a time when women couldn't hold the leadership position she deserved. This new series will also explore Mrs. Roosevelt's relationship with Lorena Hickok, her friend and possibly her lover.
Get a first look at Viola Davis as Michelle Obama, Michelle Pfeiffer as Betty Ford, and Gillian Anderson as Eleanor Roosevelt ahead of The First Lady, courtesy of Entertainment Weekly.
'The First Lady' will feature some notable first daughters as well
It's not just the first ladies who are big stars in Showtime's The First Lady. There are some big names playing the first daughters, as well. Dakota Fanning will be playing Betty Ford's daughter, Susan Ford. Aaron Eckhart will have the role of the president himself, Gerald Ford.
Michelle Obama's daughters Sasha and Malia Obama will be played by Saniyya Sidney and Lexi Underwood, respectively. The Obamas were a magnetic first family, and Davis will need to have spot-on chemistry with Underwood and Sidney to do it justice. President Obama will be played by The Black Widow's O-T Fagbenle.
Source: Read Full Article