You've heard of the Oscars, but have you heard of the Isaacs? The Isaac Awards, in honor of the great Oscar Isaac, are Showbiz Cheat Sheet's unique spin on the Academy Awards. However, the Isaac Awards are different from the Oscars in that they celebrate the best movies of 2021 that deserve recognition but will not receive that recognition through Oscar nods. The 2022 Isaac Awards feature five categories: Best Performance, Best Scene-Stealer, Best Crowd-Pleasing Moment, Best Action Sequence, and Fan-Favorite Movie. Voting will be open via this form from March 7-20. Winners will be announced on March 24.
The Matrix Resurrections brings an intense dive bomb finale that introduces the most violent sequence in the sci-fi movie. However, writer/director Lana Wachowski's big finale took inspiration from another iconic moment in cinema history. The Matrix Resurrections VFX supervisor Dan Glass talked about the Paul Thomas Anderson film that visually inspired that climax.
'The Matrix Resurrections' finds Keanu Reeves and Carrie-Anne Moss riding on a motorcycle in the climax
Wachowski returns to The Matrix for the first time since 2003's third installment. The Matrix Resurrections finds Neo (Keanu Reeves) living under the name Thomas A. Anderson. He works as a game designer in the same city as Trinity (Carrie-Anne Moss), who now is called Tiffany. They don't know each other, but Morpheus (Yahya Abdul-Mateen II) returned to open Neo's mind.
The Matrix Resurrections finds Neo risking it all to save Trinity. This journey takes them to the motorcycle-riding climax, which is the movie's biggest scene. The Analyst (Neil Patrick Harris) is willing to do anything to stop them from succeeding at their mission. As a result, The Matrix Resurrections finds him making humans dive out of the surrounding buildings to dive-bomb into Neo and Trinity.
VFX supervisor Dan Glass said that Paul Thomas Anderson's 'Magnolia' inspired the 'nasty' dive bomb finale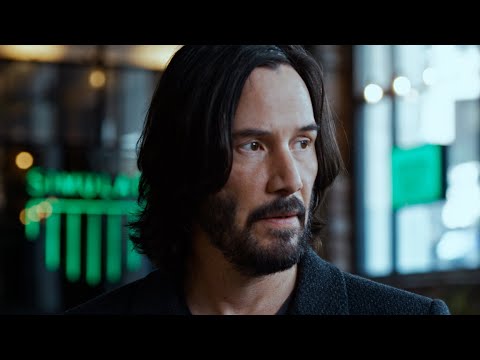 The Gamer interviewed Glass to talk about his experience working as the VFX supervisor on The Matrix Resurrections. He explained how it took some time to get the feeling of the scene right. As a result, The Matrix Resurrections took inspiration from Anderson's movie Magnolia for how he wanted to approach this big, climactic sequence involving human dive-bombs.
"The first animation test that came to us, I felt the animators were rather restrained," Glass said. "They had them falling a bit slowly. And then instead of doing dive bombs, it had a fun tone, but I was like, 'No, this needs to feel nasty.' So we started to give them that 'head down' focus. But even then, what our initial tests were doing is they would hit and bounce."
Glass continued: "I actually pointed the team to Paul Thomas Anderson's Magnolia, with the frog rain, which is almost more humorous because it's frogs there, but if you apply that to human beings, it becomes very horrific quickly."
However, Glass knew that he needed to keep The Matrix Resurrections dive bomb from being excessive. "Then to try to keep it from being too dark, the splats of blood were visible code evidence, which helps to sell it as something that is clearly not real," Glass said. "We went pretty dark on it knowing that we had to escalate threat against him."
'The Matrix Resurrections' is the last franchise installment for now
The Matrix Resurrections takes a meta approach to its existence. However, it concludes in a way that could lead the way to more sequels. As a result, The Matrix fans continue to wonder: will there be another movie? Wachowski and co. don't have an interest in returning to make another installment at this time, but that doesn't mean that it will never happen.
Additionally, Warner Bros. wanted to return to The Matrix for years. It wouldn't be very surprising to see the studio wanting to tap back into the franchise. However, audiences shouldn't hold their breath for that to happen anytime in the immediate future with the current team. Nevertheless, The Matrix Resurrections dive-bomb sequence will live on.
Vote for the 2022 Isaac Awards here now through Sunday, March 20. Winners will be announced on March 24. 
Source: Read Full Article