Chip and Joanna Gaines are known to most as the owners of the Magnolia Empire. And while we're used to fangirling when we see their picture and homeware line at Target, five people in this world just see Chip and Joanna as mom and dad. The couple share Duke, Drake, Emmie Kay, Ella Rose, and Crew.
We have seen the kids grow up before our very own eyes on "Fixer Upper," and the original squad of four would often come to see their mom at the end of the day when she was prepping house decorations. Now, Joanna still shares plenty of photos of the kids on her social media pages, but she usually highlights little Crew. In June, she shared a sweet photo of Crew standing in front of a dinosaur balloon and a table decorated with green balloons to match to celebrate his third birthday. 
The couple also shared how the kids help keep them grounded even though they're celebrities now. "I would say being a parent of five kids sort of expedites that normal feeling," Chip told Parade, "because no matter how proud Jo and I might feel about a deal we've done or something we've accomplished, you walk through that front door and those five kids are like, 'Hey, we don't care what you just pulled off, you know, you need to get us to this T-ball game."
Keep scrolling to find out how Chip and Jo are raising their beautiful kiddos. 
Chip and Joanna Gaines have a genius cell phone rule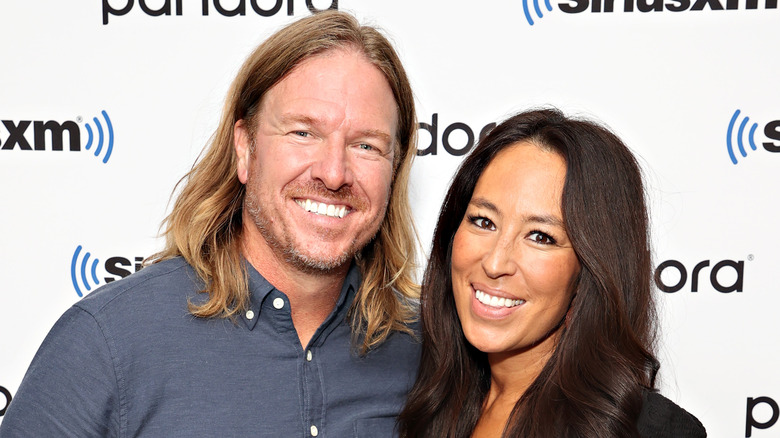 Chip and Joanna Gaines are pretty cool parents, but they have their boundaries. Some parents like to control cell phone usage with their children, and Chip and Joanna are no exception. During an interview on "The Today Show," Hoda Kotb asked Joanna what her solution was for her son, who is on his phone too much. "We have this little station where everyone charges their phones, and finally we decided we don't like how our kids — they almost look like robots," she explained. "I mean all of us, when it buzzes you gotta check it, and when they're reading they're checking it." Her solution, though simple, is pretty clever.
"It just became a house rule, when you're at home, that all the phones go in one spot, so if you want to check a text, if you want to check an email, you go to that spot, but it's not on your bodies," Joanna shared. "So it's like 'no phones on body,' that's the rule at home." The mother of five also explained that since her kids are getting older, she wants to set the expectation that they can't just come home and sit on their phones all day, and having them in their pocket makes them too accessible.
Hoda thought that Joanna's idea was brilliant, and we think that the shiplap queen may have swayed Hoda to do the same with her kiddos, Haley Joy and Hope… when they're old enough to get a cell phone, that is.
Source: Read Full Article