Spider-Man himself is not the only Spider-Man character who is going to get a sequel. His dark nemesis and antihero Venom will get his second movie too.
As is so often the case, it's because the first Venom did even better overseas than it did here. While it grossed a strong but not spectacular $214 million in this country, it made $641 million overseas. So whether or not the United States really wants a Venom sequel, it's going to get one.
And yes, Tom Hardy has signed on for the sequel, which is good news for fans and non-fans of the movie, because even people who didn't like the movie agreed that Hardy was the best thing in it.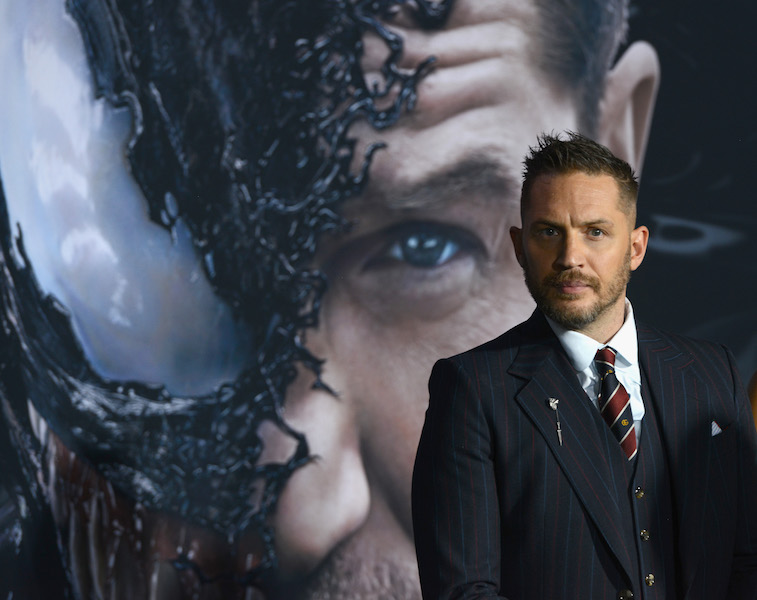 When is 'Venom 2' coming out?
According to IMDB, Venom 2 is expected to come out October 2 of next year, which seems a little surprising, given that the director hasn't been chosen yet. The only details about the sequel IMDb lists are that Hardy is in it, and that Kelly Marcel, who wrote the first movie, will also write the sequel. 
That's it. No other cast is mentioned at all – not Michelle Williams and not Woody Harrelson, who popped up in the credits sequence of the first movie, supposedly to introduce the villain for the sequel.
But If this movie is going to come out in 15 months, Sony had better move fast. Don't be surprised if that release date gets pushed back.
However, producer Amy Pascal did confirm that Hardy would return, "magnificently playing that character as no one else can." That may seem surprising, given that the actor usually gravitates more toward indie fare like Locke and Lawless and less toward big studio movies, although he has appeared in The Dark Knight Rises and Mad Max Fury Road.
However, the directors of those movies, Christopher Nolan and George Miller, have stronger reputations than Venom director Ruben Fleischer, whose only other big hit has been Zombieland.
Many critics thought 'Venom' was mediocre
Critics didn't think much of Venom, giving it a weak 29 percent score on Rotten Tomatoes. The critical consensus on the site reads, "Venom's first standalone movie turns out to be like the comics character in all the wrong ways – chaotic, noisy, and in desperate need of a stronger attachment to Spider-Man."
Some critics who didn't like the movie still found praise for Hardy, who at least attempted to bring something interesting to the lead role. In addition to playing journalist Eddie Brock, Hardy also did Venom's voice, playing both halves of the Jekyll and Hyde-style character. But even Hardy's skills can only take a mediocre superhero movie so far. 
"It'd be nice to say that Hardy, a fine actor, is actually given a chance to act. But he's basically just a Looney-Tunes punching bag," said Stephen Garrett of Book & Film Globe. Richard Trenholm of CNET wrote, "Would be way more fun if the superhero fodder was dropped and we had 90 minutes of Hardy and his alien interloper arguing, eating people and arguing about eating people."
Hardy was paid $7 million for Venom, which is a good bit lower than most franchise leads. For instance, Daniel Craig is getting $25 million for Bond 25, although to be fair, that's the actor's fifth and final turn as 007. Still, we're sure Hardy will get a considerable raise for the follow-up.
Could Spider-Man show up in 'Venom 2'?
With Spider-Man: Far From Home breaking box-office records, fans will naturally wonder if Spidey could show up in the Venom sequel. After all, he was originally conceived as a villain for Spider-Man in the comics, and he was one of the villains in Spider-Man 3. However, fans were generally not pleased with his appearance in that overstuffed movie, so they'd like to see another meeting between Spider-Man and Venom.
So would Pascal, whom EW quoted as saying, "Everybody would love to see that. You never know someday … it might happen. I can say that we've had a fantastic partnership and you never know what's going to happen. We have a lot of stories to tell about Spider-Man, in every facet. We have big plans for Tom Holland to be a part of everything."
So if Spider-Man comes in, would he be friend or foe? We may find out someday, although we doubt it'll be next year.
Source: Read Full Article