The following article includes mentions of child abuse and sexual assault.
If you had even the slightest bit of downtime to spare in the years between 2008 and 2012, then chances are you likely enjoyed watching one man's mission to gorge himself on America's largest and greasiest delights via the cultural masterwork of the Travel Channel's "Man vs. Food." You may have so lost yourself in the monstrous mountains of the show's vast fast food offerings that you also managed to lose sight of the host. So, whatever happened to Adam Richman, anyway? Hopefully you didn't fall foul to the many ludicrous death hoaxes available online about the former "Man vs. Food" host and have remained savvy enough to be at least vaguely, if not actively, aware of his pursuits beyond the food challenges that made his name in the public eye. 
"Man vs. Food" was one of the Travel Channel's highest-rated shows, and it remains a huge cultural influence that has arguably helped pave the way for countless other series in which people happily stuff themselves silly with local cuisines — and honestly, we love to see it. But what made Richman want to leave "Man vs. Food" in the first place? And what did he do next after saying so long to the hit show? As it turns out, a heck of a lot. 
Here's everything you need to know about what the original "Man vs. Food" host, Adam Richman, has been up to in more recent years. 
Adam Richman lost his appetite for Man vs. Food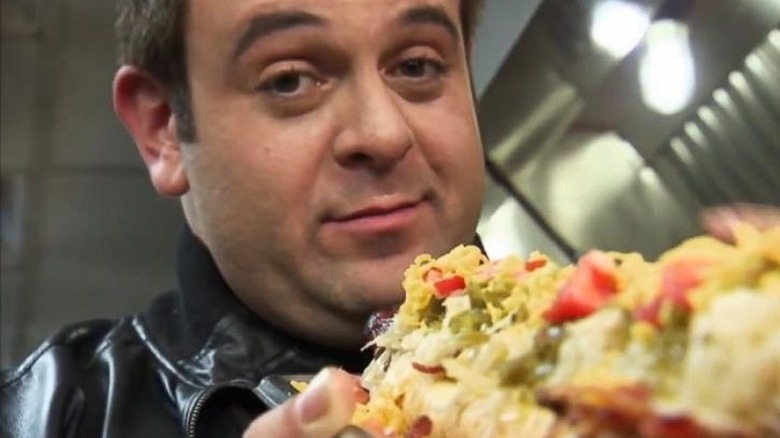 Though fans were still all too hungry to witness Adam Richman demolish the sort of cartoonish quantities of meat that could have even defeated a human dumpster like Homer Simpson, by January 2012, he announced it was time to hang up his "competitive fork." In a Facebook post that reflected on the 59 eating challenges he bravely digested during the show's original run, the longtime host thanked his fans for their love and support, but confirmed, "I am out of the food challenge game," and was onto new and exciting ventures. He added to his fans, "I now seek to explore, to learn and to share what I've learned about food, places, people and travel itself & make that information enjoyable and accessible to everyone."
In his final season of "Man vs. Food" –- titled "Man vs. Food Nation" –- Richman stepped back from his feasting throne to instead celebrate the locals who made these challenges iconic in the first place. He told The Guardian, "There is nothing like watching a hometown hero being cheered on by his friends in a restaurant that he or she would normally frequent." With that in mind, he added that his decision to leave the show when he did was simply because "the spectacle diminishes over time." Richman explained, "As a producer, if nothing else, I had to be aware of giving my audience something that they wanted to see."
Contrary to the rumor mill, he didn't leave Man vs. Food over health issues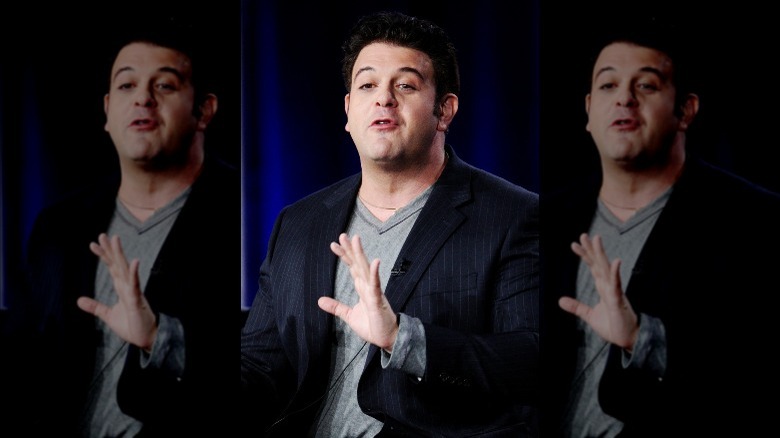 After Adam Richman left the Travel Channel hit, speculation was rife that his decision to abandon the colossal farmyard banquets of "Man vs. Food" was because he worried about what these food challenges were doing to his physical health. However, the former host was quick to shut down such theories in a 2016 interview with BBC News, in which he bluntly stated that "the rumours about health concerns stopping the show are untrue." Richman added that whilst there was no particular health agenda to his decision to leave, there was regardless a sense of relief to leaving the food challenges behind. "I don't miss the physiological feeling after having a spicy challenge and having that much food in you," he explained.
A year later, Richman divulged to People  (via Yahoo! News) that he'd lost 60 pounds since tapping out from the extreme eating game. And though he may not have left "Man vs. Food" because of fears that the show was harmful to his health, he did confess that the impact of those food challenges directly affected his self-confidence regarding his physical appearance. "I could see my belly," Richman said. "It was unflattering. It sent me into depression."
If you or someone you know is struggling with mental health, please contact the Crisis Text Line by texting HOME to 741741, call the National Alliance on Mental Illness helpline at 1-800-950-NAMI (6264), or visit the National Institute of Mental Health website.
Adam Richman was hit with some serious internet backlash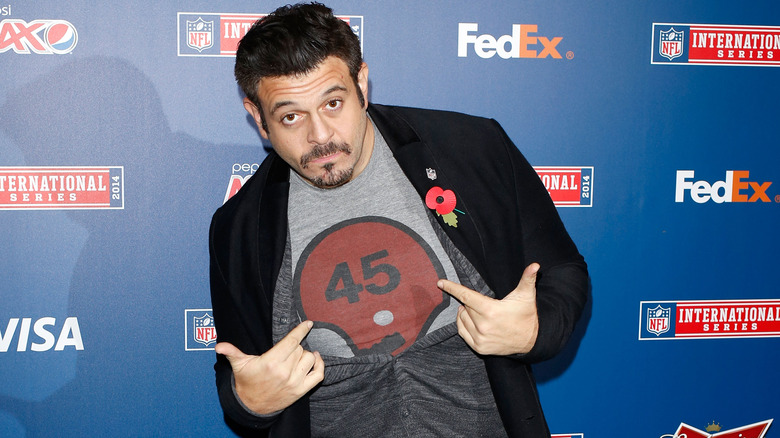 By 2014, Adam Richman appeared to be on top of the world. In addition to enjoying a healthier body, he was also due to premiere his new show, "Man Finds Food," on the Travel Channel. In June of that year, he shared a (since-deleted) celebratory Instagram post showing off his 70-pound weight loss with the caption (via Time), "Had ordered this suit from a Saville Row tailor over a year ago. Think I'm gonna need to take it in a little." Unfortunately, Richman also included the controversial hashtag, "#thinspiration" — a term with such a loaded history of encouraging unhealthy modes of weight loss and of glorifying emaciated bodies that "thinspo" content had been banned by Instagram in 2012.
Commenters immediately piled in to chastise and correct Richman's error, and the food star didn't exactly respond well to it. As reported by Jezebel, he allegedly lashed out at his critics with a variety of crude and sexist responses, including telling one commenter to die by suicide. The Guardian noted that his most damaging of remarks were eventually deleted and replaced by (also later deleted) apologetic posts. "I've responded to internet hate recently with vile words directed at those hating me," Richman tweeted. "I am sorry, I should know better & will do better." 
Whilst the Travel Channel didn't acknowledge the incident directly to the public, it released a statement shortly after the headline-making scandal, stating its decision to postpone the July 2014 premiere of "Man Finds Food." The show eventually debuted in the U.S. in April 2015.
If you or anyone you know is having suicidal thoughts, please call the National Suicide Prevention Lifeline​ at​ 1-800-273-TALK (8255)​.
The Travel Channel host kept reworking a familiar format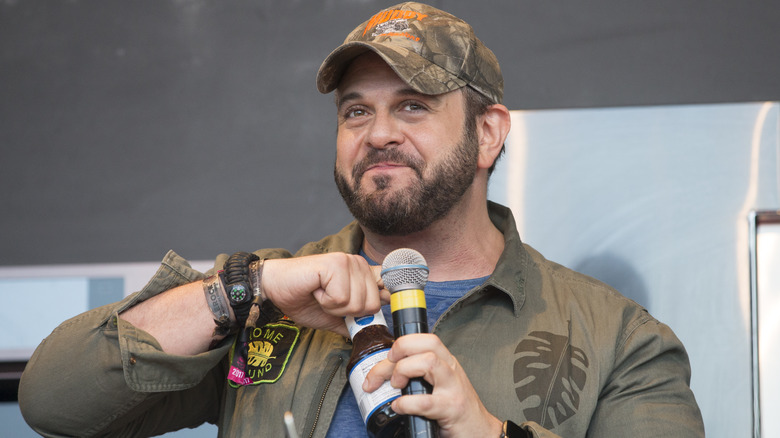 Since the end of "Man vs. Food," Adam Richman has continued to host a variety of food-related shows that play on his former fame as America's beloved purveyor of localized food challenges, whilst also pushing forward with new approaches to his overall schtick. In 2012, "Adam Richman's Best Sandwich in America" did exactly what the title suggests, while "Secret Eats with Adam Richman" and "Man Finds Food," both from 2015, explored similar premises of the star uncovering the best kept food secrets — restaurants and dishes — that are hidden away throughout the USA and the world at large. Basically, Richman kept it simple in the years following "Man vs. Food," and by all accounts, it paid off.
Speaking to the Chicago Tribune in 2012, Richman shared that he had no desire to become an "inaccessible, effete food douche," noting that the process for coming up with "Adam Richman's Best Sandwich in America" very much pushed against him ever turning into this type of person — and you can see that same theme within many of his shows since. Richman told the newspaper, "I was talking to my co-(executive producer), one of my best friends, Dan Adler, and said, 'Dude, let's just get back to basics.' People tell me they use 'Man v. Food' for a travel guide. I said, 'Dude, let's just show the best sandwiches in America. Every culture has got a sandwich, every income bracket has a sandwich.' And that's how it was born."
Hey, why mess with success?
Adam Richman discovered new opportunities in Britain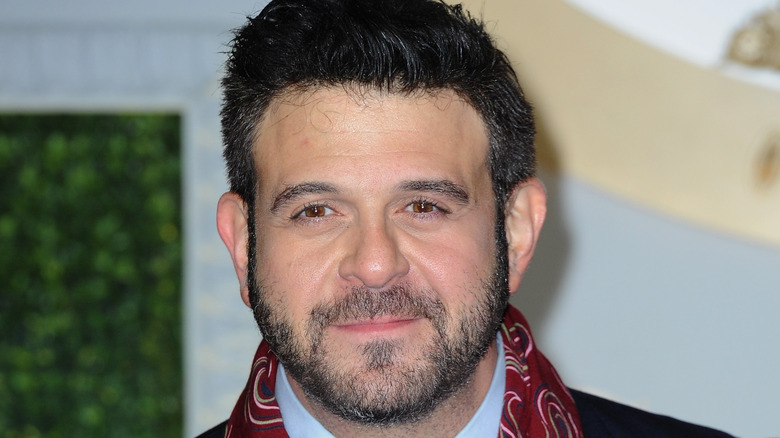 After finishing "Man vs. Food," Adam Richman's well-established love for travel took him over to Britain, where the self-proclaimed "1/4 English" foodie was seemingly embraced by the country almost immediately. In June 2014, he notoriously posed naked for Cosmopolitan UK with little more than a soccer ball to keep him from going "The Full Monty." But the cheeky "Man vs. Nude" centerfold wasn't just for sex appeal, it was also to help raise awareness for Cancer Research UK.
When Richman wasn't stripping for charity, he was spending a great deal of time finding new ways to do what he does best: celebrating great food. In 2015, he hosted a British competition show called "BBQ Champ" for ITV, and found a comfortable kinship with the country. Explaining to Foodism why he was proud to host a celebration of U.S. food in the U.K., he said, "If it brings more flavour and more enjoyment to the nation that's given me an unbelievable career boost, second home and increased vitality … I'm all for it."
Richman also went on to enjoy a variety of appearances on British talk shows, including "This Morning" and "Sunday Brunch," as well as the comedy panel series, "Celebrity Juice." In March 2020, it was announced that Richman would host "Supperman" — a show in which he would talk about, transform, and serve up the favorite meals of a different celebrity each episode — for UKTV network Dave. Sadly, the new show was derailed by the global COVID-19 pandemic and remains in hiatus, as of this writing.
This fan-favorite foodie got super into soccer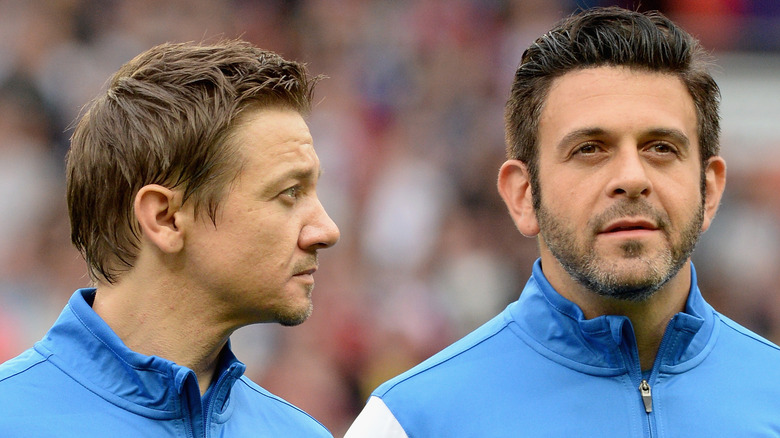 Being in Britain also gave Adam Richman time to indulge in another one of his great passions: soccer (better known as football pretty much anywhere outside of the U.S.). He's such a huge fan of the Tottenham Hotspur Football Club that in 2016, he told BBC News that he even exchanges texts with Spurs' manager Mauricio Pochettino. But he's also grown from being a fan to being an active beneficiary of the sport, becoming the sponsor of the small Sunday league team, Broadley FC, in 2016 and giving money to pay towards pitch fees, soccer kits, and club jackets. In 2020, Richman became a shareholder of Grimsby Town FC, sharing in a Twitter post that the action "means so much as a fan of the game."
Prior to this, Richman took part in Soccer Aid 2014, where he played for the "Rest of the World" team against England, alongside celebrities like Jeremy Renner and Michael Sheen. Richman's team won the match with a score of 4–2, and the annual British charity event raised £6,525,072 for UNICEF. But it also helped Richman get healthy and find confidence, as he told Cosmopolitan, "Taking part in [Soccer Aid] was a big motivation to stay fit. I actually cried when I was asked to take part." 
As Richman wrote for Men's Health back in 2013, the TV foodie played the sport for the love of it, but also to enjoy better health without the tedium, suggesting he did so to "combat the monotony of gym workouts."
Adam Richman mixed his love of soccer with his love of food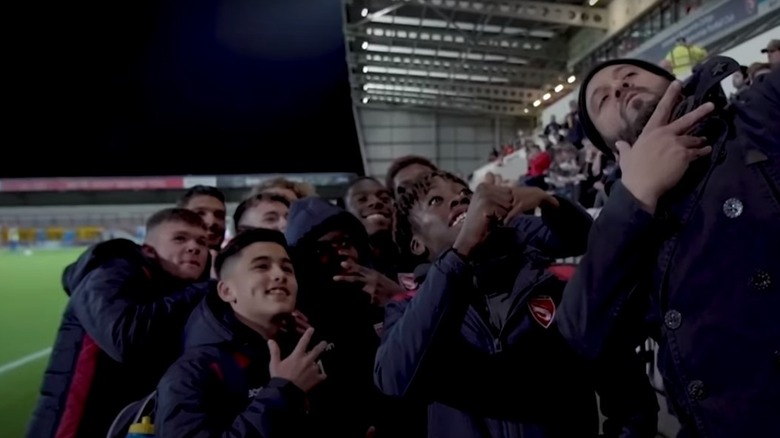 It seems only inevitable that Adam Richman would eventually find a way to marry his love for soccer, food, and travel into one delicious format — with a side helping of his love for championing everyday people — and in 2019, he did exactly that. "Matchday Menus" was a Facebook Watch show produced by London football channel COPA 90, in which Richman traveled across Europe and North America to explore the traditional meals that soccer fans enjoy as an accompaniment to a match.
Each episode was a snappy six to eight minutes long and saw Richman highlighting the "communities that have brought their own flavours to the game," as well as "the origins of stadium food in some of football's most emblematic cities" (via COPA90). The online show featured Richman celebrating such varied culinary endeavors as the fish tacos and tzatziki tailgate traditions of Los Angeles FC, the fish and chips that typically warm up a Morcambe FC match, and the decadent Italian dishes that power the Napoli Champions League. Food and soccer? Truly a match(day) made in heaven.
He now cooks food on TV, instead of eating it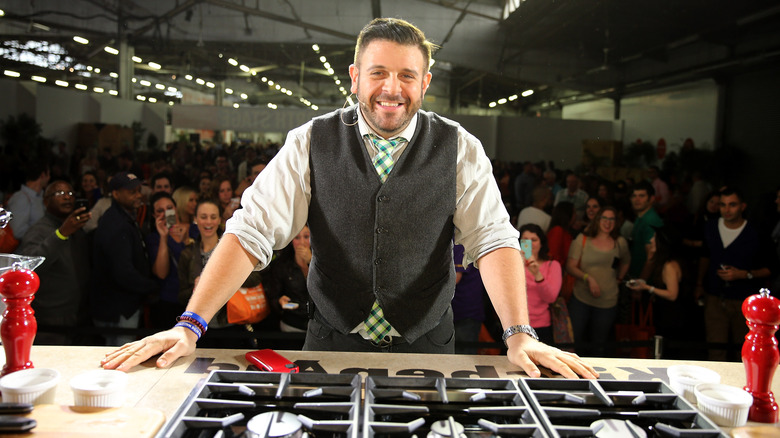 When "Man vs. Food" first debuted in 2008, viewers responded enthusiastically to the fresh format of the show, which saw host Adam Richman going against food programming tradition to celebrate the eating side of meals, rather than the cookery side of it. But as Richman continued to distance himself from the competitive eating that made him a household name in later years, he also began to explore the more technical side of preparing food, too. In 2015, Richman released his first cookbook, "Straight Up Tasty: Meals, Memories, and Mouthfuls From My Travels," which he described to Love Food as being "a non-cookbook cookbook" full of "irreverent but fun stuff." This includes recipes that are inspired by friends and family, as well as personal anecdotes regarding his life and trips around the world.
Richman has also been no stranger to hustling a little TV chef business for himself, having enjoyed various appearances on popular talk shows, whipping up wholesome, home-cooked food. The focus of many of his recipes are on meals that are easy and accessible for anyone to make, such as his mom's cheesy spinach pie recipe, which he shared on the "Today" show in 2019, or his homemade "healthy spin" on prawn alfredo and cheesy breadsticks, as seen on a "Takeout Fakeout" segment of "Good Morning America." 
Clearly, Richman's passion for food is a personal one — or, as he told Love Food, "There's a beautiful language spoken between people through food." And this foodie is most at home speaking it.
The Man vs. Food alum started exploring the stories behind mass-made food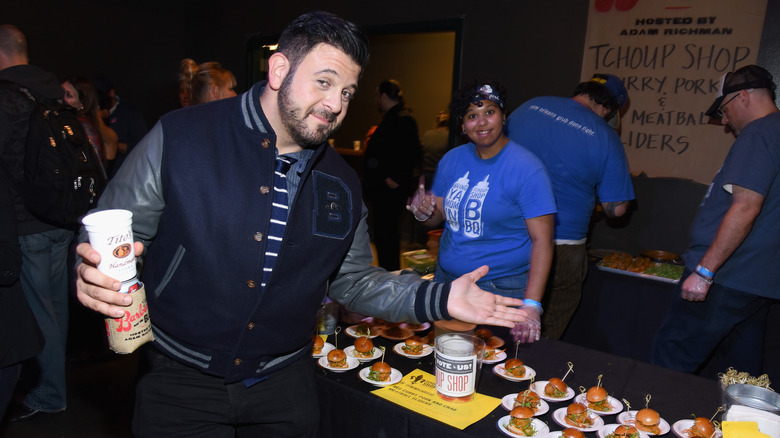 Not content with simply eating and cooking food for other people's entertainment, Adam Richman has gone on to explore the origin stories of some of America's most beloved mass-made foods from some of the biggest brands. He delved into these tales for the History Channel in 2021 with his own season of "Modern Marvels," as well as "The Food That Built America."
With "Modern Marvels," Richman did fascinating episodic deep dives into how mass-produced snack foods are made, and told Page Six that the impetus for the show came from how we take "for granted" how many of these culinary treats are created. "We know that, when we pop open that bag of chips, it's going to be crispy and delicious," he said, "but there's a lot of people and a lot of work and a whole lot of modern marvelous technology to make that happen."
Meanwhile, "The Food That Built America" threw Richman into storyteller mode, with the show covering the innovative turning points of popular American companies like McDonalds and Hershey's, as well as major food rivalries — such as Pizza Hut vs. Dominoes — and the culture-changing showdown between major cola brands of the 1970s. Speaking to Mashed, Richman said he wanted to remind the American public about the real lives behind these household names, saying, "We think about brands. We don't think they're people."
Adam Richman started his DJ career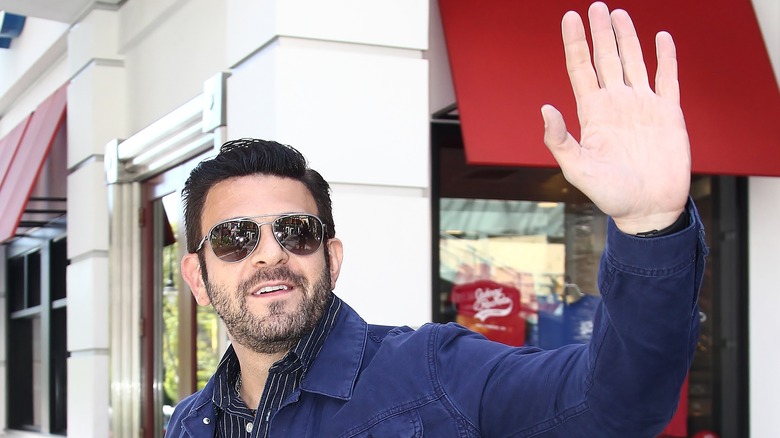 Yes, you read that correctly: Adam Richman is now a legit DJ and has been spinning tunes for the public since 2020. Serving beats instead of food, the multi-talent debuted this new notch in his career belt by DJing at the "unofficial" closing party of the South Beach Food & Wine Festival that February, where he set up shop in the DJ booth of Sweet Liberty and spun "everything from Lizzo to the Beastie Boys," per the Miami New Times.
When the global pandemic hit, Richman continued to DJ from home and streamed live sets for fans on Instagram. A post from April 2020 had Richman promising that he'd be "spinning gossamer webs of eargasms, and dropping bangers" throughout "most evenings," with some fans commenting that his live sets were a light in the dark of lockdown. "I really do need to say thanks," one person wrote. "These have been a great way for me to break up the day and just chill for a bit."
This wasn't a new development, however. As early as 2011, Richman was publicly pouring his love for music into a guest-DJ set for KCRW, where he chose tracks from artists like Drive-By Truckers and Sam Cooke. In the accompanying interview with the Los Angeles-based radio station, Richman hinted at the beginnings of his musical passions whilst talking about U2: "I had played guitar in my youth … And it wasn't until high school that, obviously, I saw that, well, girls dug musicians. So I wanted to pick my guitar up again."
This foodie returned to his theatre roots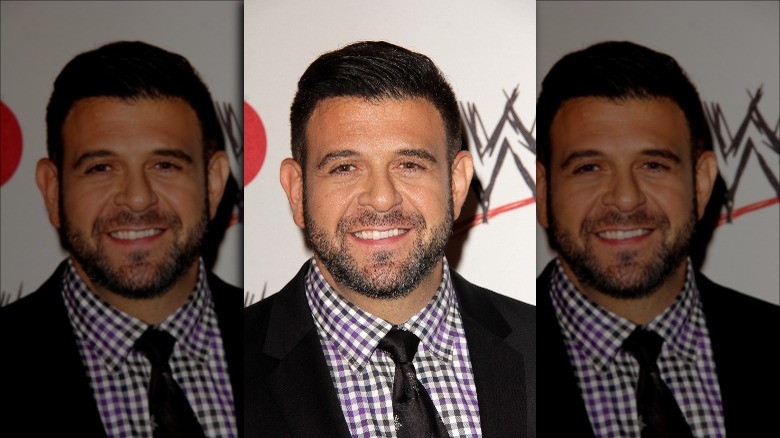 It may not be of college pedigree becoming someone who once attempted to eat the world's biggest burger on television, but Adam Richman has a degree from Yale's drama school. So, he's actually a legit theatre kid. In 2014, the multi-talent returned to his roots to co-produce the Off-Broadway play, "Stalking the Bogeyman." The show was a hit, earning a rave review in The New York Times and receiving an Outer Critics Circle Award nomination, before enjoying subsequent productions in London and Sydney.
Written by journalist David Holthouse and originally broadcast as a story on "This American Life," Richman explained the play to the AV Club. "It's the true story of a man stalking and plotting to kill the man who raped him when he was seven," he said. Since becoming involved with the show, Richman has become an advocate for sexual abuse survivors as a spokesman for RAINN. 
Speaking to Everything Theatre in 2016, Richman divulged that the story opened his eyes to "the scope of this awful crime," and shared that he hoped the play would have a positive impact. As well as wanting to raise awareness on the "surprising frequency" of child abuse, he also said, "If any in the audience are affected by this tragedy, and have been silent and carried this painful burden for a long time, I hope it gives them courage to speak out and speak up."
If you or someone you know may be the victim of child abuse, please contact the Childhelp National Child Abuse Hotline at 1-800-4-A-Child (1-800-422-4453) or contact their live chat services.
If you or anyone you know has been a victim of sexual assault, help is available. Visit the Rape, Abuse & Incest National Network website or contact RAINN's National Helpline at 1-800-656-HOPE (4673).

He formed a partnership with Alamos Wines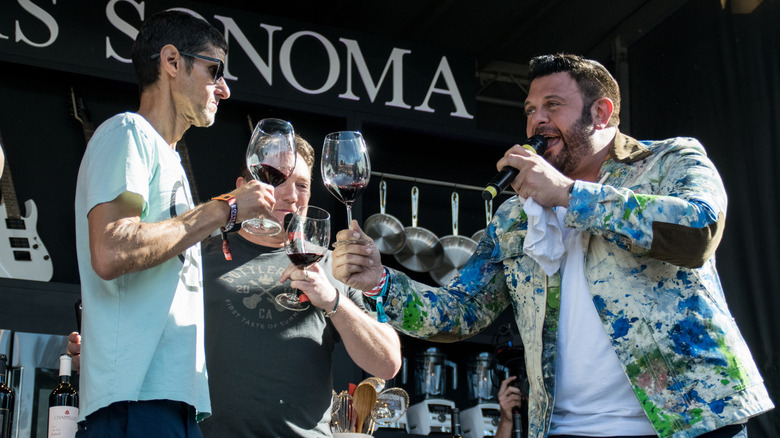 Further elevating Adam Richman's profile beyond being "that dude with the insane bottomless gut" was his partnership with Alamos Wines in 2015, which he once described to the AV Club as being one of the most interesting opportunities he'd encountered in his career, admitting that people "might not necessarily anticipate" that "the dude from 'Man vs. Food' is doing pairings for fine wine." The company brought Richman out to Argentina to understand and oversee the basics of their wine production. "It was really amazing," he told the website. "They actually flew me to Mendoza to let me learn the viticulture and walk around the vines, learn about it down to the calcium table, the water content, the runoff."
As part of the "Dare to Pair" contest, Richman and Alamos Wines encouraged consumers to come up with their best wine and meal pairings, with the winner enjoying a trip to New York City and dinner with the "Man vs. Food" star. Whilst attending The Daily Meal's kitchen for the event, Richman himself curated a set of meals with which to be paired with specific wines as part of the contest. Reminding guests at the event that you don't always have to splash out to find great taste, he said, "I really like that idea of 'you don't have to spend a lot to get a lot'" — confirming that he is indeed a man after our own hearts.
Adam Richman's net worth proves he's come a long way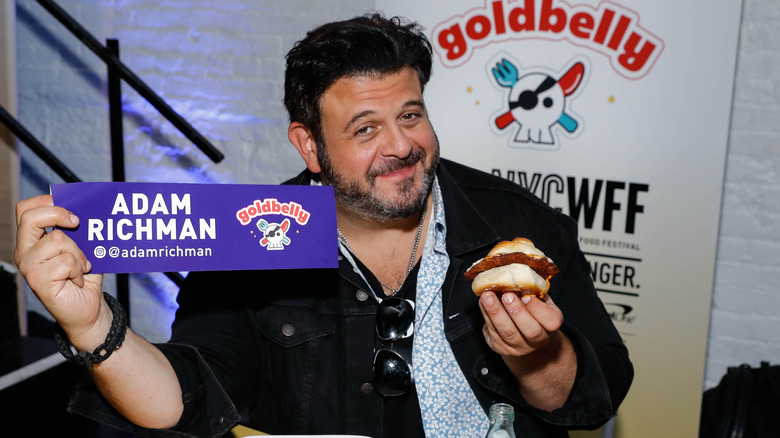 If all of this chatter about what happened to the former "Man vs. Food" star has still left you scratching your head and wondering, "Yes, but how much is Adam Richman worth these days?" — then fret not, because as it happens, he's got a net worth as fat as one of the burgers he would have demolished on TV back in the day. According to Celebrity Net Worth, Richman is estimated to be worth a tasty $10 million and was receiving $35,000 an episode during his "Man vs. Food" heyday.
It's no surprise that he's amassed such an impressive fortune when you consider that Richman has maintained a steady flow of work since leaving "Man vs. Food" behind. Between cookbooks, hosting duties, TV appearances, and various product endorsements, this popular foodie has continued to hustle hard throughout his career following his rather humble beginnings in the industry. As Richman mentioned in the introduction for his 2010 book, "America the Edible: A Hungry History, from Sea to Dining Sea," he was once a "struggling actor" who "supported [him]self" between a handful of bit roles on shows like "Law & Order: Trial by Jury," "Guiding Light," and "Joan of Arcadia" by "working in the restaurant industry." 
These days? Adam Richman's flexing like a millionaire, meaning that in this battle of Man vs. Money, man has clearly won.
Source: Read Full Article